It seems that buybacks, when a company repurchases and "retires" shares of its own stock, are becoming more and more popular. Many large companies have been repurchasing shares for at least a couple years, and a good number are increasing their efforts in 2013.
Buybacks are a controversial subject. Some believe they are superior to dividends as way to return cash to shareholders, because the proceeds are completely untaxed. Others see buybacks as a waste of money, citing that CFOs are notoriously bad market timers. After all, buybacks were practically nonexistent throughout 2009, which was exactly the best time to be repurchasing shares.
Many believe that buying stocks when they are above their intrinsic "Fair Value" is value-destructive. Worst of all, managements seem to like buybacks as a way to reduce share count and hence boost Earnings Per Share metrics; a popular way to determine bonuses and compensation.
I guess I'm in the latter camp. While I do sometimes appreciate a good buyback program, most seem counterproductive and fail to create real value for the reasons listed above. One particularly alarming trend I've seen in my portfolio is this; companies are "taking advantage" of low interest rates and loading up on debt, not to invest in their businesses, but to turn right around and use that money to repurchase shares. This article will focus on companies doing just that: increasing debt only to buy back shares.
A quick way to know if a company is doing this is to look at its Cash Flow statement. If dividends and share repurchases together exceed Free Cash Flow, chances are they are taking out debt to do it. Most companies in this article are doing this. Some, however, are issuing new debt and just happen to be buying back shares at the same time. In every case, I dug deeper to see whether these buybacks were justified or not. In each example, there are links to financials as well as the company's bond profile.
Personally, I'm more willing to accept a buyback, even perhaps a debt-induced one, under one of two conditions: First is if the stock is trading below its Fair Value. Second is if the stock's dividend yield exceeds the company's cost of debt. From a Cash Flow perspective, it might then make sense to then retire shares instead of retire debt. I've looked at a number of large companies and will highlight seven today.
Chevron
Chevron (NYSE:CVX), a "Supermajor" energy company based in the US,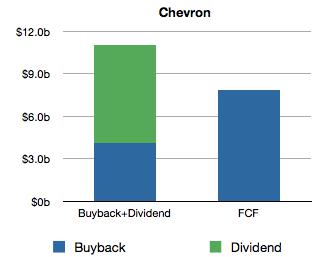 has repurchased over $4.1 billion in shares through 2012, a small amount relative to the company's $230 billion market cap. With a dividend of 3% and a cost of debt near that, there isn't much of a reason for these buybacks from a cash flow perspective. Both a generous dividend and substantial buyback, we can see, outstrip Free Cash Flow by several billion.
This, however, only tells part of the story. Chevron's overall debt has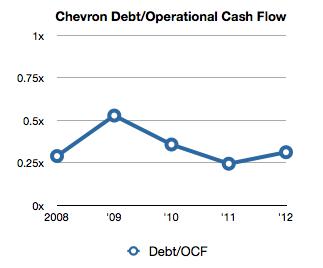 steadily increased over the past five years, but this has come mostly from increased CapEx, which is accompanied by even greater growth in Operational Cash Flow. This Supermajor is investing in its long-term growth and doing so successfully. Debt is under control and this buyback is relatively small in the grand scheme of things.
Conclusion: Acceptable
Cisco Systems
Network and IT giant Cisco Systems (NASDAQ:CSCO) was one of the most prolific share repurchasers in 2012, buying back over $4.7 billion in stock, over 4% of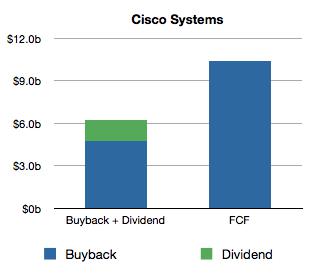 the company's entire share count. With a 3.25% dividend well above its cost of debt and the stock trading at below its Fair Value for the better part of two years, Cisco's share repurchases actually make sense so long as it is keeping its balance sheet in order.
And in the past few years, Cisco has been doing just that. During 2010 and 2011, Cisco's buyback was much larger than it is today. Back then, the company was minting a lot of debt. Not so today. The buyback program has been scaled back so that the company's ample Free Cash Flow can cover it.
At the same time, management has made the decision to use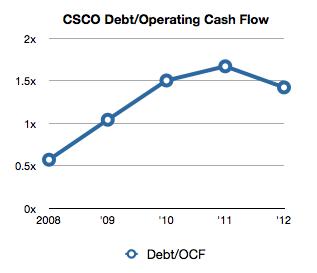 excess Free Cash Flow to pay down debt while the company has continued to grow earnings. The result is this: a debt to Operating Cash Flow number which is under control as the company buys back its own shares at a discounted price. While the company may have been doing the wrong thing with buybacks in years past, they have since righted the ship.
Conclusion: Acceptable
Coca-Cola
The world's largest beverage company bought back $4.6 billion of its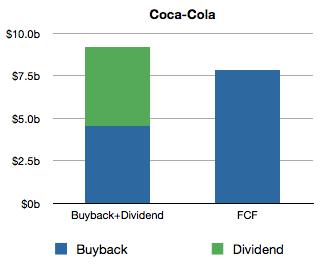 own shares last year, accounting for 2.5% of its current market cap. From a valuation standpoint, now is not an ideal time for the company to be buying shares: Coke (NYSE:KO) has been trading well above its "Fair Value" since 2009. Since the 2.77% dividend is fairly small, this substantial buyback doesn't meet the cost of debt criteria, either.
Both the buyback and dividend outstrip Coke's Free Cash Flow, meaning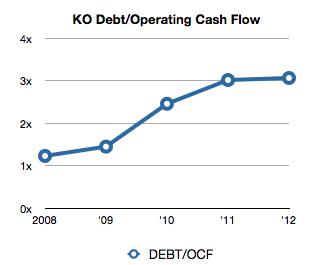 that the company does indeed have to take on more debt to fund both endeavors. While the company's debt has gone steadily up, CapEx has remained almost the same. Most of Coke's new debt is going to fund this big buyback. Operating Cash Flow is increasing, but not as fast as the company's total debt, as we can see here.
Management really needs to start paying down debt, or at the very least, keep the level of debt stable. And with their steady Free Cash Flow they can easily do this, but only if this buyback is scaled down substantially.
Conclusion: Red flag
Colgate-Palmolive
Throughout 2012, the Consumer Products giant Colgate Palmolive (NYSE:CL) bought back over $1.9 billion in shares, a very significant 3.4% of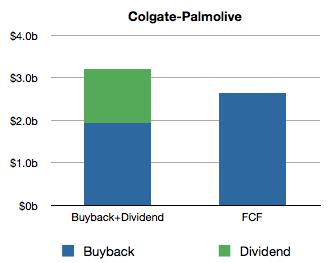 today's $55 billion market cap. Trading well above its "Fair Value" for the last few years, this is no ideal time to be buying back stock, nor are share repurchases justified by Colgate's low dividend yield.
Colgate's 2012 Free Cash Flow of over $2.6 billion was exceeded by the combined dividend and share repurchase by only $500 million. So, only a small part of this buyback is funded by debt.
And while debt has steadily grown since 2009, it has done so in a measured way. Also, Operating Cash Flow has also grown along with that debt, meaning the company has put this money to good use.
Colgate has its debt under control, Free Cash Flow nearly covers total cash returned to shareholders and the elixir of growth will smooth over management's minor mishap. Although I believe the repurchase program would best be scaled down to at most match Free Cash Flow, all things considered I'm willing to give Colgate a pass on this one.
Conclusion: Acceptable
McDonald's
The global fast food operator, McDonald's (NYSE:MCD), carried out a $2.6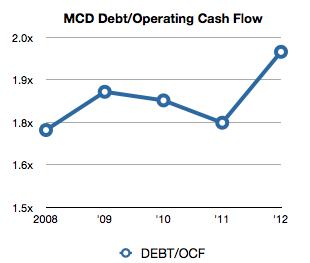 billion buyback in 2012, which would be about 2.6% of the company's market cap today. McDonald's buyback story reads a lot like Coca-Cola's: both repurchased shares well above Fair Value. Although McDonald's dividend yield is a bit higher than yield to maturity on most of its bonds, it isn't by much.
Looking at the chart to the right, we see debt growing faster than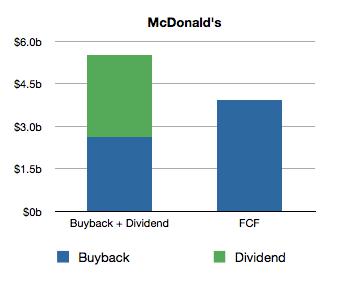 Operating Cash Flow. While the company's total debt has increased, it hasn't by too much. The real factor at work here is a stagnant Operational Cash Flow. In recent years McDonald's has upped its CapEx in order to re-image its stores, something which may not immediately see a return. Some of the debt is surely going to fund this re-imaging, but as we can see from the chart on the right, $1.6 billion in buybacks and dividends must be funded by debt, too.
Free Cash Flow can more-or-less cover all of McDonald's substantial CapEx and dividend. That's what they should be doing. By repurchasing shares, management is forcing its debt liabilities ever higher at a time when the stock is too expensive to justify buying.
Conclusion: Red flag
PepsiCo
In 2012, PepsiCo (NYSE:PEP), a global Food and Beverage leader, carried out a $3.2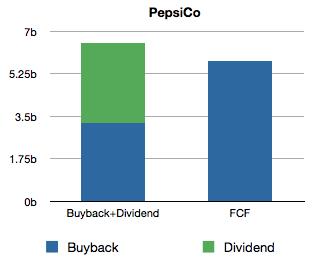 billion share repurchase amidst commodity headwinds and muted growth. Together with an already generous dividend, these buybacks outstripped Free Cash Flow [FCF] by nearly $1 billion. PepsiCo has been steadily increasing its debt at a rate greater than its Operational Cash Flow growth, a warning sign that new debt was not resulting in efficient growth.
Initially, this debt was to fund acquisitions of its two bottling partners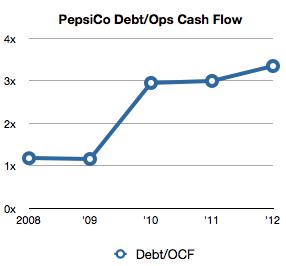 and a Russian competitor. However, since 2011, management has stopped its acquisitions but continued issuing debt. CapEx, at the same time, has remained stable, showing us that this debt has been not been used to grow Net Income. Indeed, the new debt has been used to repurchase shares.
PepsiCo has been trading throughout the year above its Fair Value and PEG ratio and the yield to maturity on most of its bonds are only slightly below the stock's dividend yield. There is no good reason for PepsiCo to binge on debt and buy back this much stock.
Conclusion: Red Flag
Philip Morris International
Philip Morris (NYSE:PM) is manufacturer and seller of tobacco products outside of the United States. Their products reach approximately 180 countries.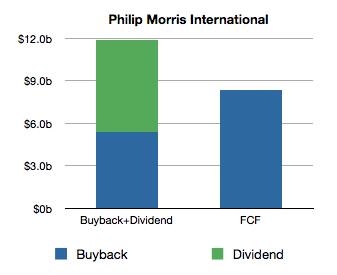 Of all the buyback program's listed in this article, Philip Morris' is the biggest at $6.5 billion, representing over 4.27% of its current market cap.
Since it is in the Consumer Defensive sector, one might think that stock buybacks would be warranted from a cash flow perspective, since most have high dividends. Not quite the case here. Phillip Morris' 3.7% yield is roughly equal to the average yield to maturity on bonds.
We can see here that the company's Free Cash Flow is exceeded by the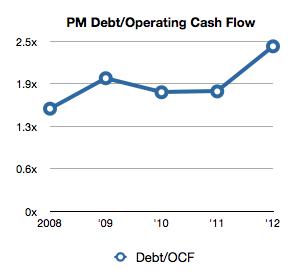 dividend and buyback by nearly $4 billion. As you might infer, debt has been increasing substantially to pay for these repeated buybacks, and it has been doing so faster than this defensive company has been able to increase Operational Cash Flow.
At the risk of sounding like a broken record, Philip Morris would do well to scale back the repurchases. It should use cash flow to either grow income or pay down a substantial debt which has risen from $12 billion to 22 within five years.
Conclusion: Red flag
Conclusion
A "red flag" on a company's buyback is not necessarily a sell signal. Many of the companies flagged here have great fundamentals. Personally, I'm long a couple of these and have decided to "grin and bear it" despite their less than optimal use of cash. One has to consider the big picture, but at the same time be vigilant. We shouldn't give companies a free pass just because they have an iconic brand name.
Sources:
Fair Value information obtained from FAST Graphs and is a combination of the Graham "Fair Value" Number and PEG ratio, depending on the company's growth situation.
All bond profile and yield to maturity information provided by quicktake.morningstar.com
All charts created by author. Data by Morningstar.
Disclosure: I am long CL, PEP, MCD. I wrote this article myself, and it expresses my own opinions. I am not receiving compensation for it (other than from Seeking Alpha). I have no business relationship with any company whose stock is mentioned in this article.