Dividend investing is an exceptionally popular strategy as more investors are uncertain about the future. Just last week fresh concerns arose regarding the health of the economic recovery as a poor jobs report derailed the market. Despite the Dow trading above 14,500, many investors are justifiably concerned that a bear market is on the horizon. Consequently, many investors are pursuing high yielding equities because of their quality. Most companies with high yields have strong financial position and liquidity that make them attractive to investors. Additionally, these companies usually have high cash flows from operations, one of the most important factors in a prospective investment. While some investors are buying Italian ten-year bonds yielding less than five percent, I suggest considering relatively safe American equities with higher yields.
This week there are seven candidates, six of which have been analyzed below based upon SA readership criteria. Half of the companies this week are financial services firms with yields all in excess of nine percent; the yields on the remaining securities are significantly lower. Market capitalizations are once again concentrated in the small cap bracket but there are a few larger firms. I prefer that my ex-dividend candidates have market caps greater than five billion dollars but that is not a requirement, especially with smaller financial services. The majority of the equities go ex-dividend on Thursday.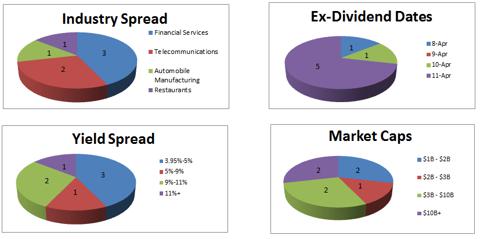 For details of the strategy and my screener details, please consult my methodology on the topic (last modified 4/7/2013). In brief, the screen focuses on relative stable equities with a concentration on liquid companies at affordable valuations. This is summarized below:
Dividend Yield ≥ 4.0%
Ex-Dividend Date = Next Week
Market Capitalization ≥ $1B
P/E Ratio: 0-20
Institutional Ownership ≥ 15%
Ideally Modest YTD S&P 500 Underperformance
Minimal European Exposure
After applying this screen, I arrived at the equities discussed below. Depending on your belief in the investment hypothesis, you may decide to hold long enough for the dividend or to hold for long-term. The information presented below should simply be a starting point for further equity research in consultation with your professional financial advisor before making an investment decision. My goal is to present new companies to you and provide a brief overview of their recent developments; this should not be considered a substitute for your own due diligence.
ARMOUR Residential REIT, Inc. (ARR): 12.98% Yield; Ex-Dividend 4/11
ARMOUR Residential REIT is a company that invests in various agency mortgage-backed securities ("MBS") which are issued or guaranteed by U.S. government affiliated agencies. As of the most recent annual report, ARR has $19.1B in agency securities opposed by $18.4B in repurchase agreements. ARR is currently levered about 8X (debt/equity) which means its relatively low return on assets (1.64%) is magnified eight times. Portfolio Management 101 has an excellent overview of ARR and its risks. As I discussed in a recent mREIT article, in addition to leverage, an important metric for mREITs is book value. ARR has a book value of $7.46 and a price/book ratio of 0.87. The book value has declined 5.6% QoQ but the book value per share has remained constant. This indicates that ARMOUR is valued at a modest discount to its financial statement value, thus the market is generally cautious about the company. I suspect general uncertainty in the mortgage market is depressing the stock's price. Additionally, concerns regarding the sustainability of the dividend (discussed below) have been weighing on the stock. This discount is generally comparable with peers American Capital Agency Corp. (AGNC) and Annaly Capital Management (NYSE:NLY).
December 2012 was a very active month for ARMOUR as the dividend was cut from $.09 to $.08 per month, an 11% decline. This should not be a total surprise as the dividend has declined at least once per year every year since 2010. This dividend decrease was partially offset by the authorization of a $100M stock repurchase plan, which represented approximately 4.6% of the company's market capitalization at the time. ARMOUR has declined 2.7% the past quarter as it announced it would be offering 65 million shares to the public, or approximately $435 million. Share offering are common for mREITs, but this is an odd decision given the recent repurchase announcement and scale of offering. These actions have fueled two large analyst downgrades from 'Buy' to 'Hold' and a stock price near the current trading level.

(Source: Finviz.com)
Last month I said that ARMOUR was on thin ice due to the dilution and dividend decrease; now it looks like the company has cracked the ice. The dividend was recently cut again to $.07 per month, culminating a payment decrease of thirty percent. I am still bullish on quality mREITs due to the robust yields but I believe that ARMOUR is currently trading close to fair value. Note that ARR distributes dividends monthly.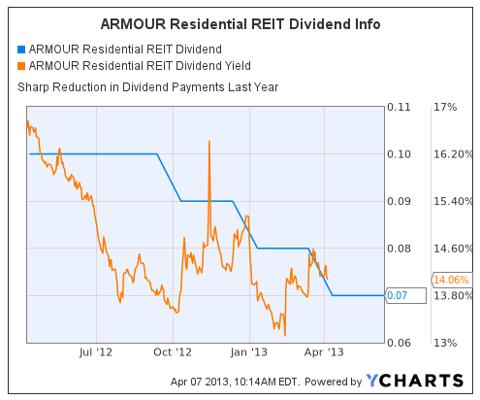 Fifth Street Finance (FSC): 10.54% Yield; Ex-Dividend 4/11
Fifth Street Finance is a financial services firm that specializes in middle-market buyouts and other related financing services. The company makes strategic, generally non-controlling, investments in diverse companies and profits from the related fees. The company recently reported a record December quarter with $422M of investments closed. Two-thirds of income are derived from cash interest income with fee income comprising the bulk of other revenue. Over the past year investments have grown approximately 25% and the company has been a solid performer; however, there has been significant share dilution. Weighted average common shares outstanding have risen by over thirty percent in the past year so net investment income per share actually declined. Another red flag is the number of investments with losses and the overall portfolio has a fair value of $1.58B and cost of $1.57B. For example, an investment in Coll Materials has a cost of $12M and fair value of $1M. Fifth Street profits primarily from income/service revenue, so this is not overly concerning but is a situation that requires monitoring.
FSC is cheap with a 9.4 forward P/E and has minimal debt in its capital structure. The stock has been on a steady uptrend since May of last year and stock has risen from $8.50 to $11. The stock has traded in a much tighter range in 2013 but is less than two percent from its 52-week high. UBS raised its target from $11 to $11.50 in February and the stock is currently trading approximately five percent below the updated target. The monthly dividend has also been reduced in each of the past two years, so another decrease is possible as early as June if the trend holds. I would avoid FSC for dividend capturing due to the red flags mentioned above. Even if you are optimistic about FSC's prospects, it appears that the upside is limited at this level. JPMorgan rated FSC a buy in late March with a bullish report; however, the price target of $11 implies only one percent upside for the stock. The report focuses on the fact that FSC has $1.5 in assets and business development companies typically achieve scale benefits at that level. JPMorgan mentions that the dividend is "increasingly secure," which would lessen one large risk for shareholders. Prospective investors should read Fifth Street Finance's latest newsletter.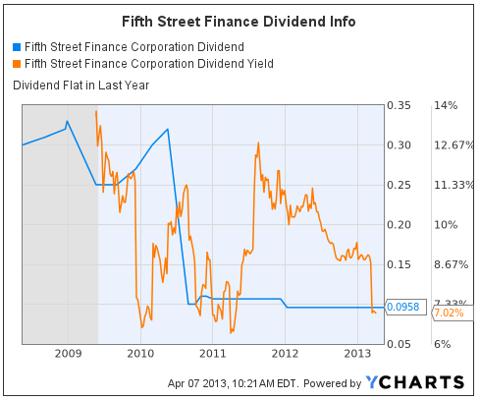 MFA Financial Inc. (MFA): 9.35% Yield; Ex-Dividend 4/10
MFA is $3.4B REIT that invests in agency and non-agency residential MBS. As of December 31, 2012, approximately 57% of the portfolio ($7.3B) was invested in agency securities with 43% in non-agency securities ($5.4B). MFA does a great job of providing transparency in its financial reports and I highly suggest all mREIT investors read the latest 10K. One important concentration risk to note is that nearly 50% of the underlying mortgages are for real estate in fragile California.
(Source: MFA 10K)
As you can see from the above chart, yields have been declining steadily since 2011 and that trend will likely continue as the mortgage markets stabilize. Despite the negative trend, I do not anticipate any radical change in the short-term that should concern investors. Tim Plaehn recently wrote a solid overview of MFA and concludes that the stock has strong potential returns due to its conservative non-agency book valuation. MFA trades at an 11.39 forward P/E multiple and only a 1.02 price/book ratio. To extrapolate on Mr. Plaehn's comments, if he believes the non-agency securities are undervalued then MFA should be trading at a higher premium to book value. The dividend has exhibited volatility throughout MFA's history and has rarely stayed the same quarter-over-quarter. The dividend has been sliding throughout 2012 and is a penny shy of a low set in July 2010. The dividend chart below is skewed due to a special dividend declared in early 2013 but the forward yield is 9.35%. The stock set a new high in early April before a slight pullback. After the 47% surge the past year, most of the profit opportunity has passed but there is still the prospect for capital gains and dividend with MFA.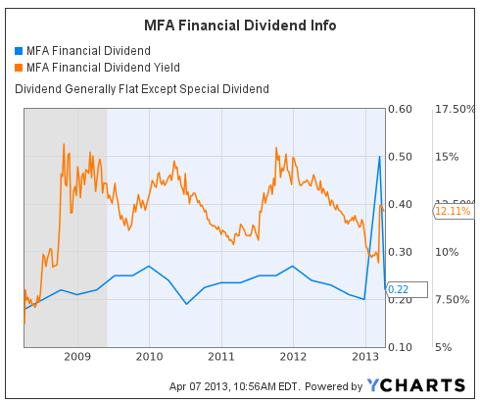 Shaw Communications (SJR): 4.16% Yield - Ex-Dividend 4/11
Corus Entertainment (CJREF.PK): 4.00% Yield - Ex-Dividend 4/11
Shaw Communications spun-off Corus Entertainment in September 1999 and both companies engage in diversified entertainment offerings but focus primarily with a focus on Canadian cable television. Cable companies have traditionally been able to distribute sufficient cash flows to investors but the tides are shifting with the rapidly rising cost of content. Sports programming is a double-edged sword because it is one of the biggest advantages over Internet streaming; however, it is the most expensive for cable companies to offer. This is still a 'cash cow' industry but it is changing too quickly for me to fully support investing in it.
Factor in the popularity of Internet connected televisions and other devices and I am not extremely bullish on the traditional entertainment content business model. Shaw's stock has shrugged off analyst downgrades and has appreciated from $18 to $24 since June 2012 due to a 31% rise in EPS. I do not believe that investors are being adequately compensated for the level of risk assumed and the other companies mentioned offer comparable (or higher) yields for less risk. Note that Shaw pays dividends on a monthly basis.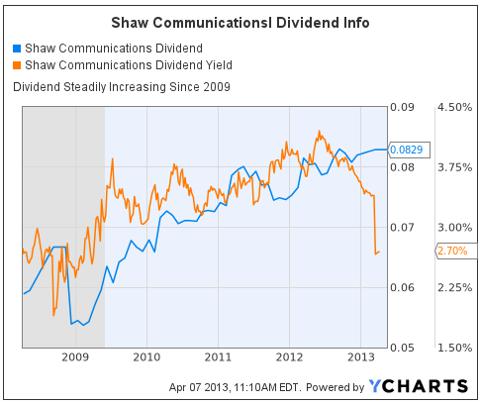 Darden Restaurants, Inc. (DRI): 3.96% Yield; Ex-Dividend 4/8
Darden is the world's largest full service restaurant company with over 2,000 restaurants in operation. Darden operates famous casual restaurant brands such as Red Lobster and Olive Garden in addition to higher-end restaurants Capital Grille and Eddie V's. Darden's is at a crossroad: its primary chains are facing slowing growth and fresh brands are unable to compensate. For example, 2012 same-store sales at the Olive Garden and Red Lobster declined 3.2% and 2.7%, respectively. Quarterly earnings declined 37% due to the poor same-store sales metrics; however, performance was also depressed by nonrecurring events such as Hurricane Sandy and the acquisition of Yard House.
The Wall Street Journal ran an excellent article on Darden's situation in 2012. 95% of Darden's restaurants are comprised of Olive Garden, Red Lobster, and LongHorn; however, those brands accounted for only 76% of total sales growth in fiscal 2012. In the first quarter of fiscal 2013 the store mix is essentially the same but specialty restaurants now account for 37% of total sales growth. This highlights how static the older brands are and the potential for these new restaurants that target "millennials".
Darden is marginally overvalued with TTM and forward P/Es around 15 but I have liquidity concerns. The current ratio is 0.5 and the quick ratio is nearly 0.2: both highlight that the company could face difficulty in the near-term. The long-term financial position is not much better as the debt/equity ratio is 1.6. Darden is not alone in performing poorly in the economy as rivals including DineEquity (DIN), owner of Applebee's and IHOP are also losing customers. With the expiration of the two percent payroll tax deduction, I am not optimistic on the prospects for any company that sells predominantly to budget conscious consumers, at least in the short-term. If Darden's executes on its strategy of focusing on millennials I believe the stock could be trading at a higher multiple.
Darden's third quarter 2013 earnings dropped 18% due to a 4.6% decline in same-store sales at Olive Garden, Red Lobster, and LongHorn Steakhouse restaurants open at least a year. The decline in earnings was not unexpected, as outlined above. Overall revenues climbed five percent due to the aforementioned Yard House acquisition and growth at the specialty restaurants.
I wrote last quarter that "the stock has the potential to appreciate more than twenty percent but I would be cautious. If you believe in management's long-term strategy, the 4.5% dividend should provide adequate reward for waiting but this may not be the right stock for the current economic climate." Fast-forward to today and the yield has fallen close to fifty basis points over the past quarter due to the stock's 14% climb over the same period. This pushed the yield just under my four percent benchmark. Darden may be a solid turnaround candidate but I believe dividend investors should pass on this casual food company.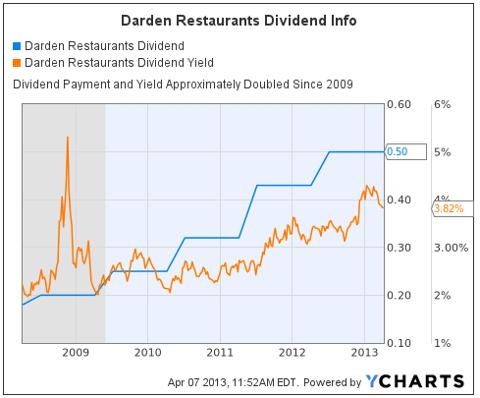 The information presented has been summarized below. I make no guarantees regarding the information in the chart as industry classifications and yield calculations are frequently imperfect. Orange and green represent "avoid" and "consider" classifications, respectively.

Disclosure: I have no positions in any stocks mentioned, and no plans to initiate any positions within the next 72 hours. I wrote this article myself, and it expresses my own opinions. I am not receiving compensation for it (other than from Seeking Alpha). I have no business relationship with any company whose stock is mentioned in this article.
Additional disclosure: Please refer to profile page for disclaimers.