If there's one characteristic most desirable about a collectible, it's liquidity. Of course, you've got to be careful in the way you define the word "liquidity." There's "liquid" in its literal sense, meaning "fluid," and there's "liquid" in its financial context, meaning "readily convertible to cash."
Wine is one, but not necessarily the other. It's certainly fluid (or it ought to be), but making it pay, well, that's another story. As an investment, wine's track record is spotty. But then, what investment hasn't turned dodgy at times?
Wine's value is largely dependent upon its quality, an oft-ethereal quotient of climate, soil, genetics and - no surprise here - winemaker skill. Each of these variables contributes to a perception of a vintage's worth. Add to that some marketing hype and hoopla and you've got yourself the makings of an auction.
The vast bulk of investment-grade wine - if that doesn't seem like an oxymoron - is sold at auction, and the world's long-standing auction hub is London (in the United States, wine auctions take place almost exclusively in Chicago). Collecting price points from these seasonal events is a more-than-daunting task. A transparent market wine ain't.
Even if you can find a reliable price database, massaging the files into a useful form to gauge investment returns won't be easy. After all, you've got to ask yourself what vintages to use as bellwethers. A 1961 Chateau Latour? Well, this classic Bordeaux could have been purchased in 1963 dollars (a couple of years of aging before release is typical) for three bucks a bottle. It sold for $500 in a recent auction, yielding an 11.3% annual compound rate of return. Using only this vintage as your benchmark, though, you'd grossly overstate the appreciation potential of wines in general. It's like using Google as a yardstick to measure the performance of a regional bank stock. Some wines soar, some plod. Others actually lose ground.
Wine Benchmark
Luckily, there's an index that meters the value of a fine wine portfolio. The Liv-ex 100 Fine Wine Index tracks the price movement of a hundred vintages for which strong secondary markets have developed. Mostly comprising Bordeaux wines, the index is calculated monthly and is weighted to account for original production levels and increasing scarcity as the wines age.
To be included in the Liv-ex portfolio, a wine must have been scored at 95 points or higher (on a 100-point scale) by a leading wine critic and be immediately available for delivery. In other words, no futures (we'll touch on futures in a moment). Wines are removed from the index when they attain 25 years of age.
Liv-ex 100 Fine Wine Index Component Categories
| | |
| --- | --- |
| Red Bordeaux | 91.3% |
| White Bordeaux | 1.1% |
| Red Burgundy | 3.5% |
| Champagne | 3.3% |
| Italian | 0.6% |
| Rhone | 0.2% |
With a benchmark portfolio, we can gauge the investment performance of fine wines against other asset classes. The gauge seems to tip in wine's favor, at least with respect to equities. Over the past eight years, a fine wine portfolio appreciated at a compound annual rate of 10.9%, while the S&P 500 gave up an average 5.1% per year.
Liv-ex 100 Vs. S&P 500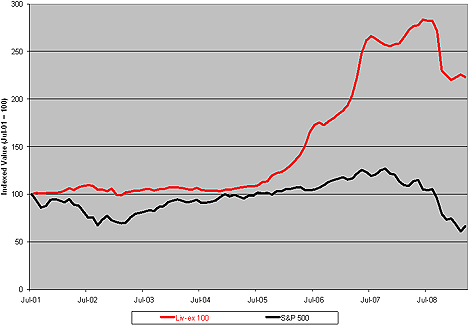 Looking at these results, you might be led to think of wine as a great investment alternative. The relatively short history of the wine index, especially when cast against a period of great stock market volatility, however, paints a rather misleading picture. You can't reasonably expect such outperformance to be permanent. For instance, academic research by Burton and Jacobson1 found the value of a diverse portfolio of fine wines grew at only 59% the rate of a blue-chip equities index in the decade between 1986 and 1996.
More importantly, the figures used in the return calculation don't include carrying and transaction costs. Investment-grade wines are typically stored by savvy collectors in especially equipped bonded warehouses. Storage isn't free. Case charges vary, but can substantially cut into returns. There are substantial commissions involved in auction transactions as well.
Futures
Investors commonly circumvent the auction market by purchasing wines en primeur, or through futures. Futures are exceptionally active in the Bordeaux market and permit investors to lock down vintages even before they're bottled. In a futures transaction, a case price is offered to the investor at harvest, and payment demanded by the winemaker before delivery, some years hence. Payments may be made on an installment basis.
Futures make sense for the winemaker, since it's investors' money put at risk during the aging period instead of the winery's. The problem with most futures transactions is that the contract negotiated is typically binding only upon the wine merchant and the investor, not the château itself. There may be an intervening string of futures contracts, each at better-and-better prices, between the merchant, broker and winemaker. The price differential can amount to several hundred percent.

There are inherent risks in buying futures. Demand for the vintage must be prognosticated as well as currency fluctuations. If demand for the wine is low and the foreign exchange rate moves unfavorably, the wine that's delivered may be worth less than its purchase price. There's also the contract risk. If your contract is with the merchant and the merchant goes under, you've got no recourse against the château. Basically, a futures contract is an unsecured loan made to the merchant.
Wine Investment Funds
Unfortunately, there are no publicly traded wine funds in the United States that allow investors the opportunity to make a "one-stop" purchase of a portfolio. There are private partnerships, but these are essentially unregulated investments, offering limited safeguards.
There are, however, publicly traded offshore investments: two in Australia (Investment Wine Fund and Orange Wine Fund) and a German portfolio (Challenger Wine Trust).
The Vintage Wine Fund, a Cayman portfolio boasting regulation by the United Kingdom's Financial Services Authority, is quite transparent. Vintage launched in 2003 and, since inception, has posted a net return of 26.8% through February 2009. Vintage is organized as a hedge fund with a "2-and-20" management and incentive fee structure. The fund offers middling liquidity with quarterly redemptions.
Vintage may represent the most realistic return obtainable on a portfolio of fine wine in the current market, but is reserved only for those who can afford the stiff €250,000 buy-in.
Bottom Line
Wine, as an investment, is fraught with risk. No one should rush willy-nilly into the wine market without carefully considering its costs and inherent illiquidity. Direct investment in vintages, however, does offer one consolation that can't be matched by other asset classes: You can always drink your mistakes.
__________
1"The Rate of Return on Investment in Wine," Burton, Benjamin and Jacobsen, Joyce, Economic Inquiry, Vol. 39, No. 3 (July 2001 pp. 337-350).