2013 began with promise for sustained gains for Nokia (NYSE:NOK) shareholders. Shares rallied from around $2.50 in October 2012, but peaked at $4.70 by January 2013. Since then, shares sold off steadily and are down over 30% from their 52-week high. Peak daily trading volumes also declined when compared to the start of the year. Investors appear to be more interested to BlackBerry (NASDAQ:BBRY), another turnaround story (and a company investors should buy). Peak trading volumes for Nokia in late March were less than half in comparison to BlackBerry trading: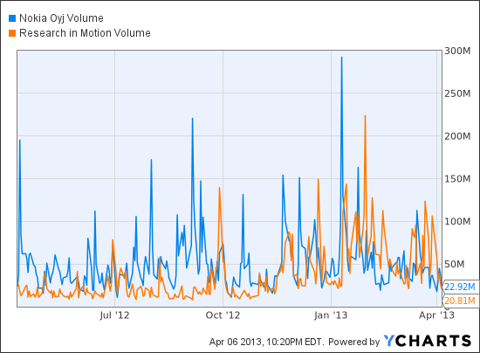 NOK Volume data by YCharts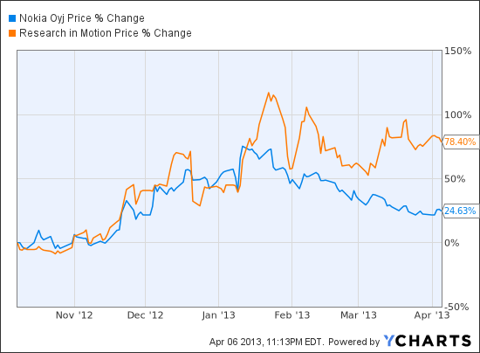 As Nokia shares continue their descent, it is a good time to determine if it is a good time to add or to start a position in the company.
There are 4 things for investors to consider for Nokia. Each will ultimately be reasons Nokia shares could favor the bullish investor.
1) Short Interest Declining
Open short volume declined 3.4%, or by 11.34 million shares between February 28 and March 15, 2013. Bearish investors are concentrating more heavily on BlackBerry instead, as short volume increased 5.3% on March 15 2013. Short float on Nokia shares stood at 8.5%.
| | | | |
| --- | --- | --- | --- |
| Company | Mar. 15 2013 | Feb. 28 2013 | Change |
| Nokia Corp. | 326,648,817 | 337,984,576 | -3.4% |
| BlackBerry | 155,005,574 | 147,214,984 | 5.3% |
Nokia is also being shorted by Whitney Tilson, although he reported a paper loss on the position last year.
2) New Premium Lumia Devices
Android-based devices took much of the attention for new smartphone releases in 2013. Samsung (OTC:SSNLF) announced a Galaxy S4, while HTC One earned decidedly positive reviews. Rumors of a new Google Nexus 5 also circulated in that time. BlackBerry also released the BB10 in the first quarter. The news drew investor focus away from successors to current Lumia models. When Nokia releases the 928, it will replace the 920. The device will be thinner, have a 4.5-inch OLED display, and will be marketed by Verizon (NYSE:VZ) as a 4G device at the end of this month.
3) Affordable Lumia Devices
To compete on the low end of the market and in the emerging markets, Nokia is marketing the Lumia 520 and 720 phones as inexpensive, feature-rich devices. The 520 sells for just $183, while the 720 sells for $329 and can take low-light photography thanks to an f/1.9 aperture. These Lumia devices run on Windows Phone 8, which gives the operating system exposure to a wider audience. The importance of affordable smartphones cannot be understated. Tom Farrell, Nokia's VP at Nokia Middle East, said:
"The retail launch of Nokia Lumia 720 and Nokia Lumia 520 at Gitex Shopper marks a welcome new addition to the Nokia Lumia family of smartphones in the UAE. The new line-up of Nokia Lumia devices offer compelling evidence of Nokia's philosophy that buying an affordable smartphone shouldn't mean compromising on the experience. They are affordable devices that offer the unique features that everyone loves about Lumia - beautiful design, extraordinary imaging, great tools for location and navigation, stellar accessories and wonderful apps."
Another device from Nokia is the Lumia 620, which has an interface consistent with the other WP8 devices. Users report the $230 device runs smoothly without any lag. The attractive price point will help Nokia win users in places where the device is available, such as in the U.K.
4) Operating Margin Targets To Be Met
Nokia reiterated its target of 10% operating margins or more for the longer term in a 20-F filing (page 84). The company also aims to grow net sales faster than the general market rate. In the short-term, investors should still expect R&D expenses and other expenses to grow as a percentage of net sales. Between fiscal 2011 and 2012, cost of sales increased from 72.3% to 78.7% of net sales. Gross margins declined to 21.3% in 2012, compared to 27.7% in 2011.
Conclusion
The steady decline in Nokia shares represents an opportunity for investors to renew their interest in the company. Nokia is scheduled to report earnings on April 18 2013, and analysts expect the company to report a loss for the quarter. Unlike for BlackBerry, the loss and weak margins should be expected, because Nokia needs more time than BlackBerry to accelerate Lumia sales. Both companies are undergoing a transition, and both will need several quarters before sales growth are to outpace the current market leaders. If Nokia happens to beat expectations again on unit sales for the quarter, shares could offer upside in the short term.
Disclosure: I have no positions in any stocks mentioned, but may initiate a long position in NOK over the next 72 hours. I wrote this article myself, and it expresses my own opinions. I am not receiving compensation for it (other than from Seeking Alpha). I have no business relationship with any company whose stock is mentioned in this article.