Deloitte's 2013 outlook for the US banking sector highlighted the fact that, "The banking environment for 2013 likely contains equal parts resolution of past challenges and the introduction of new ones. The economy in the United States is showing evidence of continued recovery, with jobless rates continuing their slow decline and the housing market showing evidence of some recovery".
As we approach the start of yet another earnings season, I wanted to examine two near-term catalysts prior to the upcoming earnings announcement Bank of America (NYSE:BAC) expected on April 17th.
Overview: Based in Charlotte, North Carolina and together with its subsidiaries, Bank of America "provides various banking and financial products and services for individual consumers, small and middle market businesses, institutional investors, corporations, and governments in the United States and internationally". (Yahoo! Finance)
Shares of BAC, which currently possess a market cap of $129.54 billion, a P/E ratio of 49.88 and a PEG ratio of 3.67, settled at $11.97/share by the end of trading on Friday. One of the things to point out for growth investors is the fact that shares of BAC are actually slightly lower since January 1st of this year.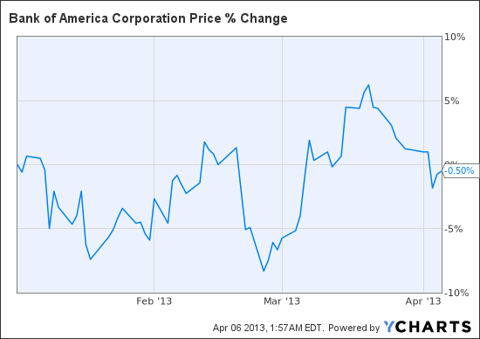 There are two near-term catalysts to consider when it comes to Bank of America and they are the company's recent announcement of its $10.5 billion dollar stock buyback plan and the impact Friday's update with regard the 2008 Merrill Lynch acquisition will have on Q1 earnings.
Stock Buyback: On March 7th, 2013 it was announced that "All but one of the nation's 18 largest banks are more prepared to withstand a severe U.S. recession and a global downturn than at any time since the 2008 financial crisis. Results of the Fed's annual "stress tests" showed that as a group, the 18 banks hold fewer bad loans compared with last year, thanks to a stronger economy".
One of the best ways for a company to boost shareholder equity is through a stock repurchase or buyback plan (and as part of its annual capital plan which was recently approved by the Federal Reserve) Bank of America did just that. On March 14th, a day where many of the bigger US banks such as JPMorgan (NYSE:JPM) and Bank of New York (NYSE:BK) raised their dividends, Bank of America announced a $10.5 billion dollar stock repurchase plan which includes a repurchase of $5 billion in common and an addition $5.5 billion in preferred stock.
Richard Saintvilus (who writes for Seeking Alpha under the name 'SaintsSense') also agrees with my position that such a move would be good thing in the near-term and goes on to note that "Bank of America recently approved a stock buyback program valued at up to" $10.5 billion and after successfully passing its stress test, had an extra "pep in its step".
Merrill Lynch Settlement: On Friday, April 5th, Bank of America announced that "it had won a federal judge's approval for a $2.43B settlement with investors who said the lender hid crucial information when it bought Merrill Lynch in a $50B all-stock deal in September 2008".
In my opinion the settlement (which was originally announced on September 29th) not only puts the minds of those associated with both the State Teachers Retirement System of Ohio and Teachers Retirement system of Texas at ease, but also puts an end to the near $40 billion of extra costs for litigation, asset write downs and mortgage buybacks, since the completion of the Merrill acquisition which dates back to mid- 2008.
Can we expect Friday's ruling to impact Q1 earnings which are due out April 17th? Due to the fact Bank of America's Q3 2012 earnings were substantially affected by the announcement of this settlement, I highly doubt earnings will be affected.
According to Jessica Silver-Greenburg of the New York Times, "Q3 profit will be hurt by a $1.9 billion adjustment related to the value of its debt and the bank faces an additional $800 million charge related to an income tax expense". When all was said and done, some analysts even had the settlement impacting Bank of America's earnings by as much as $0.28/share.
Do I think Bank of America's Q1 earnings will meet or even exceed Wall Street's expectations in terms of both EPS and Revenue? If the company can continue to narrow its credit spreads and reduce the total number of its higher-risk assets, as it had done during Q1 2012, EPS estimates of $0.21/share and revenue estimates of $23.50 billion could be well within reach.
Disclosure: I am long BAC. I wrote this article myself, and it expresses my own opinions. I am not receiving compensation for it (other than from Seeking Alpha). I have no business relationship with any company whose stock is mentioned in this article.