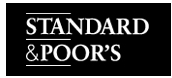 Government initiatives to prop up finances and rekindle demand in the ailing global auto industry are offering short-term liquidity relief to some companies, including some in Europe. However, these programs could impede the industry's long-term recovery, Standard & Poor's says in Governments' Support For the Auto Industry Is A Bandage, Not A Lasting Cure, one of a series of new reports on the auto industry. In a related report Recession And Demographic Changes Are Hitting Europe's Auto Markets Hard S&P also suggests that passenger car sales in Europe may not fully recover because of structural changes in car use.
…we believe only a sustained recovery of consumer demand will bring a lasting rise in vehicle sales. What's more, government support comes with strings attached that could ultimately hinder the industry's necessary restructuring process.
Such a process, in S&P's view, needs to tackle global overcapacity, industrywide consolidation, high capital intensity, and automakers' fixed-cost structures.
S&P projects Western European auto sales will remain below their 2007 level through to 2011. This reflects the weakness of the economic recovery we expect in the next couple of years, as well as more structural changes affecting passenger car demand. The average distance travelled by motorists is steadily declining, falling by 1.4% per year between 2001 and2007.
Europe's automakers are also suffering from an extended replacement cycle partly of their own making. In 2007, the average age of cars registered in EU-15 countries was 8.2 years, up from 5.8 years a decade earlier. This increase is in part because the overall quality of cars–and therefore their life expectancy–keeps improving.
Moreover, new (as opposed to second-hand) car buyers are getting older: The average age of car buyers in Germany in 2007 was 51, which probably means that younger people increasingly rely on the second-hand car market–not necessarily good news for the automakers.
Uncertainty about the auto industry's path to recovery has cut the cash generation and creditworthiness of most global automakers. This, in turn, led Standard & Poor's to take an unprecedented 35 downward rating actions, outlook changes, or CreditWatch placements over the past seven months.
If the global economic downswing continues to worsen, we anticipate further pressure on auto ratings in 2009. Among weaker U.S. players, supplier and perhaps automaker bankruptcies are possible, in our view.