There has been a lot of discussion about using low-volatility ETFs in portfolios and the securities have performed well recently. The contrarian in me has wondered about their cousin - the high-beta ETF. What is the best use for this security? I see a potential for aggressive investors to use this ETF in their portfolio as a leveraged trade to get asymmetric returns with upside potential and a hedged downside.
In the All-Weather Portfolio I make use of a matched trade using a S&P Index (NYSEARCA:SPY) with a natural hedge of long-term treasuries (NYSEARCA:TLT). This matched trade lowers volatility in the portfolio. The long bond ETF acts counter to the stock index ETF to provide an interest-producing hedge. This negative correlation reduces the effect of stock market draw downs.
TLT adds positive asymmetry to the portfolio by providing cash-flow in both up and down markets. The counteraction of the two investments together lowers the overall volatility as shown in Exhibit 1:
Exhibit 1: TLT creates an interest producing hedge for SPY

Less Capital - Same Great Taste
A drawback to this strategy is that the SPY:TLT match trade requires an equal allocation to both ETFs which consumes a large portion of portfolio funds. In an unmodified version of the All-Weather Portfolio the two trades take up 50 percent of the capital. This leaves less capital available for other investments. The high-beta ETF can be used as a strategy to free up capital.
There is an alternate solution for more aggressive investors. It is substituting the high-volatility high-beta S&P index (NYSEARCA:SPHB) to achieve portfolio beta with less capital. The ETF has a beta of 1.66 vs 1.00 for . This higher beta trade requires a smaller allocation to the equity ETF to produce an average 1.00 beta. In this case, an allocation of 2/3rds and 1/3rd cash will yield an effective beta of 1.00.
Using a more volatile ETF requires a relatively larger TLT allocation to hedge the portfolio defeating much of the benefit. To overcome this problem, the high-beta ETF can be matched with an equally high-volatility zero-coupon treasury ETF like (NYSEARCA:ZROZ) or (NYSEARCA:EDV) - see Exhibit 2. Because there is 33% less to hedge the more aggressive EDV trade requires one-third less allocation than TLT.
This strategy of combining smaller amounts of two higher-volatility ETFs requires 1/3rd less total capital. This match yields an effective beta of 1.00 with a mix of 1/3 , 1/3 , and 1/3 cash.
Exhibit 2: High-Beta hedged with high-volatility .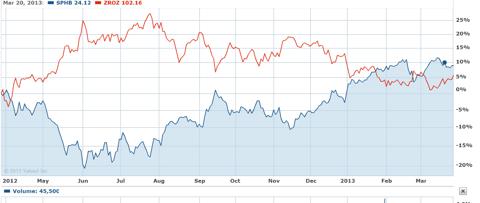 Extra Capital to Deploy
The remaining one-third cash can remain in the portfolio as ballast or can be invested in a low-volatility income-producing asset like a preferred stock ETF (NYSEARCA:PFF). Income generated from this investment will boost the portfolio's yield and help offset potential draw downs and add beneficial asymmetry to the allocation.
With Benefits Come Risks
This match trade has benefits, but with the benefits come risks. The combination adds two more-volatile securities to the portfolio. If the historical relationship between the two securities changes the hedge will fail. When employing this trade, investors using this combination should actively watch and monitor the movements of the markets and counter movements of both ETFs.
But for investors who can tolerate the added volatility, it is an interesting way to get aggressive upside with more downside protection.
Disclosure: I have no positions in any stocks mentioned, and no plans to initiate any positions within the next 72 hours. I wrote this article myself, and it expresses my own opinions. I am not receiving compensation for it (other than from Seeking Alpha). I have no business relationship with any company whose stock is mentioned in this article.
Additional disclosure: This article is for informational and educational purposes only. The views expressed in this article are the opinions of the author and should not be interpreted as individualized investment advice. Investment objectives, risk tolerances and the financial situation of individual investors may vary. Please consult your financial and tax advisors before investing.