It is no secret to the readers of my articles that I am generally optimistic about gold mining companies (see my article Buying And Owning Gold Part 2: Specific Investments in Gold and my article 5 Gold Miners Yielding More Than The 10 Year U. S. Treasury Bond). In 5 Gold Miners, I suggest that investors should avoid purchasing shares of Barrick Gold (NYSE:ABX) despite the fact that it is one of the few gold mining companies that has a dividend yield that exceeds that of the 10 year U. S. Treasury Bond.
In this article, I go one step further and suggest that the company should be shorted. For investors who agree with my bullish position on gold and gold mining shares, such a position should be held as a hedge against other gold positions. For investors who disagree with my position and believe that gold prices will fall, then they should expect gold mining companies to fall in value as well. Barrick in particular, as I argue below, has been poorly managed and should underperform its peers unless the company can turn its performance around. Consequently it should be targeted by investors as an excellent way to play their "bearish gold" thesis.
1:About Barrick Gold
Barrick Gold is the world's largest gold mining company based on several metrics.
The company has a market capitalization of roughly $27 billion, which is the largest of any gold mining company (although Goldcorp (NYSE:GG) has seen its market capitalization exceed Barrick's recently for brief periods of time).
The company produces over 7 million gold equivalent ounces per year, which is more than any other gold mining company.
The company has over 250 million ounces of gold reserves, which is more than any other gold mining company. It also has some silver and copper exposure.
Barrick seemingly has many things going its way.
The company's size precludes it from growing as rapidly as its smaller peers, yet it has increased its sales substantially over the past decade: in 2003 Barrick's revenues sat at $2 billion, while for 2012 they were a whopping $14.5 billion, which computes to a CAGR of 22%.
The company's operating income over the same time period grew even faster from $681 million to $7.89 billion, which computes to a CAGR of 27.8%.
This performance isn't bad considering that the price of gold is up approximately 17% per year during the same time frame. Nevertheless, ABX shares have only risen 80%, or 6.1% per year, during this time period.
This poor relative performance could be attributed to a general underperformance of gold mining shares, and to some extent this is true. Yet Barrick has even under-performed its peers, as the following chart of ABX shares relative to the HUI Gold Bugs Index illustrates: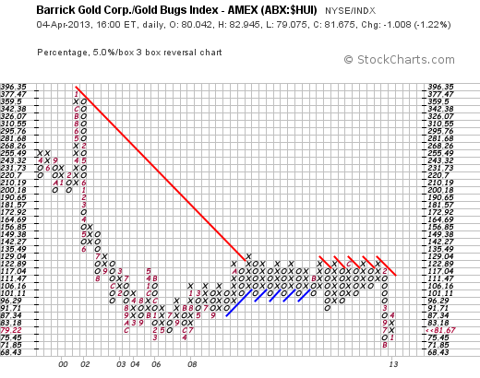 Despite the fact that Barrick has seen its revenues and operating profits soar along with the price of gold, management has done a poor job in creating shareholder value. Consider the following facts and figures:
While the price of gold was up nearly five-fold during this time period, the company was only able to increase its tangible book value per share from $6.51 to $12.54. Thus the company's shares have decreased in value relative to the price of gold.
The company's long term debt is up 10-fold.
Its dividend per share is up 3.4 times. This appears to be respectable, yet Barrick's dividend has underperformed the gold price despite the fact that the company's revenues and operating income have outperformed the price of gold. Furthermore, Barrick's peers such as Goldcorp and Newmont Mining (NYSE:NEM) have seen their dividends increase 6-fold and nearly 8-fold respectively.
2: Barrick Gold's Under-Performance
There are several reasons for this poor performance.
Barrick sold gold--gold that it anticipated producing in the future--into the market at the (then) current price because it anticipated a future decrease in the gold price: in effect, Barrick shorted gold. It was clearly wrong in doing so, as the price action in gold radically diverged from Barrick's expectations. In 2009, the company realized its mistake, which turned out to be an incredibly costly one. Upon closing its hedges, the company was forced to take a $5.6 billion write-down, and shareholders lost $1.41 per share in tangible book value from 2008-2009 despite a 27.6% rise in the price of gold over that same time period.
In 2011, the company purchased Equinox, which was predominantly a copper-producing company. In general, Barrick seems to be shifting away from gold and toward copper, as the company's production numbers over the past few years indicate (copper production has been rising while gold production has been shrinking). This in itself is not a reason to short Barrick, unless you take the particular stance that gold will rise as a result of a languishing global economy, which would presumably hurt copper prices. However, in purchasing Equinox in 2011, Barrick used $7.3 billion of shareholders' hard earned money. Not only did the company fail to appease its gold-bull shareholders, but it failed to do due diligence when analyzing Equinox. As a result, the company recently (Q4, 2012) took a $4.4 billion write-down when it disclosed that it over-valued Equinox on its books.
The success of Barrick's Pascua Lama project in Chile is fundamental to the company's overall future success. From now until the second half of 2014, the company intends to spend over $4 billion to develop the property, and it will add over 800,000 ounces of annual production, or more than 10% of the company's overall production. Unfortunately the company has been accused of property fraud and environmental violations in Chile, and it is quite possible that it will have to forfeit this project and the $4.2 billion spent thus far on it. According to an article from Upside Down World, Mountainstar Gold has already won the rights to this property from Barrick as of February 1st. If Barrick is unable to overturn Chile's Mining Commissionar's decision, not only would this mean that the company's gold production would continue to decline, as it has for the past several years, but it would be yet another indication of its inability to invest shareholders' capital efficiently and profitably.
Barrick has stated in its 2012 annual report that it has no plans to bring new mines into production other than those already scheduled (such as Pascua Lama) due to a poor environment for doing so. While I agree with Barrick's claim that they have been too focused on growth for growth's sake in the past, the solution to this problem is not to eliminate growth, but to improve its strategy.
3: Risks To Shorting Barrick Gold
Despite all of this negativity, there are some things to like about Barrick. First, one thing that they have done recently that I approve of is that they increased their silver production substantially to 50 million ounces per year from almost nothing (just 3 million ounces in 2008). As I suggest in my article Buying And Owning Silver Part 1: Arguments For Silver Ownership I expect silver to outperform gold.
Second, Barrick can potentially become an excellent company: all it has to do is demonstrate to me that it can act in such a way that creates shareholder value.
The company clearly has the material assets to do this, as I suggest above. Furthermore it has the potential to transform itself in several ways.
It can divest assets that are: (1) located in politically stable jurisdictions, such as Peru and Tanzania, or (2) copper focused.
It can use its cash-flow to pay down debt. While leveraging up is a way for the company to increase its exposure to the price of gold, this strategy can backfire if the gold price continues to correct, or if the company faces other problems such as the Equinox write-down.
It can purchase non-producing junior mining companies that have seen their stock prices plummet over the past couple of years. These companies are potentially in serious trouble given that they have no revenue and need capital to develop their mines. However if they are purchased by Barrick then it can use its extensive cash flow to develop these mines and bring them into production. In effect these companies are worth more if they are owned by Barrick, then if they try to survive on their own.
4: Conclusion
The following points summarize my (generally negative) thoughts on Barrick Gold as an investment:
Barrick is the largest gold mining company in the world.
While Barrick's performance has been solid when compared to other companies, when it is compared with the price of gold or with other gold mining companies, its performance has been very disappointing.
The company has made some very poor decisions that have forced it to make enormous write-downs. There are potentially more in the future. These incidents lead me to question management's ability to create shareholder value.
While I am bearish on Barrick Gold (relative to the price of gold and to other gold mining companies), I do like Barrick's increased exposure to silver over the past couple of years. I also like the fact that the company has enormous potential to turn itself around, although there have been no signs that this will happen.
To summarize how investors should trade based upon this information:
Investors who are generally bullish on the price of gold should consider shorting Barrick only to hedge against other positions in gold miners or in gold itself.
Investors who are generally bearish should consider shorting Barrick outright unless they are especially bullish on the prices of silver and copper. Even if they are they should not buy Barrick shares.
That being said, I would not initiate a short position in Barrick at current prices. The shares are trading near multi-year lows. They are down over 50% from their 2011 peak, and they are oversold as the following chart indicates: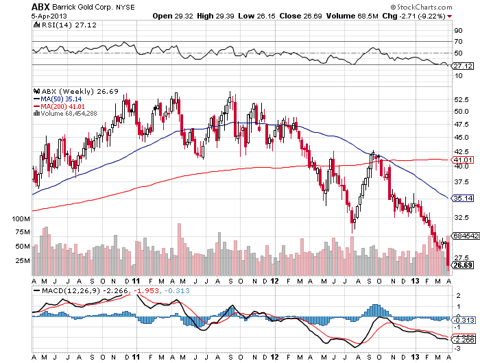 Consequently, investors should wait for the shares to rise and for some optimism to enter the market before initiating a short position.
Disclosure: I am long GG and may initiate a short position in ABX over the next 72 hours. I wrote this article myself, and it expresses my own opinions. I am not receiving compensation for it (other than from Seeking Alpha). I have no business relationship with any company whose stock is mentioned in this article.