We are seeing the Japanese embark on QE1 Bernanke Style and this is having the effect of adding confidence that one of the world's five largest economies will come out of its deflationary lull, an economic coma it has been in for far too long.
Commodities are up across the board, and with natural gas prices rising here in North America we see reason for some of our plays to increase on that bullishness alone (even though they are no longer dry plays). The Utica has served us well through all of this volatility in the markets and we noticed a few names operating there in a material way hitting highs (all-time, 52-week and some shorter-term time frames as well).
Commodity prices this morning are as follows:
Gold: $1576.90/ounce, up by $1.00/ounce
Silver: $27.235/ounce, up by $0.015/ounce
Oil: $93.45/barrel, up by $0.75/barrel
RBOB Gas: $2.8955/gallon, down by $0.0319/gallon
Natural Gas: $4.157/MMbtu, up by $0.032/MMbtu
Chart of the Day:
The utility names continue to impress us with their strength and Friday's session led to them dominating the all-time highs list. We put this chart together for readers to take a look at. Remember our previous comments, if investors continue to inject fresh capital into stocks with yields and electricity consumption is increasing, both indicate to us a healthy economy and capital markets. Further reason to be bullish this morning.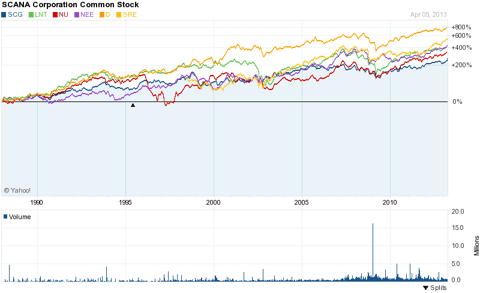 Chart courtesy of Yahoo Finance.
Oil & Natural Gas
We are really surprised at the strength we are seeing in Gulfport Energy (NASDAQ:GPOR) shares these days and the recent price action has only reinforced our belief that weakness is to be bought, as the 52-week high reached Friday indicates. We do not think that strength is to be sold, however one could do just fine buying the weakness in order to sell into the strength to pocket a few points here and there. That is not the game we want to play because we believe this is one of those special situations where a decent allocation of capital being put to work here can turn into a small fortune. Already readers have benefited from a huge rise with almost every one of our calls having doubled in price. Being bullish of all things Utica in 2013 is the way to go, and it is how we have positioned the portfolio at this time.
It will be tough not to fall in love with this stock after how well it has served us, but we are looking to extract as close to full price as possible. That will not be this year, but at some point down the road in the next 2-5 years.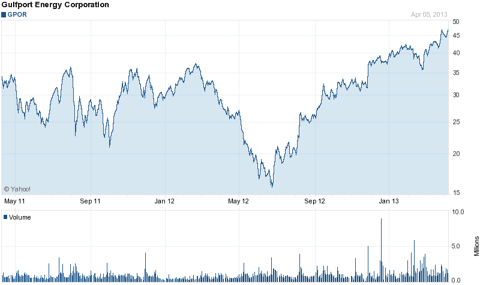 Chart courtesy of Yahoo Finance.
Friday saw two names in the natural gas space see decent price swings as traders moved into the space once again as natural gas prices have heated up. Once again we are over the $4/MMbtu and that usually draws in the speculators. As we have stated numerous times before, investors are far better buying shares of the dry natural gas producers to speculate on the commodity than they are purchasing the natural gas ETF. That is a fool's game which is best left to fools and their money. The two names which grabbed our attention were Gastar Exploration (NYSEMKT:GST) and Exco Resources (NYSE:XCO), both of which we have discussed before. If one wants to speculate these are two good names for short-term trading, however if one is looking for longer-term speculating we would advise looking into some of the larger players with stronger balance sheets and better properties. This will buy you more time, lower your risk of insolvency at the company but also lower your overall gains as the rise will be less dramatic, but that is a trade we are willing to make every time after the lessons we learned early in our career of being in the right place at the right time and missing out because our companies did not have the staying power (watching your assets enrich others is quite frustrating for those who have not had the experience).
The Trades
We watched Friday as SandRidge Energy (NYSE:SD) hit a new 52-week low before bouncing back to finish the session at $4.96/share after rising $0.14 (2.90%). Volume was strong at 16.5 million shares and the $5/share level proved to be resistance as the shares broke above the level briefly to hit the $5.03 level before retreating shortly after. Today should be interesting with the way the markets are set up and if shares cannot break above the $5/share level today, then the bears most certainly have control of this one.
Which is the same thing that can be said for Kodiak Oil & Gas (NYSE:KOG), as bears have pounded the shares lower day after day it seems. We think that a down day here would most certainly be bearish and would be something we find troubling. As for which one we would go bullish on at this time the answer seems quite obvious to us, Kodiak is the name, for we want to be long 'oily' and 'liquidy' producers and less so of those names which produce the dry stuff, of which SandRidge apparently will produce more and more of as their assets age. We think there is a bullish short-term trade present in both names starting today, but would only look to Kodiak for a trade at this time.
Disclosure: I am long GPOR. I wrote this article myself, and it expresses my own opinions. I am not receiving compensation for it (other than from Seeking Alpha). I have no business relationship with any company whose stock is mentioned in this article.