By Sholom Sanik
Heading into the March 28 USDA quarterly stocks report, US 2012-13 ending stocks were forecast to drop, from 989 million bushels in 2011-12, to 632 million bushels, or 5.6% of consumption, the lowest level in 17 years. As we detailed in our last report on corn (Focus on Futures, March 18), despite the fact that US exports have been anemic all through the marketing year, strong domestic demand had "seemingly" tightened the market. Old-crop prices remained stubbornly high, and spot was commanding a hefty premium over futures.
The quarterly stocks report dispelled any such notion: The USDA reported on March 1 that stocks were at 5.398 billion bushels, close to 400 million bushels above the average of analysts' guesstimates. That was a huge miss.
The response was appropriate, prices fell the 40¢-per-bushel daily trading limit, gapped lower the following day, and have since dropped to about $1 per bushel below the settlement price of the session prior to the report (Chart 1).
Chart 1 - May Corn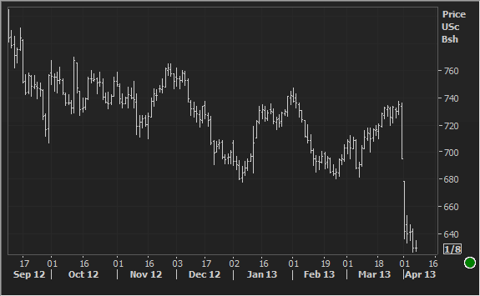 To say that the report was a surprise is an understatement. Explaining the sharp divergence from the hard evidence of very strong spot premiums - which incidentally continue to hover at about pre-report levels - presents a bit of a challenge. The USDA - in the words of analysts - "found" the 400 million bushels. One theory is that domestic demand has in fact been just as strong as the spot premiums indicate, but that the drought-stricken 2012-13 crop was actually underestimated.
If the USDA stands by the data, the estimate for ending stocks should jump by a similar amount in the April 10 monthly crop report, to over 1 billion bushels. That would alter the landscape significantly. If there are no major changes in all other categories, that would see stocks as a percentage of usage climb to about 11.5%, a far more comfortable zone. There have been instances, however, in which the quarterly stock report was inconsistent with crops the report that followed. While not quite as dramatic, a year ago, the quarterly stock report was 140 million bushels below expectations, but the estimate for April ending stocks was virtually unchanged from the March estimate.
There haven't been any weekly export reports since prices have tumbled. It will be interesting to see if the sharp drop will stimulate any traditional US business for old-crop corn that was lost to sticker shock.
The other important report released on March 28 was planting intentions for the 2013-14 season. The estimate came in at 97.282 million acres, just 30,000 acres above the average trade guesstimate. Headlines declared the results to be bearish for new crop months, but it was really in line with expectations. Even with optimum yields, those extra acres will grow about 4 million bushels.
Prices of new crop contract months have fallen by 30¢ per bushel (Chart 2) since before the report, but for the most part, a record 14-billion-bushel crop had already been priced in.
Chart 2 - December Corn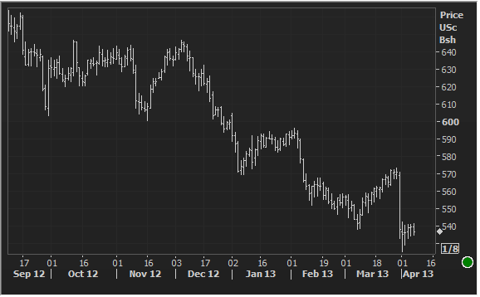 In the meantime, bird flu and a pork disease in China threaten the slaughter and disposal of significant numbers of corn-consuming chickens and hogs. Not to mention, consumers' fears that may lower demand.
The inventory report has created a fair amount of uncertainty. We are going to continue to remain sidelined at the present time. Late-season snow and rainstorms have replenished some much-needed sub-soil moisture in corn-growing regions. By the same token, though, the wet weather has slowed planting progress and has jeopardized high-yielding early corn plantings. Our only recommendation is to follow the weather and buy new-crop months at the slightest hint of a disappointing crop.
Disclosure: I have no positions in any stocks mentioned, and no plans to initiate any positions within the next 72 hours. I wrote this article myself, and it expresses my own opinions. Friedberg Mercantile Group is a broker/dealer specializing futures and options, as well as hedge fund manager employing a global macro strategy. This article was written by Sholom Sanik, one of our analysts. We did not receive compensation for this article (other than from Seeking Alpha), and we have no business relationship with any company whose stock is mentioned in this article.