In March, Walgreen (WAG) announced a new distribution agreement with AmerisourceBergen (NYSE:ABC). Described by both parties as transformational, the news sent both stocks soaring subsequently. For every winner, though, is a loser, and in this case Cardinal Health (NYSE:CAH), which lost the contract, was hit hard, dropping more than 10% over the next two days. Clearly this was a surprise to the market, but investors were aware of the possibility of contract loss or renewal at a lower price, and it appears that the stock may have overreacted. CAH, up just 3% in 2013 and rather flat over the past two years, has trailed peers and the Healthcare sector in general and offers a good entry for conservative growth investors, with the potential for 34% price appreciation over the next year if it can attain a P/E of 15X.
What Happened?
WAG escalated its earnings call by a week in order to announce the transaction, which it described in this press release:
10-year agreement
Branded and generic drugs
Equity stake, with WAG able to buy up to 7% of ABC on the open market (with board representation) and warrants to buy 8% at 51.50 from 3/2016-9/2016 and 8% at 52.50 from 3/2017-9/2017
The ABC press release suggested that the new relationship would add 20 cents per share and $28 billion in sales in 2014. This represented an additional 32% above the sales consensus but just 6% above the prior EPS estimate, suggesting a longer-term payoff rather than just a quick windfall. The earnings accretion would have been 8% except for the need to write-off the decommissioning of a legacy IT system. The company described the process of ABC taking on generic distribution that was previously done internally by WAG as developing over time. The companies held a joint conference call (transcript here), during which WAG CEO Greg Wasson explained that ABC offered a better strategic fit than its rivals, is closer to the community pharmacy and offers a strong cultural fit. ABC also pointed to a massive hit to its projected FCF in FY13 (September) due to inventory stocking, suggesting about a $600mm hit (excluding additional CapEx).
Later that day, CAH posted a press release, confirming the contract loss. The main points the company shared:
Contract ends 8/31/13
FY2014 (June) non-GAAP diluted EPS should be "similar" to 2013's 3.42-3.50
WAG was 21% of sales in FY12
80% of sales was classified as "bulk," which has "meaningfully less segment profit as a percentage of sales
WAG bulk and non-bulk sales were lower than average margin
Contract loss results in "significant net working capital decrease"
Here is how CAH reacted to the news: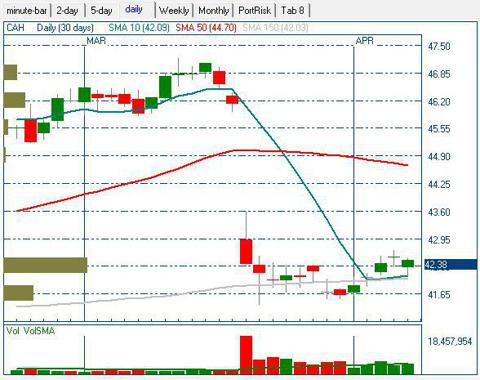 How Big is the WAG Drag?
You look at that chart, and it's clear that this wasn't inconsequential. In fact it's not. The 10-K details that WAG was a 22% customer in FY12 and that the contract was set to expire in August. On page 16, one can see how low the margins are on bulk sales, which represent the vast majority of its business with WAG. In total, Pharmaceutical Sales in FY12 were $98 billion, generating segment earnings of $1.56 billion (1.6% margin). Bulk sales were $40.2 billion, with operating profit of about $156mm (0.4% margin). This suggests that the margins on non-bulk sales are 2.4%. There isn't enough information provided to calculate WAG's precise contribution to the bottom-line, but here's my estimate:
Sales: $22.6 billion (21% of reported sales)
Operating Profit: $203mm (based on assumed .9% margin - 30% non-bulk at 2% and 70% at 0.4%)
EPS: .37 (37% tax-rate, 343mm shares)
I calculate that WAG represented 21% of sales in FY12 but less than 12% of EPS.
Did the Market Overreact?
As I just demonstrated, the hit to EPS, all things equal, would be about 12%, and the stock fell by about 10%. On the surface, some might suggest that this was a rational response. I would argue first that the stock had already discounted the potential of a loss or, more likely, the risk of a tougher deal. The 10-K indicated that WAG had issued a request for proposal for a standard three-year period a year before its expiration. More importantly, though, as the press release issued that day indicates, there is a substantial reduction in working capital, and CAH will use that cash which is clearly returning below-average return on capital (given WAG's low margins) to repurchase stock. Investors apparently aren't yet willing to embrace what will end up being higher margins and better returns on capital.
What Else Could Go Wrong?
Two big issues stand out for CAH. First, they closed a $2 billion acquisition of AssuraMed the day before the WAG news. The company laid out the rationale when it announced the deal in February. CAH suggested that the deal will be marginally accretive to EPS in FY13 but that could add .18 in FY14 (5%), but this expansion outside of their core area into the home health market could prove to be a distraction.
Another issue is that the CVS contract expires soon as well, though this one, which represented 21% of sales in FY12, ends in June. It seems highly unlikely that CAH will lose this business given the proximity to expiration and the importance now to CAH. Clearly though, with the company having lost its third-largest customer, Express Scripts (NASDAQ:ESRX) last September ($9 billion in FY12, all bulk), investors are presumably nervous. The ESRX change took place after it merged with Medco Health, which had a contract previously with a competitor. CVS is already low margin, but the risk is likely not loss but possibly even lower margins. I tend to doubt that, as it wasn't pricing that drove the WAG/ABC deal.
Valuation
CAH trades at about 12X forward estimates, which have declined to reflect the contract loss. The balance sheet had just $2 of net debt per share as of 12/31, but, after the closing of AssuraMed, I estimate net debt at about $8 per share. A week after announcing the deal, CAH tapped the markets for $1.3 billion, including $400mm 1.7% 5-year notes, $550mm 3.2% 10-year notes and $350mm 4.6% 30-year bonds. CAH also yields 2.6%, a healthy premium above the S&P 500. In the chart below, courtesy of Baseline, we can view these metrics over time: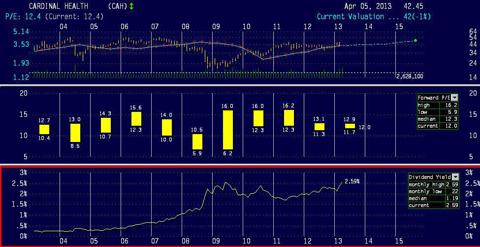 Note that part of the earnings drag several years ago was related to the spin-off of CareFusion (NYSE:CFN). The dividend yield has never been higher. The current P/E ratio is near a median for the past decade. What I don't include is the chart of the EV/EBITDA, currently at 6.7X but with a median of 8.6X over the past decade. The point is that the balance sheet of this free-cash flow machine has improved over the years, and the market doesn't seem to reflect it.
The closest peers to CAH are ABC and McKesson (NYSE:MCK). A broader group would also include other healthcare distributors, like Owens & Minor (NYSE:OMI), Henry Schein (NASDAQ:HSIC).

While CAH is slower growing than most of the peers, it has a better balance sheet and substantially lower valuation on a P/E or EV/EBITDA basis.
I think that CAH could trade to 15 P/E over the next year. It has in most of the recent years. Based on current consensus outlook, which reflects the loss of CAH, this suggests a one-year target of 57.
Technicals
CAH is certainly not a "high and to the right" chart, like most of its peers: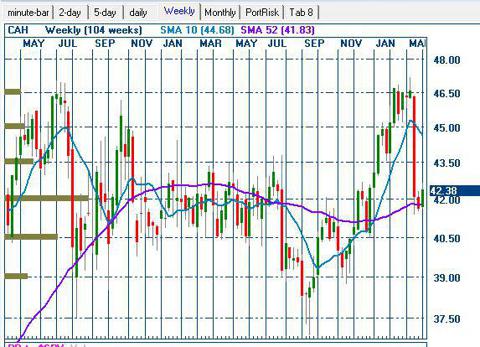 The plunge left the stock in the middle of a two-year trading range. I think that the stock has strong support 40-41 and represents a nice contrast to the overextended charts that dominate the Healthcare sector.
Conclusion
The drop in CAH seems to match the economic impact of the loss of the contract. While I have pointed to two risks that are likely contributing to some of the depressed valuation, it seems that the market had also priced in some chance of the WAG loss. With the removal now of this big overhang, perhaps investors will now better appreciate this high-quality story trading at less than 7X EV/EBITDA.
Disclosure: I have no positions in any stocks mentioned, and no plans to initiate any positions within the next 72 hours. I wrote this article myself, and it expresses my own opinions. I am not receiving compensation for it (other than from Seeking Alpha). I have no business relationship with any company whose stock is mentioned in this article.
Additional disclosure: CAH and WAG are both held in one or more model portfolios managed by the author at Invest By Model.