Check out this nasty 5-year chart. It is comprised of the U.S. equity index (NYSEARCA:DIA) the Canadian equity index (NYSEARCA:EWC) the EAFE index (NYSEARCA:EFA) and a broad based bond index - U.S. investors can use (NYSEARCA:AGG) or (NYSEARCA:BND) for the bond exposure. EFA is an ETF that tracks EAFE with holdings in developed nations in Europe, Australasia and the Far East.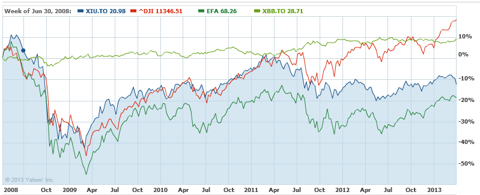 That's a heart-breaking ride for investors - especially those with extensive exposure to the equity markets in North American and around the world. In 2009, there was nowhere to hide. The markets in 2009 fell 60% or more from their previous and recent peaks made in 2008. Too many investors were unable to hang on. Retail investors were up to their old tricks, buying high and selling low. The phones of mutual fund companies and advisors were ringing off the proverbial wall. "Sell!!!".
Too many investors had taken on too much risk. Their portfolios did not match their risk tolerance. Investors who put some shock absorbers on their portfolio (bonds) - and added international exposure would have had a much smoother ride, and perhaps would have been able to hang on.
Incredibly, here's what happens when you put those ugly lines in the chart together in three classic styles of balanced portfolios . The returns are average annual returns.

Not looking too scary now from those returns. They're downright civilized. It's surprising to say the least that those returns were created by those erratic brown, blue red and green lines in the above chart. OK, it's not surprising, it's magic.
Here's the asset mix of each portfolio.
The Balanced Income Model
Bonds 70%
Canadian equities 10%
U.S. equities 10%
International equities 10%
The Balanced Model
Bonds 40%
Canadian equities 20%
U.S. equities 20%
International equities 20%
The Balanced Growth Model
Bonds 25%
Canadian equities 25%
U.S. equities 25%
International equities 25%
In its worst days in 2009 when the markets fell some 60% the balanced income portfolio was down 10%. The balanced portfolio was down 15%. The balanced growth portfolio was down 25%. Those are certainly manageable retracements for the bruised psyche of most investors. Of course the bond index was doing all of the risk management at that time. Severe market corrections are the great equalizer for all equity indexes. They all hold hands and bungee jump together.
In the recovery phase different regions seem to have their day, at different times. Canada had outperformed the U.S. for an extended period. Now the U.S. is carrying the day - and the portfolio. Though in 2012 the International index posted the greatest annual return at 18.8%.
As I outline in this article, U.S. investors could have outperformed the U.S. markets over an extended period with lower volatility by investing in a diversified portfolio that included bond and international exposure. This portfolio mirrors the balanced growth portfolio shown above.
Here's how that balanced growth portfolio would have delivered over the last (almost) 10 years.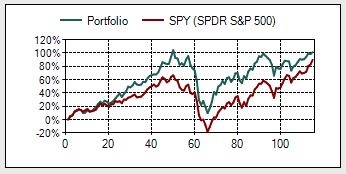 And here's how or why the magic of diversification occurs. When one asset class or region is having a rough patch, another index will pick up the slack. They are loosely or sometimes even inversely correlated. Here's the correlation matrix for the four indexes.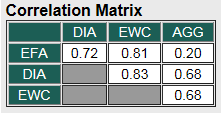 We can see that the greatest benefit of low correlation is derived from the mix of the broad bond index and EFA - the index that holds European and Japanese and other Far East equities. North American equities and the bond index also show a low correlation of just 68%. Thanks again to the portfolio and correlation tools at low-risk-investing.com
Conclusions
The magic of diversification not only helps lower the volatility of a portfolio, it can actually boost returns during some periods. In the 10-year period up to Feb 2013, the balanced growth model that includes 25% bond exposure actually outperformed the broader U.S. markets.
But of course, historically, over the course of total stock market history, bond exposure will lessen your returns compared to an all-equity portfolio. As we know, history tells us that the more risk we take on, the greater the returns. According to Vanguard, here's how much we give up by adding 25% bond exposure.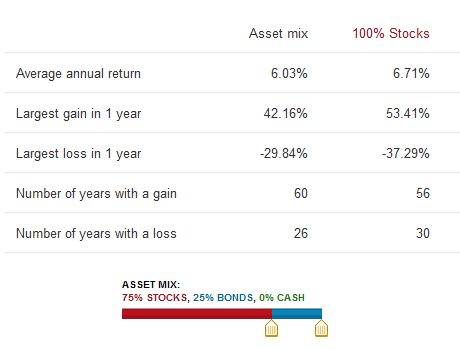 The time frame is 1926-2008.
25% bond exposure will mean giving up .68% annual returns, according to history. But who knows… will history repeat itself, or will we see a repeat of the last decade?
Only time will tell.
Disclosure: I am long DIA, EWC, EFA. I wrote this article myself, and it expresses my own opinions. I am not receiving compensation for it (other than from Seeking Alpha). I have no business relationship with any company whose stock is mentioned in this article.
Additional disclosure: Dale Roberts aka cranky is a Streetwise Coach at ING Direct Mutual Funds. Streetwise Portfolios offer Canadians low-fee, complete, index-based portfolio options. Dale's commentary does not constitute investment advice. The opinions and information should only be factored into an investor's overall opinion forming process.