"O-meros," she laughed. "That's what we call him in Greek,"
Stroking the small bust with its boxer's broken nose
And I thought of seven seas sitting near the reek
Of drying fishnets listening to the shallows' noise.
- Derek Walcott, Omeros
Though Omeros (NASDAQ:OMER) is a risky, speculative, micro cap company formed years after Nobel Laureate Derek Walcott's poem by the same name, it is potentially important. Many impressive persons run the corporation, and they are working on products that predominantly have improving chances at easing the lives of people around the world. Though some debate its merits for investing, there is no obvious reason to sell shares at this time, while a much stronger case can be made to buy at current prices than previously.
The stock has recently moved lower, trading at under $4 per share, during and immediately after last Friday's Future Leaders in Biotechnology Conference. For those who have reviewed the March 6th Cowen and Company Healthcare Conference, there is not much difference, except perhaps that it lacks a message specifying that copying materials is forbidden. It is pleasing to offer an up-to-date discussion with the help of some newly available graphical aids.
To use words spoken during the introduction of the Future Leaders presentation, Omeros's PharmacoSurgery Platform brings approved generics to the site of the injury during procedures. The company's CEO, Gregory Demopulos then clarifies that the business's strategy is continuing to be "Successfully executed." PharmacoSurgery is designed to be a financial generator for the company and its clinical development. Sales, with expected significant partnering revenues on one or more of products in clinical development, should continue to fund the pipeline. The product with the most immediate prospect for commercial use is OMS302, intended for eye surgery, and if the FDA approves it, the company plans for it to be available next year.
In the recording of the presentation on March 5th, Demopulos further says that pricing opportunities for standard and premium cataract procedures are "Attractive" and they are "Pulling through the pieces for pass-through reimbursement." The current plan is to sell independently in North America and partner regionally where appropriate. Also, he says that key advisors number 30, and the count may grow to 80 as everyone they have asked has become an advisor. The product would likely have the same usage and coverage for standard and premium procedures.
For investors, a consideration that is perhaps almost as important as FDA approval is issuance of patents to further protect the product in domestic markets. Referencing the most recent 10-K, there are 31 issuances and nine pending applications in foreign jurisdictions (pp. 19 of 149). This is in comparison to one issued patent and two ongoing applications in the USA per the same document. Apparently the domestic applications have been pending for over one year; however, only one shows up via Google's Patent Search. Procedures for surgery are protected domestically but the drug's composition, described as generic products that are added to a standard surgical irrigation fluid, has unanswered questions about its patentability.
The USA probably comprises under half of the market for OMS302, which is patented as a first method allowing for constantly controlled ocular delivery of a combination of agents during intraocular lens replacement ("ILR") surgery. At the Cowen Conference, the CEO has said it is realistic to forecast 15 million ILR procedures in developed nations, compared to the official 20 million statistic in the second graphic below. A Comprehensive Report of the Global Intraocular Lens Market shows Western Europe and Japan as big pieces of the pie chart that depicts worldwide lens revenues: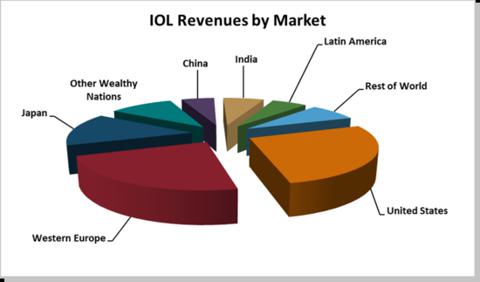 An Omeros graphic that provides an overview of OMS302 and the company's strategies for the product follows.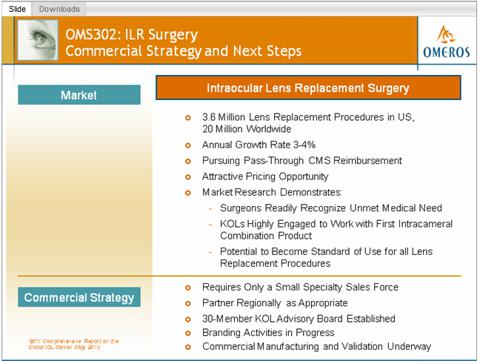 In exchange for considerable risk, investors are being rewarded with at least two things: an exciting company and an associated option volatility skew. High prices can be obtained for writing covered calls, which also cap profits if the stock price rises above the strike price of the option. For this strategy, it is important to remember that near term data on several products in development can substantially affect the share price on any given day. Here is a chart of the implied volatility, which has shown consistent elevation in 2013: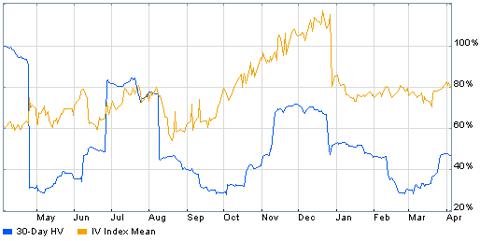 Writing covered calls can allow shareholders to lower their amounts spent. Though the process may not hedge against risk as effectively as other option strategies, there is a chance that it can be repeated until out of pocket funds used for shares are little, if anything. Put differently, investors can whittle away their cost.
Those who are not invested in the company might tend to jump ahead and point to difficulties and expenses marketing OMS302 while its application would still need to be filed and approved. Such concerns can be valid; particularly for those writing covered calls because the process involves owning a speculative stock. However, from what I am learning, there is far more commercial potential than others have allowed for - at least in respect to any contention that is substantiated. Thus, though debt, cash, possibility of dilution, and any future revenues are issues, the company stands to become increasingly stable. For reference, Maxim Group's model, as linked in this previous article, lists the price per ILR procedure at $200 to $250.
To me, the immediate concern is the FDA's decision on whether or not the New Drug Application, which may be 100,000 pages, is suitable for filing. Shares may trade down a dime if the application is accepted, and implied volatility would probably move higher after. The application is expected in the near future, and should have a two month response time. For those willing to accept the risk, it may be sensible to write a call option that expires after two to four months, and before implied volatility, in consideration of this one product only, would go up. The European Marketing Authorization Application process, anticipated for midyear, is quite important too.
Future possibilities unequivocally go far beyond OMS302. The company has a PDE10 inhibitor product that is moving toward Phase 2 clinical trials. It is designated OMS824 and is intended for cognitive conditions. A near-term catalyst would be the FDA granting Fast Track or Orphan Drug status for its potential at treating Huntington's Disease. Given that the candidate has only recently shown data that makes advancement toward Phase 2 probable, it is difficult to imagine denial of the applications as a substantial risk to the share price, whereas approval of either would be quite significant. The process can also affect options.
A graphic immediately below shows the steady increase in FDA designated medicines, known as orphan drugs, that treat rare diseases over a 27 year time span. The source is the Pharmaceutical Manufacturers and Research Association of America ("PhRMA"). According to the FDA,
A marketing application for a prescription drug product that has been designated as a drug for a rare disease or condition is not subject to a prescription drug user fee unless the application includes an indication for other than a rare disease or condition.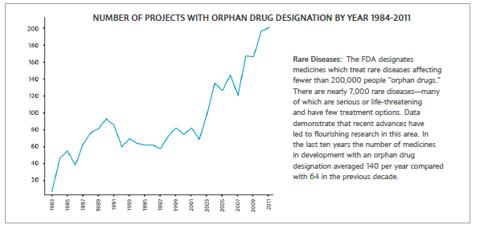 The FDA also specifies that a Fast Track Review, potentially resulting in speeding up a drug's development, can be expected to be completed in 60 days; and the agency's chart below shows the vast majority of Orphan Drug Reviews being completed in 90 days or less during 2011 and 2012.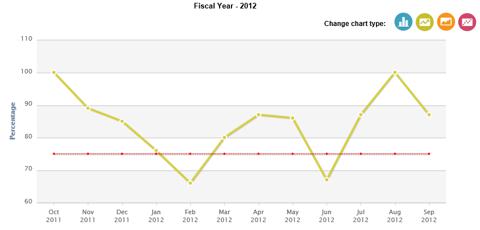 OMS824 is also being evaluated for schizophrenia, which would probably continue immediately if it is not granted Orphan Drug status. Most everyone would like there to be a successful treatment for the problems it is thought to address, and for the CEO to be shown right that
It looks as if [they] have the premier PDE10 inhibitor in the industry (Future Leaders in Biotech. Conference).
Here is the result of a cursory review of some big pharmaceutical companies' research and development activities for neuroscience:
Meanwhile, patent expiration leads to generic competition and causes their continuous need for new products. They could perhaps all afford to buy Omeros, whose CEO says that it has one of the top PDE teams in the world, and the core of the team that developed Cialis (See previous sources). OMS824 has been moving rapidly through trials, completing preclinical studies in July 2012, and beginning enrollment on November 1, 2012.
As products successfully advance through clinical development, improved odds at approval should contribute directly to the company's valuation. Some recent data shows a Phase 2 candidate having a roughly 15% chance in comparison to 9% for a product in Phase 1. Omeros already has several products at Phase 2 or beyond, with its PDE10 inhibitor likely to advance from Phase 1. Odds of approval are much higher for candidates that reach Phase 3, such as two out of three of Omeros's PharmacoSurgery products.
Here is another graphic from PhRMA (Pg 3 of 14) that appears to show one approval for every five compounds that begin Phase 1, and improving chances at successive stages: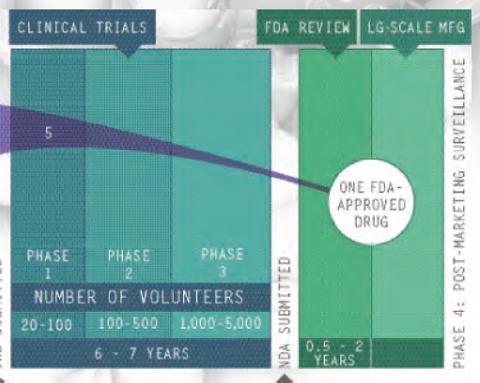 A thorough discussion of Omeros's pipeline would be welcome. It currently shows five out of nine products at varied stages of clinical trials. Future articles that pay close attention and are accurate would be enjoyable to read.
Omeros is working on some remarkable things. The stock is risky, but its cost can be significantly lowered. There are many reasons to wish for the company's success and it has multiple prospects for it.
Disclosure: I am long OMER. I wrote this article myself, and it expresses my own opinions. I am not receiving compensation for it (other than from Seeking Alpha). I have no business relationship with any company whose stock is mentioned in this article.