I was recently able to listen to SmartMetric's (OTCQB:SMME) latest Conference Call. Having already put time and energy into the stock, with a personal emphasis on a patent infringement claim against MasterCard (NYSE:MA) and Visa (NYSE:V), there were lingering questions. The company's investor relations activities turned problematic: it probably changed advisory firms. However, continued effort eventually yielded worthwhile insight into contemporary technologies and issues.
On February 21st, when a Press Release listing Constellation Asset Advisors, Inc. as the party to contact appeared, it piqued my interest. There was never a response to my emails. Further, upon reviewing a March 8 Press Release referring to an audio recording of the Conference Call the link did not work (and still does not). Only after finding my way to the QuickTime presentation through SmartMetric's own web site could the recording be accessed.
There is not much new. A health records product for persons with chronic illnesses is to be marketed with an unspecified major retail pharmacy. During the call, SmartMetric CEO Chaya Hendrick says that the profit margin on the product is $40 to $45 and that they anticipate one million sold, which is a small volume. SmartMetric currently has no meaningful sales revenue source, so a successful rollout is important. Shares of the tiny corporation trade on the over-the-counter bulletin board for $0.26, already up approximately 36% since January. However, the price can easily move and stock may not be liquid. Risks are as worrying as ever, though a potentially lucrative trial is drawing closer.
For those considering companies that may substantially be affected by intellectual property litigation, other "Patent plays" include Acacia Research Corporation (NASDAQ:ACTG), Vringo (VRNG), Augme Technologies, Inc. (AUGT.OB), MGT Capital Investments, Inc. (NYSEMKT:MGT), ParkerVision, Inc. (NASDAQ:PRKR), Worlds, Inc. (OTCQB:WDDD); and VirnetX Holding Corporation (NYSEMKT:VHC), which is discussed later. There are many others. It can be difficult to value the stock of these companies, as their share prices appear to move with news surrounding important events.
My opinion is that Acacia involves lower risk because it is actually a small cap corporation with revenue streams in place as a result of many settlement agreements. It may be true that once such a business matures, the market does not highly value it: ACTG currently trades at roughly 11.2 x estimated 2014 earnings with a consensus five year growth rate of 20%, and a debt-free balance sheet. This is after a Q4 2012 Report that trounced expectations on top and bottom lines, and a significant settlement with Apple Inc. (NASDAQ:AAPL). Having so much going right for it, the stock is now priced at $29.72 and seems to be a sensible investment, with the possibility of government intervention a concern.
To me, a reason to follow SmartMetric is the resulting insight provided into technology. The company's CEO makes it clear that the password is the weak link compromising the security of many systems. Her company aims for safety by using fingerprint reading in a credit-card sized device, which is "the next level of security for EMV cards." EMV is an acronym for Europay, MasterCard and Visa and refers to microchip-enabled transaction processing. Potential customers for the product are governments and insurance companies around the world that regularly deal with fraud.
SmartMetric cites a figure, that is not independently verified, and gives the Federal Reserve Bank of Boston as the source: two years ago, $3.56 billion was lost due to credit card fraud, not including ATM transactions. How is it relevant?
It could be a headline, even for Acacia. Visa and MasterCard are implementing EMV technology to mitigate fraud and a claim is being made on their savings. Thus, billions each year can rightfully contribute to each defendant's profits. I surmise that SmartMetric is looking for an annual royalty based on yearly prevention of theft, claiming that improved results are due to unlicensed use of more secure payment technology.
Preferring not to encourage anyone to gawk at figures, this ninth paragraph may be the most appropriate place to quote: "It would be the largest patent litigation in the history of the US!" If it all plays out, they are going to ask a jury to award an amount over $1 billion!
Scheduling, and the judge overseeing the case, have changed since the process of publishing a previous article. The trial would now be on September 9, 2013, if I have heard correctly.
Share count is an issue. SmartMetric may have completed a discussed private placement to Halcyon Cabot Partners in order to fund manufacturing of a product. In response to questioning about the stock's listing, the CEO indicates that net worth would have to increase in order to explore opportunities. Thus, further dilution beyond the current 127 million outstanding shares (Yahoo Finance shows 133.53 million) needs to occur in order to trade on an exchange such as the Nasdaq. There is also some talk about warrants at the end of the recording.
Again, my own new questions have not been addressed. I am concerned about the '464 patent, the only one being asserted against two gigantic corporations that just about anyone identifies with payment technology. The patent's fifth claim appears to be unique in describing a chip and memory component in a card. As a familiar party, this is my assessment: without Claim 5 there is no case. It could be a sexy story that results in investors wishing it was even tawdry.
Weight might be given to the judgment of a patent attorney, and SmartMetric has had top counsel on the matter. To my knowledge, Patrick Bright of Wagner, Anderson, & Bright is still in charge of its case. Strangely, the web site for the law firm does not list any other lawyer. My searching has resulted in finding a Roy L. Anderson, who is a highly regarded intellectual property attorney, and has been listed as belonging to the firm. However, it seems that he has his own web site and office. His involvement, if any, is unknown, as is any role for a Wagner.
As an example of patent trial risk, consider VirnetX, a company known for its volatile stock and courtroom successes. Cisco Systems, Inc. (NASDAQ:CSCO) recently defended itself, in a plaintiff-friendly court and against VirnetX's terrific legal team, and VHC dropped 53% as a result.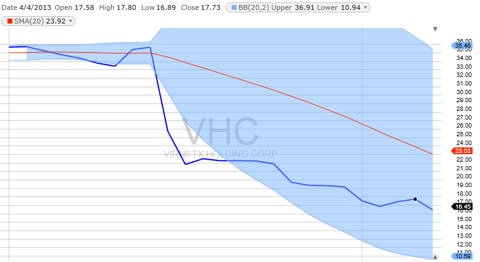 Though VirnetX still has remarkable intellectual property and potential to monetize it, specifying when its stock price should go no lower is not easy. I think it would be a strong buy at $15.60, or 15x estimated 2014 earnings, in consideration of its consensus 15% five year growth rate, debt-free balance sheet, and consistent results. It can probably be rated a buy at current prices. Referencing the chart above, VHC is within one standard deviation of its 20 day simple moving average (Red "SMA" line), graphically shown by the light blue-shaded Bollinger Bands.
Meanwhile, Visa and MasterCard should save billions each year if Hendrick is right. Analysts already recommend each company's stock overwhelmingly. Indeed, bountiful earnings, strong balance sheets, rewards for shareholders, and solid prospects for growth are attributed to them both. Unlocking shareholder value through EMV would be a boon.
Near Field Communications ("NFC"), a technology that allows for contactless payments, is another pertinent topic. Security is a thorny issue for such payment systems. It is widely rumored that the next iPhone is going to implement it in combination with a fingerprint reader. Perhaps if there is a chance to inquire in the future, Hendrick could provide insight into NFC's use. She has briefly mentioned it already during a "Stock Talk Live" presentation in January. Safety is not the only problem, however: a company such as Apple may not want to offer consumers a new feature if there is nowhere to use it. If I buy the next new iPhone, the ability to wave it in front of a payment reading device would be important.
Merchants' need to upgrade their machines is obvious. It is the time frame that is not certain. It would make sense for them to implement readers that accept magnetic striped cards, NFC and EMV. Plenty of companies offer such products, one example is VeriFone Systems, Inc.'s (NYSE:PAY) VX 820.
SmartMetric has a chance at being awarded the largest sum ever for a patent infringement claim. In large part, it is a gamble on the abilities and conviction of an attorney. The health records product could also be a success. While it may offer substantial upside, parlous risk is the certainty for its shareholders. Visa, MasterCard, Acacia Research and perhaps even VirnetX are similar and safer for investors.
Disclosure: I have no positions in any stocks mentioned, but may initiate a long position in OTCQB:SMME, ACTG, V, MA over the next 72 hours. I wrote this article myself, and it expresses my own opinions. I am not receiving compensation for it (other than from Seeking Alpha). I have no business relationship with any company whose stock is mentioned in this article.