TETRA Technologies, Inc. (NYSE:TTI), a technology-based oil well services company, has been exhibiting indications that a takeover of the company may be in the works. A bid for TTI would be a windfall for shareholders, and this article presents the case for a potential buyout, based on recent technical clues in the stock's behavior. We also believe there are fundamental and operational reasons that TTI is a prime buyout candidate.
TETRA Technologies' Desirable Operations
TTI operates in five divisions, and some of these may be attractive to a potential buyer, and some may be candidates for resale after a buyout.
Fluids Division. This division derives revenue from calcium chloride sales and fluids management to oil and gas and other sectors, both for shale plays and offshore operations of its customers. TTI operates its own plant in Arkansas to produce the calcium chloride, which enables it to be cost competitive by controlling the manufacturing chain and quality. The fastest growing dynamic of this division is its increasing penetration of the onshore shale basins with frac water handling and treatment services, using its proprietary technology and patent pending manifolds. A large, global energy producer could benefit from acquiring a "ready built" in-house division to provide these services for its production operations. Other oil well service companies could "bolt-on" this TTI division rather than compete against superior technology.
Production Testing. TTI provides leading edge flowback measurement and testing equipment and services for energy customers. About 80% of the US fleet is currently utilized in shale plays in North America. TTI expanded its footprint in 2012 by acquiring other flowback operators in the Appalachian, Rockies, Williston and Bakken. Additionally, it has added a rig-cooling service by acquisition. Once again, this division provides essential services for maximizing production, and energy and services companies, especially with shale operations, could improve their costs by having this in-house capability.
Offshore Services. TTI is a leading provider of mid-to-late-life well services in the Gulf of Mexico. These include heavy lift service, well abandonment, diving and cutting. We do not think that these services are the main target of a buyer, but they could be sold separately to help finance a potential buyout.
Compressco. TTI provides compression-based production enhancement equipment and services. TTI is the majority owner and general partner in Compressco Partners, LP (GSJK). With double digit growth and an 8% distribution, GSJK is a viable investment candidate for income investors who think there is a future for these services. Compressco is a cash cow for TTI, and a valuable asset to figure into the buyout formula for any suitor. The GSJK equity is also a liquid asset that can be sold off if the buyer needs funding. The technical action of the GSJK shares compared to the TTI stock in the past weeks is a major reason that we think there may be buyout discussions underway.
Maritech. The company's offshore production division has been a drag on profits as the costs of abandoning wells after Hurricane Ike has exceeded budgets and insurance proceeds. The company expects to complete the closure of this division in quarter three of 2013.
Technical Buyout Clues
Our attention was first drawn to TTI as a buyout when it announced that it was amending its stockholder rights plan to accelerate the option of acquiring preferred stock to March 2013. This was an obvious effort to eliminate a major obstacle to a buyout. The company asserted:
"In light of the general disfavor of 'poison pill' plans by institutional investors and stockholder groups, our Board of Directors has determined that the termination of the rights plan will demonstrate our goal of maintaining sound corporate governance policies and procedures throughout our Company."
At the same time as the announcement, the volume exploded on TTI call options for April and June, indicating a strong bet by someone on an imminent takeover. More curious is the behavior of the Compressco stock, in relation to the TETRA Technologies stock.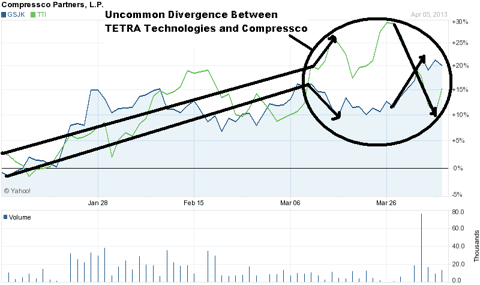 TTI and GSJK have a synergistic relationship. That is, when TTI opens the door with a customer through production testing or other services, Compressco can follow up with well enhancement services. In return, TTI enjoys the benefit of increasing revenue and income from GSJK. It is logical that what is good for TTI should be good for GSJK. Indeed, usually the general direction of the two stocks tracked fairly well. However, beginning with the announcement of the elimination of the poison pill in March, the two stocks began reacting in opposite directions. It seems whatever was considered by investors to be good for TTI, all of a sudden it was bad for GSJK, and visa versa.
One explanation is that talks with a potential suitor were heating up. A buyout would obviously be beneficial for TETRA, but not necessarily for Compressco, which might lose the synergistic relationship. As mentioned, GSJK enjoys following up with TTI customers and has increased distributions lately due to that success. A new general partner, using TTI resources for its own benefit, would surely expect GSJK to provide services at cost, or at least at a discount. In fact, the new majority owner may prefer to divest itself of GSJK For financing purposes, flooding the market with stock in the MLP. The possible breakdown in the talks around April 1 would explain why TTI cratered and GSJK jumped 10%. Finally, last Friday, TTI again popped 5% and GSJK dropped on a day when essentially all other oil service stocks were negative, and the high-yielding MLPs in our portfolio were positive.
We believe that both this strange divergence between TTI and GSJK and those stocks' divergence from the general market are clues that perhaps the buyout talks have resumed.
Conclusion
Today's acquisition of oil well services company, Lufkin Industries (NASDAQ:LUFK), by General Electric (NYSE:GE) gives us some confidence that the low valuations of this sector are attractive to companies that recognize their value. The buyout of LUFK also allows us to make some comparisons regarding valuations, given that TTI and LUFK have some similarities.
| | | | |
| --- | --- | --- | --- |
| METRIC | TTI | LUFK | HAL |
| Market Cap: | 728.04M | 2.15B | 35.97B |
| Employees: | 3,648 | 4,400 | 73,000 |
| Qtrly Rev Growth (yoy): | 0.24 | 0.27 | 0.03 |
| Revenue (TTM): | 880.83M | 1.28B | 28.50B |
| Gross Margin : | 0.29 | 0.24 | 0.17 |
| EBITDA : | 114.28M | 195.4M | 6.09B |
| Operating Margin : | 0.04 | 0.12 | 0.16 |
| EPS - 2013 | 0.80 | 3.56 | 3.01 |
| P/E : | 11.68 | 24.69 | 12.83 |
| PEG (5 yr expected): | 0.43 | .75 | 0.78 |
| P/S : | 0.83 | 1.68 | 1.26 |
In several of the above factors, provided by Yahoo, TTI is similar to LUFK (Revenue Growth and Gross Margins). The TTI price to sales and PE indicate it as a value proposition, compared to both LUFK and Halliburton (NYSE:HAL), the giant in the sector. Based on this evaluation, a PE of 16 to 20 would be a reasonable target range for a buyout of TTI. This would equate to a 35 to 70% increase from its current stock price of $9.34.
We think that TETRA Technologies may be the next energy service buyout candidate. The company has made no announcements, so our opinion is strictly based on attractive valuation, interest in the sector, the recent move by the company to remove the poison pill obstacle, unusual call option volume and divergence in the technical action of both TTI and its subsidiary GSJK. Of course, this is a speculative call, but we think that on its own, as a long-term investment, TETRA Technologies merits consideration regardless of any buyout possibility.
Disclosure: I am long TTI, GSJK. I wrote this article myself, and it expresses my own opinions. I am not receiving compensation for it (other than from Seeking Alpha). I have no business relationship with any company whose stock is mentioned in this article.
Additional disclosure: We do not know the circumstances, risk tolerance or investment objectives of our readers. There is no guarantee that any investment mentioned in this article will be profitable or appropriate for readers.