Investors looking for a diversified dividend fund might be disappointed by the more popular ETFs available. A higher-paying dividend fund such as iShares High Dividend Equity (NYSEARCA:HDV), for instance, offers its investors a mere 3.31% yield. However, For those willing to formulate their own unique portfolios, capturing a higher yield can be accommodated by utilizing many of the established stocks used to compile such funds. By formulating one's own portfolio, individual investors can often capture relative protection through diversification while significantly gaining a higher return in income.
All the companies below offer a dividend yield greater than 4% and have a market capitalization greater than $10 billion. A higher market capitalization often results in a more stable company and often provides greater volume for getting both in and out of a given position. Such companies are also likely to endure shocks within their sectors comparably better than their small-cap peers. Quite often, a larger company will operate under multiple markets without compromising its business focus. Their extended reach across the economic spectrum further protects investors from increased share price volatility. The companies listed below offer a diversified approach to the market. In doing so, such a portfolio foundation provides additional protection during the market's turbulent times.
| | | | |
| --- | --- | --- | --- |
| Company | Market Cap. | Yield% | Industry |
| Verizon (NYSE:VZ) | 141.66 B | 4.2% | Telecom Services |
| Duke Energy Corporation (NYSE:DUK) | 50.77 B | 4.2% | Electric Utilities |
| Lockheed Martin Corporation (NYSE:LMT) | 30.34 B | 4.9% | Aerospace/Defense |
| Seagate Technology PLC (NASDAQ:STX) | 12.74 B | 4.3% | Data Storage Devices |
| Altria Group (NYSE:MO) | 69.79 B | 5.1% | Cigarettes & Wine |
It is true that those willing to create their own high-yield dividend portfolios might do well to individually select their own holdings from a list of high-paying companies. However, it is important to bear in mind that commissions can add up, and adding more capital to these positions at a later date would incur another round of commissions for each added position. A diversified portfolio, such as the one above, therefore might do well for investors who have longer-term outlooks and who are looking to reap income flows from a stationary capital investment.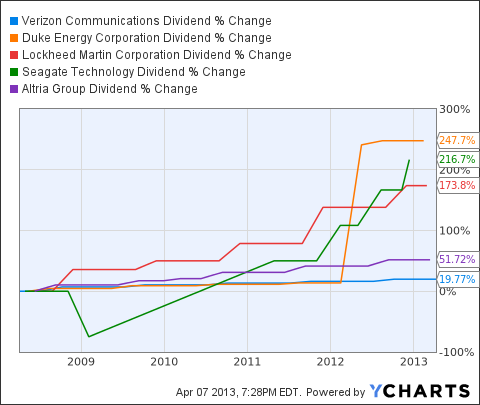 VZ Dividend data by YCharts
As seen in the chart above, these investments either continue to grow their distributions or maintain relatively stable dividend payments over multiple years. Such predictability when it comes to yield is often well suited for income investors looking for a steady return of income from their investments. Altogether these five companies provide an average annual dividend yield of 4.54% while staying relatively diversified across multiple unique industries.
Comparing Against The Market
Yet no dividend portfolio is complete without the confidence of knowing that the portfolio is beating the market average. As a stock index that follows the common stock prices of 500 publicly traded American companies, the S&P 500 is often referred to as a benchmark measure of the market itself. The current average dividend yield of the S&P 500 now sits at 2.01% as of April 7, as indicated in the graphic below. For investors capable of obtaining a similar yield or greater, they are able to maintain an income stream that stands a head above the market as a whole.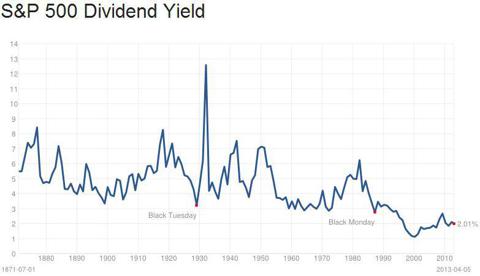 Conclusion
Altogether, the above portfolio compiles a strong level of diversification with a minimal amount of needed investment. With access to market sectors such as telecommunications, electric utilities, defense, data storage, and consumer spending, this portfolio spreads the risk across the economy. At the same time, it provides a relatively consistent yield that continues to return more than double the market average to the patient income investor.
Disclosure: I am long STX. I wrote this article myself, and it expresses my own opinions. I am not receiving compensation for it (other than from Seeking Alpha). I have no business relationship with any company whose stock is mentioned in this article.