Wearable computing has filled headlines over the past six months as leaked documents and pictures have given a glimpse into the possibilities for future computing. As the personal demand for instant access to information increases, major companies attempting to stay atop the technology market are innovating at an ever increasing pace to claim a significant position in a market projected to include 70 million potential users by 2017. The wearable computing market will greatly impact smaller companies already invested in the development of this technology, such as Himax Technologies(NASDAQ:HIMX). The possible partnerships with larger companies such as Apple (NASDAQ:AAPL) and Google (NASDAQ:GOOG) will lead to extensive company expansion and the potential for exponential growth.
Why HIMX Will Benefit From Wearable Computing
For the wearable computing market, the toughest challenge is the ability to scale production. Many companies have come up with designs that work, but very few have figured out how to meet growing demands effectively. The presentation given at the Bank of America(NYSE:BAC) Merrill Lynch Taiwan, Technology & Beyond Conference, indicates that HIMX is at the forefront of the micro-display market in power efficiency, processing speed, high definition display, and is already supporting a rate of production that can address both volume and time to market demands for their potential customers.
According to Seeking Alpha contributor Mark Gomes, who is consistent in his views with other informed commentators and experts, HIMX may have already won the contract to make Google's LCOS displays for Google Glass. According to the HIMX website, the company has already manufactured and shipped over 1 million LCOS displays, which demonstrates that HIMX has the manufacturing capabilities to manage large demand products such as Google Glass and Apple iWatch. This raises the question of whether some of those already produced displays were headed Google's way. Rumors are emerging about Apple dropping Samsung(OTC:SSNLF) as a supplier in favor of using Innolux for iPad mini displays. It is possible that this is also a move to use HIMX as well since Innolux owns 15% of HIMX.
HIMX's wafer sized modules boast several industry leading features. The HIMX devices are 47% smaller than conventional micro-computing devices. The devices have the best low-light sensitivity ratings and the most efficient power consumption ratings. HIMX has the design for 3D glasses built on the platform of their micro-displays as well. The HIMX design for their standard offering LCOS display is cost effective, with each LCOS display projected to only cost $5-$20 to consumers. These devices are already being mass produced.
HIMX has addressed the problems that face all micro-devices: size, power efficiency, display definition, display clarity, and the ability to mass produce micro-displays. HIMX has a diverse set of products that can meet the volume demand required by companies developing wearable computing devices. Their micro-display supports a rapid 40 nanosecond response time and uses less than one half of the power that generic micro-displays use. It has class leading lowlight sensitivity, is cost-effective, and supports smartphone-levels of functionality.
HIMX's Business Outside of Micro-Devices
HIMX has wide diversity in products as well as solid positioning in future markets. HIMX currently holds 1762 patents with 1397 more patents pending final approval. Their business is not solely focused on a huge growth from the wearable computing market as they are one of the top three suppliers of LED display drivers in the world. In the 3D device market, HIMX has products that are easily integrated into existing 2D devices allowing them to support 3D technology. The 3D technology is applicable to everything from TV's, monitors, projectors, portable tablets and smartphones - and also 3D glasses. HIMX 3D conversion products have state of the art real-depth generation as well as multi-view converters that are cutting edge technology.
Equally impressive, HIMX has unique technology for manufacturing processors that are more efficient with lower processing times and higher built in battery efficiency for all of its target devices: phones, tablets, cameras, GPS's, monitors, projectors, and TV's. From a manufacturing and production perspective, HIMX's track-record for on-time delivery is consistent. The customers for HIMX products are well known, which makes HIMX more attractive than smaller semi-conductor companies for potential partnerships. HIMX has already delivered 1.3 billion products to their customers on time, and the company reportedly is growing consistently to meet an increasingly larger demand. HIMX's customers include Innolux(which owns 15% of HIMX and is the 3rd largest panel manufacturer), Sharp, LG Display(NYSE:LPL), Lenovo(OTCPK:LNVGY), Dell(NASDAQ:DELL), Asus, Sony(NYSE:SNE), Acer, Hewlett Packard(NYSE:HP), Coolpad, Foxconn, HTC, Philips(NYSE:PHG), Epson, and others. HIMX is intimately involved in the Asian technology markets that are currently experiencing increased growth and expansion.
HIMX Recent 4Q Earnings Transcript
HIMX transitioned their focus in 2012 from technologies developed for projectors and TV's towards technology for wearable computing devices, smart phones, and tablets. During this transition, the company experienced the consistent growth that their investors expect, and the future outlook projections continued to be very optimistic. HIMX experienced 12.7% growth in sales for their 4Q year over year, an 18.8% growth in gross profit, 1.2% growth in gross margin, and 285% increase in GAAP net income attributable to shareholders compared to 4Q of 2011. The company earnings per share also grew 300% year over year to .084 for this quarter.
The primary focus of the quarter was the transition HIMX accomplished to support greater mobile computing device growth. HIMX CEO Jordan Wu stated,
"The overall margin improvement and broad‐based sales growth in our small and medium‐sized driver and non‐driver product businesses are just two examples that our long‐term strategy is unfolding as we planned. With several recent design wins with international brand and China customers and a robust new product pipeline, we remain optimistic about our outlook for 2013."
HIMX financials indicate that large display sales were up 15.8% for the year, while small and medium displays were up 6.0%, and non-driver sales were up 27.6% for the year. The increase in corporate revenue is largely attributed to small devices and non-driver sales. Quarterly impediments included a slowing demand in the overall market for notebook-type devices. Small device product sales were essential to this quarter's success. 44.8% of all revenue driven by small device product sales demonstrated that HIMX successfully transitioned to a more extensive focus on mobile computing markets. Part of HIMX's transition was also focused on non-driver products, such as image sensors, power management devices, touch panel controllers, and wafer-size optics devices - which also experienced high growth.
HIMX boasted their fifth straight quarter of gross margin growth, not matched since 2008. In addition to quarterly growth, the company reported $138.9 million in cash, up from $73 million in cash from 3Q earnings last year. HIMX has a strong track record of returning profits to investors. For example $239 million in dividends have been paid since their IPO, and $158 million has been used in share buybacks since 2007. The company indicated that a dividend increase may be coming soon to return part of company profits to investors.
| | | | |
| --- | --- | --- | --- |
| Type | Q4 2012 | Q4 2011 | Change |
| Net Revenue | $190.6 million | $169.2 million | +12.7% |
| Gross Profit | $44.4 million | $37.4 million | +18.8% |
| Gross Margin | 23.3% | 22.1% | +1.2% |
| GAAP Net Income | $14.3 million | $3.7 million | +285.8% |
| Non-GAAP Net Income | $15.3 million | $4.3 million | +252.2% |
| GAAP EPS | $0.084 | $0.021 | +300.0% |
| Non-GAAP EPS | $0.089 | $0.025 | +256.0% |
Technical Outlook By Harry Boxer of TheTechTrader.com
The following technical analysis of the Company's shares is by the renowned technical analyst Harry Boxer, who has published The Tech Trader for 13 years and has more than 45 years of technical analysis experience.
click to enlarge)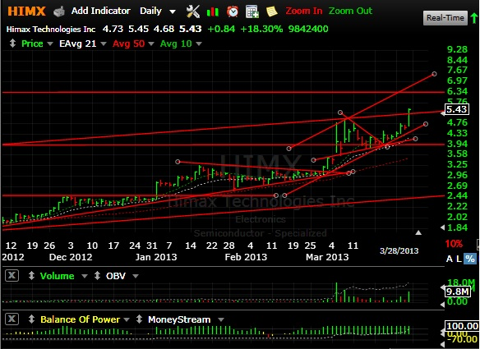 HIMX experienced a KEY technical breakout recently on heavy volume by thrusting across its 6 year resistance near 4 in early March. It then consolidated in a bull wedge before breaking out again March 20th and following through two weeks ago when it spiked up 18% on nearly 10 million shares traded. Last week the stock paused to consolidate its sharp run up from $3.83 to my initial trade target at $5.75 in just 2 weeks. Current support is now at the prior high of $4.95-$5.00 zone and below that near the $4.50-$4.65 zone. My new targets for HIMX are at $6.25-$6.35 then $6.90-$7.00.
-Harry Boxer, The Technical Trader(thetechtrader.com)
Potential Partnerships in Watch-Based Computing Production
According to Forbes, Apple's first year sales of its rumored iWatch could generate anywhere from $3.4 billion and $5.7 billion. With 272 million current iPhone users, the market size for an iWatch has room to exceed these predictions, as the predictions are based on the assumption that only 5% of Apple's current customers will initially buy an iWatch. The wearable computing market continues to change and evolve as technology companies announce new devices. Samsung, for example, announced on March 19th that they are attempting to fight Apple in the computing watch market with their own device. This announcement was just one of several announcing bids for the $60 billion watch industry. The main focus of these companies appears to be to transition much of the market for conventional watches to new smart watches. The most popular smart watch design is a device that interacts with other computing devices including cell phones and tablets.
One of the smallest of the iWatch's competition, the Pebble, sold 25k in its first month. Eric Migicovsky, the brain behind the Pebble, received only $10.3 million in funding from Kickstarter.com. This excites many iWatch enthusiasts, as Apple has over 100 times the amount of funding in research and development. Sony already has a smart watch that serves as a second screen for a smart phone device. Sony has followed other companies such as Fossil(NASDAQ:FOSL), LG and WIMM, all of which have all tried to make smartphone interactive devices popular. Also, Google recently instructed its Android team to tackle the project of creating a smart watch to interact with Droid devices.
In the sporting products market, Nike(NYSE:NKE) has the Fuel Band that is based around the interaction of wearable computing and exercise. Nike has given the Fuel Band heavy promotional focus as the company's initial research indicates a potentially huge market. The Fuel Band is not alone in this particular niche market, with competition from Fitbit's Flex, and Jawbone's UP, both of which have seen promising initial sales results.
Smart watches are being used currently to enhance different entertainment and commerce experiences. Disney(NYSE:DIS) currently uses a Dream Band to help with user interaction at various theme parks. Several companies have, or are developing, devices for wrist-worn payment devices - such as the Barclaycard in the UK, currently being used at festivals and theme parks.
Microsoft(NASDAQ:MSFT) attempted to jump into the wearable computing market in 2004 with their Spot, but it was a disappointment and was less than successful. However, the current rumors are out that Microsoft could be developing not only another Spot type device, but also a smart watch that interacts with its next generation Xbox gaming console.
Potential Partnerships in Glasses-Based Computing Production
Unlike the current race for smart watches, wearable computing in the form of glasses is much less competitive. Because of the limited number of companies having the technology required, it seems that Google has been the only company which has the means to develop such an ahead-of-its-time device. Microsoft and Apple both have achieved the technology for head mounted displays, but neither is anywhere close to publicly releasing a potential product. Google, on the other hand, has released many videos and technology reviews on their glasses - which seem to serve various unique functions.
The question many analysts see besides whether the glasses violate personal space, is how many customers will pay $1500 to have such technology. Even considering the initial high cost for the early production devices, the market for smart glasses is still projected to be over $1.5 billion by 2014. The only real competition in the smart glasses market is Motorola(NYSE:MSI)'s HC1 modular head mounted computer and Vuzix's M100 which are both expected to be under $500, but not supporting many of the features Glass will.
Conclusion
HIMX is a $914 million company that has more than just one or two things going for them. The company's extensive production record, its nearly 2000 patents and the partnerships with several multi-billion dollar companies allows HIMX to be a reliable option for larger companies looking to develop wearable computing devices. With the broader technology market moving in the direction of these smaller devices, HIMX seems to be perfectly positioned for a growth in mobile computing whether by smartphone or wearable computing - or both.
With customers in Taiwan, China, Japan, Korea, Europe and the US, HIMX has consistently demonstrated that they are not a single contract company with all of its business in one place. The corporation is a diverse technology company experiencing consistent growth. HIMX is a stock to watch throughout 2013 in my opinion and is poised to breakout to even greater levels pending future partnerships with major companies. It is not hard to see HIMX as a future multi-billion dollar company as Asian mobile computing markets emerge and the wearable computing market becomes a reality.
Disclosure: I am long HIMX. I wrote this article myself, and it expresses my own opinions. I am not receiving compensation for it (other than from Seeking Alpha). I have no business relationship with any company whose stock is mentioned in this article.
Additional disclosure: Business relationship disclosure: The Focused Stock Trader(Powered by Contextuall.com) is a team of investment researchers focusing on the production of TheFocusedStockTrader.com newsletter which is currently under construction. This article was written by Kyle Coker, our Associate Editor. We did not receive compensation for this article (other than from Seeking Alpha), and we have no business relationship with any company whose stock is mentioned in this article.