Imagine buying or leasing a depreciating asset such as a vehicle or piece of construction equipment, then having it sit in your driveway or garage only to collect dust. This would be a horrible financial situation, as everyone knows practically anything with a motor is an awful investment, especially when not being used.
This measure of vehicle use versus non-use, or "utilization" in the rental world, is in my opinion the most important metric used in evaluating inventory management of rental fleets versus rental demand. Basically, the higher the percent utilization, the more often the vehicle is on rent with less time sitting idle. Rental companies such as Hertz Global Holdings, Inc (NYSE:HTZ), Avis Budget Group Inc. (CAR) and Amerco (NASDAQ:UHAL) (aka U-Haul) for example constantly battle this phenomena by utilizing inventory controls, and also by deploying sales strategies which extend the length of rentals. For 2012, HTZ has drastically improved by this measure, thus becoming more efficient:

How has Hertz improved utilization this drastically over the past two years? Several strategies are obvious and are fairly common. Ever notice how you are charged an arm and a leg for being an hour or two late at return? If a customer is late they are very much incentivized to just keep their rental an additional day as the late charge is very close to the full day rate. Also, many car rental companies have weekend specials, which motivate the retail consumer to rent from as early as Thursday through Sunday. This offsets the low demand from business customers over these days, and in effect offsets this lack of weekend rental demand.
How Hertz Is Improving Utilization:
Unique to the Hertz business strategy is an attempt to steal market share from Enterprise, which has command of the rental replacement market, versus Hertz's paltry 13% of rental revenue volume for 2012. HTZ is targeting this lucrative business, which markets to body shops and insurance companies while the customer's vehicle is being repaired. On a revenue per day (NASDAQ:RPD) basis, this class of rental obviously commands a lower premium, however the consumer often keeps the rental for weeks or even over a month if their vehicle is severely damaged and requires longer repair times. Thus, the very high utilization rate this type of rental commands does compensate for the lower RPD rates, which is almost opposite the short rental time/high RPD rates evident in airport or business rentals.
Hertz has a reasonably balanced market mix of Replacement, Retail and Business, but the fastest growing segment has been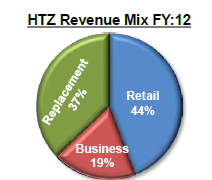 Replacement. This segment accounted for 37% of revenue in 2012, some of which was paid for directly by car insurance companies. In 2012, HTZ grew this segment's revenue by 14%, and has been targeting over 300 new locations annually, many of which are located at body shops or near other sources of business, like dealerships for example. Since 2009, Hertz has opened 2,520 new off-airport locations, an increase of 53% over this period. Hertz estimated that for 2012, this segment of vehicle rental demand was the fastest growing, outpacing airport and business rentals. This makes sense logically, as there are limited new airport location opportunities, plus more people driving, thus more accidents occurring.
In addition to opening new locations which always helps, Hertz has been using a three pronged approach to capturing business form Enterprise. One is marketing to the customer directly via successful leisure rental experience (airports), another is marketing directly to body shops, battling Enterprise directly on its home turf by offering free pickup/drop off services. This service is usually null and void when Enterprise pays rent directly to the body shop owner for onsite locations, but this type of storefront is not overly widespread. In addition, Hertz has been schmoozing insurance companies for years in an attempt to gain referrals straight from the referral source, which many times is the claims agent. Back in 2004, Hertz implemented a direct billing system, in which retail locations communicated directly with insurance companies to obtain rental authorization and payments - a great service for the consumer. So, Hertz has been hitting the pavement from all angles - the consumer, the insurance company, and the body shop, and apparently this daunting task of competing with Enterprise has been paying off since 2009.
Summary:
If Hertz can successfully gain replacement rental market share from Enterprise, vehicle utilization will drastically improve going forward thus improving overall efficiency and profitability, provided vehicle fleet costs remain low, as I predict they will judging from the highly competitive nature of vehicle manufacturers, and their focus on improving resale value of their vehicles.
By making off airport locations more than just one-way rent/return kiosks meant to complement airports, Hertz can leverage these locations additionally and increase revenues by increasing penetration of the replacement market. This recession resistant market can help cushion slowdowns in travel at airports and also leisure rentals, which in my book are consumer "wants," not consumer "needs," as with replacement. Additionally, it will help steady the unsteady seasonality of travel rentals, which can be a challenge to Hertz's fleet management and overall vehicle utilization rates throughout the year, as accidents mostly occur at a steady rate regardless of economic times.
Hertz should continue to expand the replacement segment and therefore keep the dust off their fleet, since utilization rates should rise naturally as this segment grows, since average length of rental should increase as a result.
Disclosure: I have no positions in any stocks mentioned, and no plans to initiate any positions within the next 72 hours. I wrote this article myself, and it expresses my own opinions. I am not receiving compensation for it (other than from Seeking Alpha). I have no business relationship with any company whose stock is mentioned in this article.
Additional disclosure: I was employed by what is now HTZ from 2005 to 2006