On January 18, 2013, Caterpillar Inc. (NYSE:CAT) Chairman and CEO Doug Oberhelman announced Record Sales, Revenues and Profit for 2012. Inventory was also reduced by $2B in the Q4 2012. So why hasn't CAT been purring in 2013? The answer is uncertainty.
For starters, take a look at the Q4 2012 Earnings Release: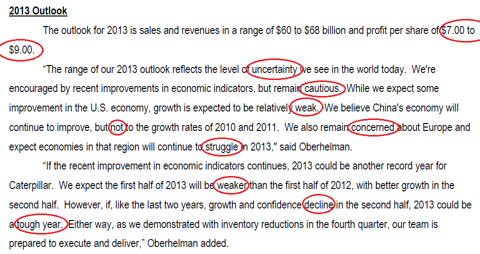 Talk about downbeat guidance from Oberhelman, the CEO. With EPS ranging from $7.00 to $9.00 and way below that of 2012's $9.35/share, the EPS without the goodwill impairment charge of $0.87 for Siwei, shares have soured ever since this announcement. Considering this range equates to -33.5% to -3.7% EPS growth even when backing out the one-time charge, I can't be mad at the market for the decline in shares.
Next, let's sift through the Q4 2012 conference call, which was held just 10 days after the earnings release. Mike Dewalt, Corporate Controller and Director, Investor Relations, said:
...we do see conditions improving and expect world economic growth of at least 2.5% in 2013 and that would be a small improvement from our estimate of about 6.3% for 2012. I think the key phrase here when we talk about the world economy in 2013 is a bit better, but still weak.
In the United States we're becoming increasingly optimistic. The feds...policies...is positive for 2013 growth. We are expecting the U.S. economy to grow at least 2.5% in 2013. Now that's now when any of us would consider a robust level of growth, but it's certainly...better than what we saw in...2012.
This sounds a lot better than Oberhelman, but I am sort of confused by the mixed feelings.
In Europe we're expecting another tough year for growth...we expect growth in the eurozone to struggle to match 2012 and we expect that construction activity will decline.
This reinforced the downbeat vibes from the CEO.
...we're expecting improvement in 2013. In response to the 2012 slowdown, the Chinese government did accelerate its credit growth in infrastructure spending and as a result the economic data that we've seen in the fourth quarter has begun to improve.

Our outlook assumes that Chinese government will maintain pro-growth policies throughout 2013, and we're expecting the economic growth in China to be near 8.5%, a more favorable environment for construction and higher commodity demand.
This did sound better than Oberhelman, but still lots of moving parts and influences to weigh.
Overall, these two guidance issuances had an aura of uncertainty, and made me feel uneasy about 2013's outlook. Fast forward to today some three months later, the stock has endlessly declined about 10 points or 15%, and the latest news on CAT is negative. On Friday April 5, CAT announced it was laying off roughly 11% of its workforce at the Decatur, Illinois, factory. Experts are saying this is a direct reflection of softening demand in the mining industry due to a decrease in commodity prices. Caterpillar said the permanent layoffs were needed to "bring production in line with demand." That doesn't sound good, and kind of complements the downbeat guidance back from January.
My Thoughts
After reading through both sections containing 2013's outlook, it seems there are many moving parts to judge, and worldwide exposure to many different economies to juggle. I truly agree with the CEO in that 2013 will be a "tough" year for CAT, as he stated in his outlook. Just the same, the stock is a "tough" buy at this point as a result, as uncertainty is something investors shy from, including myself.
I feel there is tremendous brand value with this company, but with management so dependent on the whim of multiple economies as well as government actions and stimulus, and even more so than other industries, it is very difficult for management to accurately forecast 2013's performance, let alone the years that follow. Therefore, it is just as difficult for me as an investor to buy at these seemingly attractive levels based on trailing P/E ratios and other valuation metrics that rely on future performance projections. On the bright side, listening to CAT's future calls will be a great way to gauge the primary pistons of the world economy; Europe, China, and the U.S.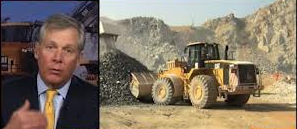 With so much uncertainty regarding 2013's outlook and EPS ranging from $7.00 to $9.00, buying CAT stock at this point feels like a gamble to me. With Q1 2013's earnings just weeks from now, prospective buyers of CAT shares might want to prudently wait until the call for hopefully more clarity on what the future holds for Caterpillar. I am looking forward to Oberhelman's insightful opinion of economic status from key markets.
Disclosure: I have no positions in any stocks mentioned, and no plans to initiate any positions within the next 72 hours. I wrote this article myself, and it expresses my own opinions. I am not receiving compensation for it (other than from Seeking Alpha). I have no business relationship with any company whose stock is mentioned in this article.