Elevator Pitch
Apache Corp. (NYSE:APA), with an excellent valuation and heavy insider buying, looks like an excellent swing long play.
Company Description
Apache Corp. is an independent energy company that explores, develops, and produces oil, natural gas, and natural gas liquids. The company has 5,976 employees and has operations in the United States, Canada, Australia, UK, Egypt, and more.
Thesis & Catalyst For Apache Corporation
Apache has a diversified portfolio of interests. It has interests in virtually every energy related industry: conventional, unconventional, onshore and offshore.
Apache drilled 1,150 new wells in 2012 and 95% of those wells were successful.
Between 1992 an 2012, Apache has managed to increase its average daily production of oil at the rate of 12% per year. That's an incredible rate of growth. In 2012, Apache had an average daily production rate of 779,000 barrels of oil equivalent (called "boe") per day.
Apache had 111 rotary rigs operating worldwide at the end of 2012, a whopping 29% increase year over year.
Growth In North America
One of the more risky aspects about investing in independent oil and gas companies is that of foreign governments seizing assets. Apache's operations in North America have a reduced risk of government intervention.
Apache estimates their North America Anadarko and Permian basins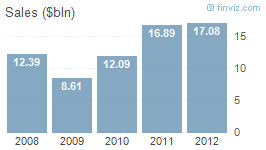 have more than 67,000 prospective well locations and 9.2 billion boe in resource potential.
Apache management has a great track record of providing excellent sales growth since 2009.
Valuation
The average P/E ratio for the Independent Oil and Gas industry is 36.5 and the average P/B ratio is 1.96.
Apache has a sizzling hot forward P/E ratio of 7.3 and P/B ratio of 0.93. The book value per share is $79.99 with Apache currently trading below book value at $74.20.
The reason Apache has such an excellent valuation is because of Egypt. The turmoil in Egypt weighed on Apache stock heavily in 2012. Apache wrote in their 2012 annual report, "Our position in Egypt was a significant factor in our stock performance last year. Media coverage of the political transitions there continues to cause investor concern. We have met regularly with elected and appointed officials in Egypt, who have signaled that business will proceed as it has in the past. Our production and drilling operations continue without interruption. In the year ahead, we plan to stay the course in Egypt, monitoring the situation closely." Source: Apache 2012 Annual Report.
I believe that the drama in Egypt has created excellent value in Apache for those willing to stomach the extra risk.
The hot valuation of this company has not been lost on insiders.
Heavy Insider Buying
November 5, 2012 - Vice President Brady F. Parish bought 4,750 shares at $80.96 per share.
November 5, 2012 - Director Charles J. Pitman bought 300 shares at $80.95 per share.
November 9, 2012 - Director George D. Lawrence bought 500 shares at $78.93 per share.
November 16, 2012 - Director Charles J. Pitman bought 1,000 shares at $75.40 per share.
February 26, 2013 - Director Charles J. Pitman bought 350 shares at $73.60 per share.
March 5, 2013 - Director Bill C. Montgomery bought 2,000 shares at $73.11 per share.
March 26, 2013 - Director Randolph M. Ferlic bought 10,000 shares at $74.48 per share.
April 1, 2013 - Director George D. Lawrence bought 3,000 shares at $76 per share.
The total amount of insider purchases in the last 4 months is valued at over $1.6 million.
Excellent Chart Entry
Apache has formed a spinning top candlestick with a long lower shadow. These are often excellent entry points for the swing trader.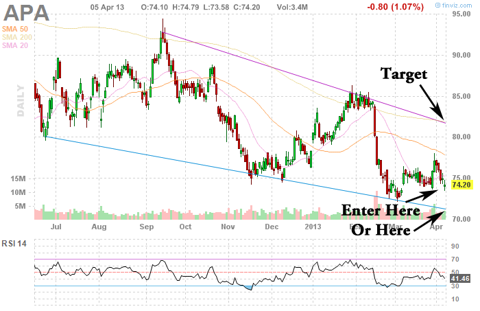 The reason that we look at longer term catalysts such as growth prospects and valuation is that these are the things which attract institutional investors to a stock; however, for our own swing trading purposes, we just want a 5% to 10% pop over the next 1 to 14 days.
To avoid taking an entry too early, we want a candle over candle close as evidence that the large institutions that hold this stock are starting to buy. A candle over candle is when a stock closes above the close of the previous day.
If we do not get a candle over candle close next week and the stock continues to drop, a nice swing trade long entry would be in the $71 area off the lower trend channel wall.
My target for a swing long is around $81 a share or a move up of 9% above the April 5, 2013 close of $74.20.
Variant View
Many are too afraid to buy Apache stock because of its operations in Egypt. Egypt is very unstable at the moment and new governments may not allow Apache to continue business there.
News out of Egypt caused heavy selling of Apache stock in 2012. This is a trend that could continue in 2013.
The price of oil has been falling from weak demand in Europe. As European economies continue to weaken, the demand for oil could continue to drop causing a downward pressure on Apache stock.
Oil is primarily traded in U.S. dollars on the world market. When the U.S. dollar is stronger, foreign currencies are weaker because currencies are measured in relative value to one another. That means people in other countries can buy less oil for the same amount of money. So to keep the math simple, let's just assume oil is $100 per barrel, and $100 is equal to 70 euros. If the euro goes down in value against the dollar by 10 percent, then instead of 70 euros it will take 77 euros to buy one barrel of oil. As oil becomes more expensive for foreigners, they buy less.
The U.S. dollar has been rising against the euro over the last few months curbing demand for oil across most of Europe. This reduced demand forces the price of oil down which negatively impacts Apache's profits. The U.S. dollar could continue to rise against the euro in 2013.
Disclosure: I have no positions in any stocks mentioned, and no plans to initiate any positions within the next 72 hours. I wrote this article myself, and it expresses my own opinions. I am not receiving compensation for it (other than from Seeking Alpha). I have no business relationship with any company whose stock is mentioned in this article.