Alcoa (NYSE:AA) is one of the world's leading producers of refined aluminum and aluminum oxides. For 125 years AA has been an icon in the aluminum industry in the United States. AA applications are seen in fields like aerospace, oxides, ingots, automotive industry, transportation, electronics, defense, energy, building and packaging. With over 200 locations in 30 countries, AA employs 61,000 individuals. Growth in China and new technologies make AA promising, as well as being close to its 52-week lows, with a dividend to boot.
Financial Information
AA has posted impressive revenues of $23.7 billion even with a falling aluminum spot price.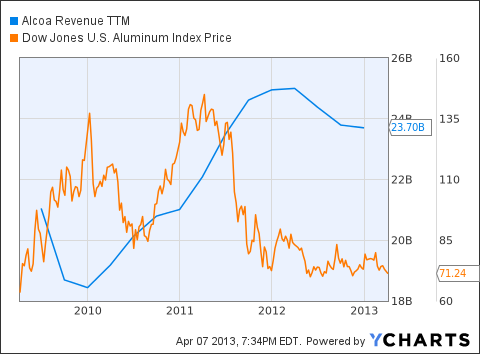 AA Revenue TTM data by YCharts
These revenues were lower than previous levels in 2011 of $24.9 billion, but higher than 2010 numbers. Other financial results from 2012 include an EBITDA of $2.0 billion and a free cash flow of $236 million. A low debt-to-capital ratio of 34% shows relatively good financial health. AA also reported to have $1.9 billion in cash on hand. This seems to imply AA is holding back with even more potential growth.
Price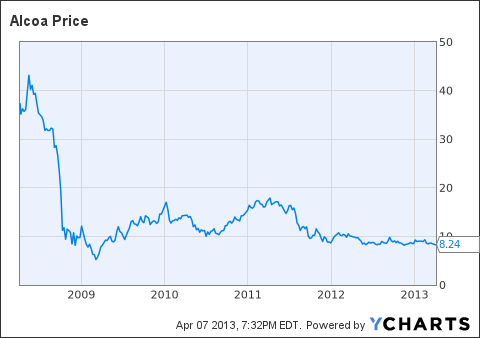 AA data by YCharts
Since 2008, AA has seen a rough decline in stock price. This was due to a number of events such as:
Texas smelter cutting production in half
employee layoffs
debt sale
closing of Mexican operations
With a 52-week range of $7.97-10.24, AA has hit the low and is now recovering. The stock also posts a 1.5% dividend yield. The book value for AA is $12 a share.
Alcoa China
AA has placed its Asia Pacific headquarters in Beijing and has invested $800 million in the country since 1993. As of July 2012, AA had 11 legal entities in China employing 1005 people. In china, AA is a major supplier of aluminum automobile parts, particularly wheels. The past four years has however seen slow automobile growth. SAIC Motor Corp., China's largest auto company has seen the slowest profit growth in years although car sales were up 12%. A strengthening economy in 2013 spurs estimates of 7% growth in car sales for 2013.
In 2012, AA opened its first state-of-the-art facility to manufacture, distribute, sell and service aluminum wheel technology in Suzhou, China. The new facility machines and finishes forged aluminum wheels instead of cast ones. The major difference is strength, cast bubbles in wheels make wheels four times weaker. This is avoided when wheels are made from a solid piece of metal.
Alcoa 951
In a news report on April 5t AA announced a breakthrough in aluminum bonding technology and a license agreement with Chemetall. The pre-treatment bonding technology called Alcoa "951" was licensed to Chemetall in a global distribution agreement.
Alcoa 951 is an organic compound that is sprayed onto the surface of the metal. This then binds with oxides present in the metal and creates a strong bond between the metal and adhesive, creating strong joints. The material applied to the metal does not disrupt later welding or manufacturing. The application is safe, simple and effective.
In customer trials, "Alcoa 951" has been proven to be up to nine times more durable than titanium zirconium applications used in the automotive industry in the past.
(source: Alcoa news)
Conclusion
AA is currently attractively priced with proven methods in weaker metal prices. AA has significant growth potential in China and with its industry-leading Alcoa 951 application. The earnings report for AA is expected on April 8, and is predicted to be weak. According to Bloomberg, analysts expect AA to report an adjusted earnings per share of eight cents, compared with 10 cents in last year's quarter. Waiting for the report would be the best move before entering.
Disclosure: I have no positions in any stocks mentioned, but may initiate a long position in AA over the next 72 hours. I wrote this article myself, and it expresses my own opinions. I am not receiving compensation for it (other than from Seeking Alpha). I have no business relationship with any company whose stock is mentioned in this article.
Additional disclosure: Do your own research and consider all ideas.