One asset class that has made a stealth move so far this year is real estate. The iShares U.S. Real Estate ETF (NYSEARCA:IYR) hit new highs today as this sector has seemingly shrugged off the modest pullback we saw in the domestic markets last week. So far this year IYR is up nearly 11% and over the last 12 months has increased in value over 16%.
IYR is made up of 95 publicly traded real estate stocks and real estate investment trusts (REITs). Its largest holdings include Simon Property Group (NYSE:SPG), American Tower Corp (NYSE:AMT), and HCP Inc (NYSE:HCP). The fund has over $5.5 billion in assets and charges an annual expense ratio of just 0.47%.
Real estate has continued to remain strong due in large part to strengthening economic data in the housing sector, low interest rates for borrowers, and above average dividend yields for investors. Currently IYR has a 30-day SEC yield of 3.51%, which dominates the rather meek 2.46% yield of the S&P 500 Index.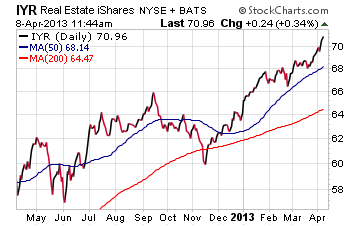 This sector has traditionally been a favorite among income investors for its solid dividend streams and non-correlated investment returns. However, real estate funds fell out of favor on Wall Street during the 2008 financial crisis as we saw funds like IYR fall nearly 70% from high to low. One negative aspect of real estate funds that skeptics point out is they are highly cyclical and their success is largely dependent on a favorable interest rate environment as well as strong economic fundamentals. The Fed fueled rally in stocks and bonds over the last several years has clearly been an excellent climate for these REITs to thrive.
Another exchange-traded fund in the real estate sector that I follow is the iShares Mortgage REIT Capped ETF (BATS:REM). I previously wrote about REM in a recent article talking about its fantastic dividend yield, yet volatile price action.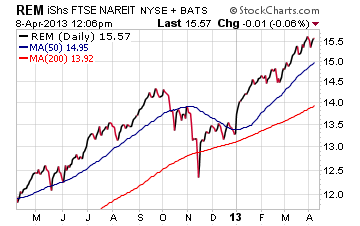 As you can see by the chart of REM, this fund has also been a top performer in 2013 and currently sits very near its year-to-date highs. The double digit yield on REM is a very attractive quality for investors seeking a high yield mortgage REIT fund.
Investors that have owned this sector have profited handsomely from its returns but given its lofty levels I would consider having a trailing stop loss in place to protect your gains. I would also recommend that new investors wait to enter both of these funds on a pullback in price so that you don't get burned by buying the highs.
Another alternative option for conservative investors in the real estate sector is the Fidelity Real Estate Income Fund (MUTF:FRIFX). This open ended mutual fund is made up of a balanced mix of real estate stocks, mortgage REITs, mortgage backed securities, and other mortgage related debt. I currently own this fund for my own account and have been drawn to it largely because of its diversified asset mix, healthy dividend yield, and low volatility.
Disclosure: I have no positions in any stocks mentioned, and no plans to initiate any positions within the next 72 hours. I wrote this article myself, and it expresses my own opinions. I am not receiving compensation for it. I have no business relationship with any company whose stock is mentioned in this article.
Additional disclosure: Fabian Capital Management, and/or its clients may hold positions in the ETFs and mutual funds mentioned above. The commentary does not constitute individualized investment advice. The opinions offered herein are not personalized recommendations to buy, sell or hold securities.