To state the obvious - the Internet is ubiquitous. This sub-sector, as it is often named, is woven into all facets of our daily lives.
Internet-focused companies now populate ETFs covering a range of sectors, including consumer discretionary, media and entertainment, financial, communications, and health care.
Happily, those investors seeking a focused, rather than a scatter-shot approach to Internet-sector coverage, have two pure-play Morningstar five-star Internet ETFs to choose from. And both funds offer impressive three-year returns.
First Trust Dow Jones Internet IndexSM Fund (NYSEARCA:FDN): Uses the Dow Jones Internet Composite IndexSM. For a company to be included in the index, it must generate at least 50% of its annual sales/revenues from the Internet. The Index composition is reviewed each quarter. Rebalancing takes effect after the close of trading on the third Friday of March, June, September and December. Performance: YTD:7.45, 1-Year: 14.69, 3-Year: 15.76, 5-Year: 12.62. Net expense ratio: 0.60%. FDN holds 41 U.S. domestic companies; its top ten holdings are Google, Inc CL A (NASDAQ:GOOG), Amazon.com (NASDAQ:AMZN), eBay (NASDAQ:EBAY); Priceline.com (NASDAQ:PCLN), Yahoo! (YHOO), Salesforce.com (NYSE:CRM), Facebook, Inc-A (NASDAQ:FB), LinkedIn Corp (LNKD), Equinix (NASDAQ:EQIX), Netflix (NASDAQ:NFLX).
PowerShares NASDAQ Internet Portfolio (NASDAQ:PNQI): Holdings based on the NASDAQ Internet Index that tracks the performance of the largest and most liquid U.S.-listed companies engaged in internet-related businesses and that are listed on one of the major U.S. stock exchanges. Holdings are rebalanced and reconstituted quarterly. Performance: YTD: 7.05, 1-Year: 8.97, 3-Year: 16.68. Net expense ratio: 0.60%. PNQI offers 74 holdings including foreign (18%) and U.S. domestic (82%) companies. Its top ten holdings are eBay, Priceline.com, Facebook, Google, Amazon.com, Yahoo!, Equinix, Inc, Baidu, Inc (NASDAQ:BIDU), Netflix, Expedia, Inc (NASDAQ:EXPE).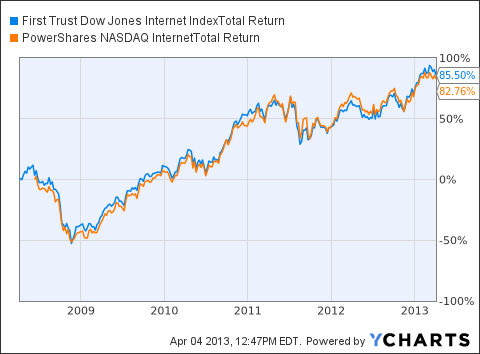 FDN Total Return Price data by YCharts
Summary: Both of these ETFs offer multiple sector coverage within the Internet universe. PNQI offers 70.15% Information Technology holdings and 29.27% Consumer Discretionary holdings, while FDN offers 71.98% Information Technology, 22.15% Consumer Discretionary, and Financials 4.22%.
Both of these funds are top heavy. FDN's top ten holdings make up 51.52% of holdings, with PNQI's top ten accounting for 58.50% of holdings.
Conclusion: PNQI is the better choice for investors because of its overall broader coverage of domestic Internet companies and its inclusion of foreign Internet companies. Its foreign holdings focus primarily on Chinese companies, including Baidu, NetEase (NASDAQ:NTES), Sina Corporation, Qihoo 360 Technology (NYSE:QIHU), and Russia's Yandex NV.
FDN is a true pure play on Internet coverage, however, its totally domestic focus will not serve investors well in the long-term. The fact that it automatically excludes companies that generate less than 50% of their annual sales/revenues from the Internet could also be a drag on future earnings.
Disclosure: I have no positions in any stocks mentioned, and no plans to initiate any positions within the next 72 hours. I wrote this article myself, and it expresses my own opinions. I am not receiving compensation for it (other than from Seeking Alpha). I have no business relationship with any company whose stock is mentioned in this article.