Everyone remembers their favorite childhood game used to pass the time in waiting rooms, car rides, and other places that never provided much immediate sensory stimulation when you were a child or teen.
I was discussing this with a colleague a while back and thought it would be a great forum on which to deliver a stock that I'd "marry" (go long), "date" (go semi-long), and kill (go short) in a particular sector. In an effort to provide the public with some ideas for retail investing and trading, here's what I came up with. This is my retail investing version of "Date, Marry, Kill".
Date - Wal-Mart (NYSE:WMT)
Wal-Mart; the good ole' fashioned family multi-purpose consumer feedbag. You know, it's an interesting way to feel, being bearish on retail as a sector, yet having absolutely no way to argue against Wal-Mart's insane success for investors, even just over the past three years.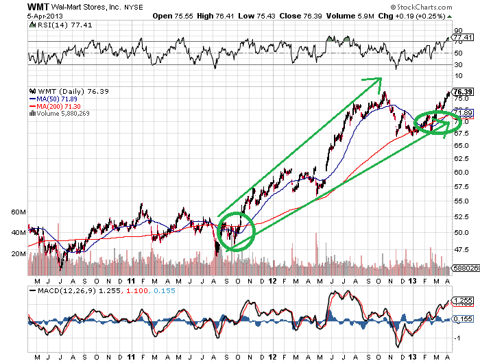 With the way the technicals lie right now, and with the economy about to correct in my opinion, I find it hard to establish the case for a very long position in Wal-Mart -- not because I don't think the corporation is sound and going to do fine, because I think it will. It's simply a combination, for me, of being close to, but not overbought yet combined with the way Wal-Mart moves against the market as a whole.
For my dating scenario, I'm betting on a bullish pop to occur now that we have the 50-day moving average crossing the 200-day moving average. As you can see in the chart above, the last time this occurred in October 2011 was the beginning of an almost 50% run to the upside. Due to market conditions and Wal-Mart's RSI starting to nod at being overbought, I've set the rational goal of looking for 8-10% from this next move, which will signal its three-year high, before Wal-Mart starts to sell off in the midst of broader market correction and being overbought.
With a current Beta of 0.36, I'm not expecting Wal-Mart to get absolutely smashed if the market corrects, but I do think it's a bit more susceptible to market trends than a lot of analysts and investors think. No stock is indestructible -- don't believe me? Check out Apple's chart from the last two years. You can check out Wal-Mart for the last five years, compared with the Dow Jones Industrial Average here: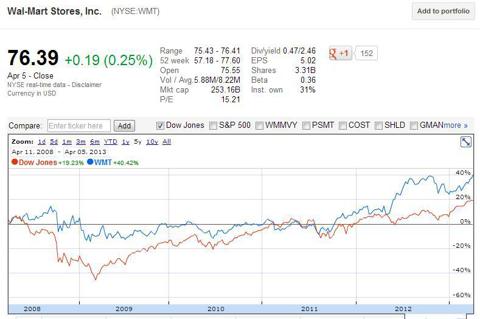 For these reasons, I'd "date" Wal-Mart for a quick score of 8-10%.
Marry - Target (NYSE:TGT)
Marriage is a serious thing. It takes lifelong commitment in sickness and in health; during bear raids and bull markets. Target is a beautiful prospect for a long-term partner in your portfolio.
Why commit to a long-term relationship with Target? Here's three solid reasons.
1. Target's main appeal to its consumers is its Wal-Mart like prices without it having to sacrifice its "style." On my recent article about J.C. Penney's impending doom, I did a comparison of bed sheet styles between Penney, Anthropologie and Target and pointed out why Target's Threshold and Thomas O'Brien brands are far superior to Martha Stewart and other brands on housewares offered at department stores:
Nobody in my generation or my child's generation is going to have the same fixation on Martha Stewart or her products. In the era of Target offering up hip and quirky looking styles and brands like Thomas O'Brien and Threshold, J.C. Penney is looking backwards, not forwards, by wasting time dealing with Martha Stewart's brand. The price points of the alternate, more stylish brands are what they need to be focused on to take these housewares into a new period for their respective stores. The styles that are selling for my, and future generations are along the non-gaudy yet still hip lines. This is why stores like Anthropologie continue their success while brands like Martha Stewart continue their slow, inevitable fade into oblivion.

Don't believe me? Check out one of my patented homemade archaic diagrams below and tell me which bedspreads you could see a Gen X'er or Gen Y'er using to outfit their home front -- and which one looks like it belongs at a hospice or at your grandmother's retirement community.

Still don't believe me? Want a taste of reality? Take a quick gauge on Pinterest (which can be considered a great litmus test for younger generations - your grandmother probably doesn't use it) and compare number of styles mentioned by above brand name. If I can sit here and produce this type of crude social "market research," why can't J.C. Penney grasp this?
2. Target has grown its dividend 20% over the past five years. I'm not an expert investor, but compounding free money is something that I'd consider putting into the "pros" column.
3. Target can easily grow by 50% over the long term from here on out if it follows its plans for store renovations in 2013 with a focus on grocery. One area where Wal-Mart generally has a leg up on Target is the fact that Wal-Mart is a bit more grocery oriented. In a SWOT analysis of Target, grocery is definitely an opportunity.
So, how do you differentiate yourself from Wal-Mart in that respect? Just like in clothing and housewares, where the brands are just a bit nicer at Target, they should focus on the same thing for grocery. Bring in and focus on organics, gluten free, and specialty foods; not unlike a Whole Foods. The people shopping at Target aren't generally the same "family feedbag" oriented group that shop at Wal-Mart.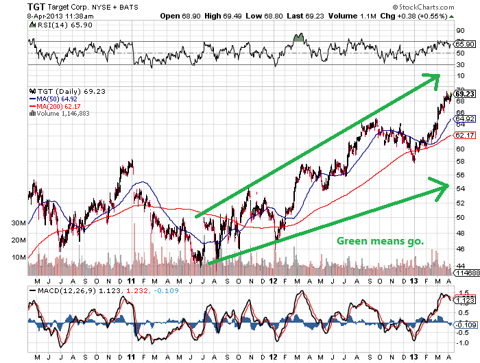 As long as Target maintains itself on the front of the wave of change in styles (as it has been able to successfully do thus far), I think these three reasons, combined with the technical picture from the past three years, prove to set up a serious foundation to go long here.
Kill - Sears (NASDAQ:SHLD)
I just can't believe Sears isn't out of business yet.
Having said that, Sears is a kill/short for me for a multitude of reasons, but none more important than the fact that its brand, like Kodak and J.C. Penney, is outdated, stale, old, and not even looked at by the last two generations. Like I said in my last J.C. Penney article:
The fact of the matter is, some old brands never catch on at one point when the generations start to turn. Sears will be one of them; other examples of defunct brands include Woolworth, MCI, and Oldsmobile.
The problem that I have with Sears is the same problem I have with J.C. Penney and RadioShack; nobody wants to marry or date an old, crusty, worn-out brand name.
Years ago, Sears was synonymous with leading retail; it was your one-stop-shop for housewares, clothing, electronics and tools. They were backed by big names and reputable brands like Kenmore, Westinghouse and Craftsman. Now, Sears has fallen to the stores having the same air of desperation to them as RadioShack and J.C. Penney. Kenmore and Westinghouse are no longer prominent leaders in housewares.
Furthermore, it is still even using the same old logo on its website:

The technical picture is even worse. The stock has been getting crushed and underperforming for months now, and all of the momentum behind SHLD is in the downward direction. As you can see, charting is a meticulous, delicate art that only the finest craftsmen in the investing world are lucky enough to use: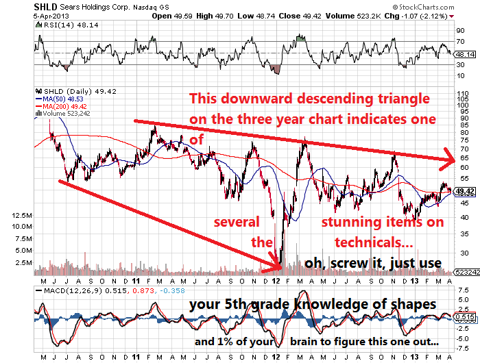 Sears has been offering year after year of disappointing sales, store closures, and seemingly no "light" at the end of the tunnel. Hell, at least Penney had somewhat of a "plan" to turn the company around in bringing Ron Johnson on.
Unfortunately, for Sears over the past year, it's been a story of lower highs and lower lows; the long-term swan song of any stock price. Therefore, we have no choice but to go short here for the very long term. Out of the money long-term puts are not off the table here.
As always, best of luck to all investors.
Previous Date, Marry, Kill : Technology
Next Date, Marry, Kill : Restaurants
Disclosure: I have no positions in any stocks mentioned, and no plans to initiate any positions within the next 72 hours. I wrote this article myself, and it expresses my own opinions. I am not receiving compensation for it (other than from Seeking Alpha). I have no business relationship with any company whose stock is mentioned in this article.