By John Spence & Tom Lydon
WisdomTree Japan Hedged Equity (NYSEARCA:DXJ) has soared to its highest level since the financial crisis with the Bank of Japan pulling out all the stops to drive inflation and weaken the yen.
DXJ is up 40% since November 2012 and one options trader is positioning for further strength in the ETF, which invests in Japanese stocks but hedges its currency exposure to the yen. The db-X MSCI Japan Currency-Hedged Equity Fund (NYSEARCA:DBJP) follows a similar strategy.
A trader on Friday purchased a large block of DXJ calls looking for the ETF to gain another 7% or more by mid-May, according to an OptionMonster report on CNBC.com.
Japanese stocks soared and the yen plunged last week after the BOJ unveiled a bold new plan to fight deflation and stimulate the economy.
The central bank said it plans to double its holdings of government bonds and ETFs the next two years. Bank of Japan Governor Haruhiko Kuroda said he will do whatever it takes to meet the 2% inflation target.
"Considering that inflation since prime minister Shinzo Abe entered office has sent the Nikkei roaring to multi-year highs, Japanese stocks are poised to soar even higher on this far more aggressive move," reports Dan Carroll for the Motley Fool.
The BOJ said a key goal of its new easing measures was to get local investors back into Japanese stocks, The Wall Street Journal reports.
"Over the years, Japan's slump became a vicious circle, with wages and asset prices stagnant. Investors became risk-averse, keeping much of their money in bank accounts and staying away from riskier assets, like stocks. That, in turn, has limited the ability of Japanese companies to tap capital markets to fund growth, putting a damper on the broader economy," the WSJ said.
"The BOJ is hoping to break the cycle. Early signs are promising," the newspaper adds.
WisdomTree Japan Hedged Equity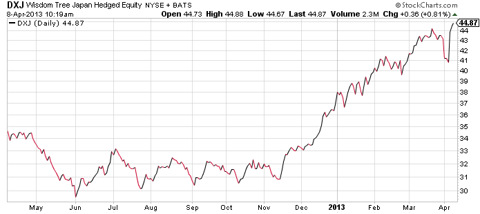 Disclosure: I have no positions in any stocks mentioned, and no plans to initiate any positions within the next 72 hours. I wrote this article myself, and it expresses my own opinions. I am not receiving compensation for it. I have no business relationship with any company whose stock is mentioned in this article.