Market Recap:
The market rebounded after a weaker open ahead of the start of earnings season. We are actually somewhat bullish on the week as we noted in our Weekly Outlook. Four days of POMO this week from the Federal Reserve along with the FOMC Minutes will likely put a floor on any downside. Economic data was limited for the day, but Japan started its monetary easing policy today, which helped Japanese markets and likely carried over to the American markets. Additionally, German Industrial Production came in at a 0.5% increase month-over-month to show some signs of green shoots in the European markets. The market, though, will likely be much more influenced by earnings throughout the week from Alcoa (NYSE:AA), Wells Fargo (NYSE:WFC), and JPMorgan Chase (NYSE:JPM), along with Fed developments on Wednesday.
The Dow (NYSEARCA:DIA) rose 48 points, while the S&P 500 (NYSEARCA:SPY) rose 10 points.
Stocks To Trade:
Today, we are looking at bullish positions in Occidental Petroleum (NYSE:OXY), Whole Foods Market (NASDAQ:WFM), and Visa (NYSE:V).
Occidental Petroleum looks very solid right now, and we believe it has plenty of upside continuing forward. The company has very solid value mixed with strong growth potential, a solid dividend, and near-term catalysts. For growth, OXY is expected to see 9%+ revenue growth this year, along with 3-4% earnings growth. We believe the market for energy is undervalued this year as we mention in our analysis on ExxonMobil (NYSE:XOM) here. Oil prices are flat for the year, not down, and the market has been priced as if energy prices will decline. Yet the IEA and OPEC have both increased their expectations for oil demand in 2013 as fiscal cliff issues have not been as impactful as many thought they would have been. For OXY specifically, the company has made some recent moves over the last couple of years that we believe will pay off in the long run. First, the company has made lots of strides into shale in California, which may be the next big market for shale after the Bakken. American oil is definitely the wave of the future for energy, and companies without lots of exposure will suffer. OXY has that exposure, and as it increased capital expenditures and dropped returns in 2012, shares dropped as well.
With a price-to-book at 1.8, shares are cheap. In the past five years, the company has an average P/B at 2.1. Further, future PE sits at 10. We see value at 15 and below. Price/sales are very cheap as well at 2.7 (under 3 is good value). Value is there for shares, and we believe that the current issue with the board of directors and CEO is also weighing on shares. Current CEO Stephen Chazen has shown signs that he is interested in splitting up divisions into different companies, which could add a lot of value to shares. At the same time, the issue of CEO vs. board is a short-term one, and if it's creating value, it's a positive for investors.
Finally, OXY has solid yield at 3%+. The company has the necessary cash and cash flow as well to make the dividend look safe. The company has over $1B in FCF at the end of 2012, which was a low level for the company historically (but again mostly low due to $10B in capex for move into California). The company has offered a dividend for 30+ years, and the dividend has increased for 10 straight years.
OXY has lots of potential, and we have a 12-month price target over $100. Use recent issues such as capital expenditures and board/CEO drama as an offer to BUY. We like waiting for a break of $85 to buy on an upswing as well as take out of near-term resistance.
Trade: OXY, Long
Entry: Break of $85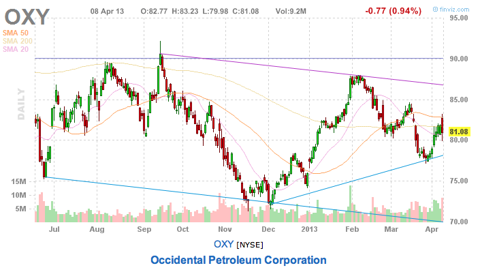 Another stock we like right now is Whole Foods Market. There is often a saying among the best investors that when media sources start to finally notice a stock in decline, it could be the end. WFM has declined 14% since its February high after earnings were so-so in the latest quarter. The company met expectations, but it forecast a bit below expectations. Why? The company is likely going to see some margin compression as it attempts to add more offerings that are of "value." The company wants to appeal to a wider array of customers, and this was seen as a negative because it must have meant that the company is seeing rising competition. We believe this pullback offers a great opportunity for potential investors or traders.
First off, growth is still very strong in this name. WFM is expected to see 12% growth in revenue this year and 14% next year. Those two rates lead all competition, and they definitely show a lot of potential still left for the company. The recent pullback has allowed has brought stocks back to some more interesting levels. Future PE is now sitting at 24, which is high. Yet, for a high growth stock, that rate is fairly calm. Price/sales, additionally, are at 1.2. The company has a high PE because the company maintains top-notch margins over its competition. The signs that those could fall do hurt the stock, but if we look at price/sales at 1.2, we can see there is value in the shares. Additionally, sales are expected to grow 12-14% for both of the next two years... meaning that rate will only decline more if the price stays the same. Under 1 screams value for most value investors, so WFM is not as rich as many think.
We believe that this pullback allows investors to get involved in a company that is likely the future of grocers. Organic, local food will continue to grow in popularity, as it's healthier and more sustainable. Further, WFM is a great investment as well into a sliver of the economy that likes to spend money. The aspiring upper middle class spends money to promote class. They may even enjoy throwing in more products into the cart with more sales as well. With volatility and a bottom not in, we like a bull put spread for May2013 expiration. The 75/72 bull put spread is offering 11% potential.
Trade: WFM, May18, 75/72 Bull Put Spread
Max Gain: 11%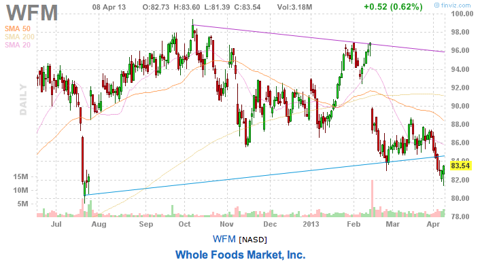 Finally, we like Visa. The entire credit industry is very appealing to us after solid signs of consumer credit rising in January and February. Credit rose nearly 8% in February at $18B, beating expectations of $15B. January consumer credit rose by nearly $18B in January as well, well above the $10B expectations. This news came after the supposed fiscal cliff damaged consumers. The payroll tax increase and tax payments seemed not to deter consumers from buying on credit. That news is definitely a big plus for Visa and other credit card companies. After some recent weakness in the market, V looks quite attractive as well. V is expected to see some tremendous growth over the next two years. Revenue is expected to grow 11% in 2013 and 2014, while earnings are expected to grow 15-20% for each year in the next two years. Margins will expand over the next two years as the consumer credit rating rises and the company's charge off rate drops.
With such strong growth and positive near-term catalysts, does V have value? It does. Future PE sits at under 20, so we are looking at a company growing at an outstanding rate that has a fair value PE as its future PE. For growth stocks, we like to see future PE below 20 for value. Yet you are paying to own the quality in Visa with a price/sales over 10.
What's an even greater about Visa is that the business is actually not all credit. In fact, 70% of the company's transactions are now from pre-paid and debit cards. This is great news for V because it brings down potential risk (despite the fact that some might not realize it... good for the investor), and the company can make consistent profits from charging fees for those transactions. The company does not so much care about the credit that people have (while it can bring in fee revenue from late charges); V cares about transactions. Spending, and a lot of it, is what is important. Consumer spending has been solid thus far this year as well.
We like V above 165 for a buy.
Trade: V, Long
Buy Point: Over $165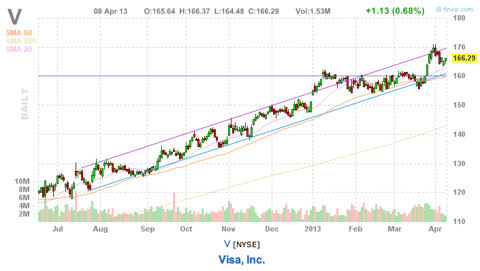 Market Outlook:
The market got a boost on Monday, and we will see if it can follow through on Tuesday. Some key things to watch will be China's Consumer/Producer prices on Wednesday because the country needs to show inflation is not a problem. Some data out of Europe will also be key, like the German Trade Balance and English Manufacturing/Industrial Production. For U.S. data, we get Wholesale Inventories for February, which will likely have minimal impact. There is more POMO scheduled for the Federal Reserve. The most important moment for the market, though, will likely be Alcoa earnings, during which the company reported higher profits and backed its 2013 demand. The report was fairly solid. What was even better is that it was not weak, and thus, did not create any fear.
Charts courtesy of finviz.com
Disclosure: I have no positions in any stocks mentioned, and no plans to initiate any positions within the next 72 hours.
Business relationship disclosure: The Oxen Group is a team of analysts. This article was written by David Ristau, one of our writers. We did not receive compensation for this article (other than from Seeking Alpha), and we have no business relationship with any company whose stock is mentioned in this article.