In August of last year (2012), I wrote an article on AmREIT, Inc.'s (NYSE:AMRE) issuance of Class B common shares on the New York Stock Exchange. The purpose for the previous article was to introduce investors to this Houston-based shopping center REIT and its differentiated value proposition.
With the exception of just a few REITs, I rarely recommend REIT IPOs because as Benjamin Graham believed, during an IPO, the previous owners are generally attempting to raise capital to (1) expand the business, (2) cash out for estate planning, or (3) a variety of other reasons - all three resulting in one thing: "a premium price that offers little chance for buying your stake at a discount." Graham would often argue that
some hiccup in the business could cause the stock price to collapse within a few years, giving the value minded investor an opportunity to load up on the company he or she admires.
Graham's argument is based on the fact that if you find a truly outstanding business - one that you have conviction will continue to compound for decades at rates many times that of the general market, even a high price can be a bargain. For that reason, I generally wait until I can invest in an established REIT - a proposition that delivers safety in principal and repeatable dividend performance.
Is It Time to Own AmREIT?
On July 27th, AmREIT listed 3,962,498 shares of its Class B common stock shares offered at $14.00 per share (net proceeds of around $46.3 million). The company was previously engaged as a non-traded REIT and it retained its 11,666,563 Class A shares (valued at around $163 million) in its capital structure.

AmREIT intends to convert 50% of its Class A shares into Class B shares at the conclusion of its annual meeting (in April) and the remaining shares (50%) will convert at the same time or any time before September 30, 2012. As Chad Braun, COO and CFO, explained on the company's recent (Q4-12) earnings call:
This structure will give management and the Board the opportunity to evaluate the trading market for our stock, as well as the macro economic conditions at the time when making this decision. We have had discussions with our institutional investors, our bankers and our analysts and believe that taking this approach will simplify our capital structure by combining all of our outstanding shares into a single class, provide better liquidity to all of our stockholders and lessen the possible effect and volatility on the trading price of our Class B common stock. Once all shares have been converted into the Class B stock, we will rename our Class B stock simply to common stock outstanding.
Braun went on to explain the conversion time line:
Through this structure there should be less back and forth between the investors and the transfers agent to facilitate the exchange and the idea or the opportunity to have full liquidity or 100% of those shares converted at the conclusive of the annual meeting has also been viewed positively and then the backstop if you will of September 30th gives them specificity as to the timeline. So all in all I think it has been viewed favorably by all of our investors.
AmREIT is around 71% institutionally-owned today and oftentimes the benefits of unlocking all of a REIT's shares to the public is viewed most favorably amongst retail investors and institutional owners. Furthermore, since AmREIT's listing on the NYSE - around eight months ago - the shares have performed very well: up almost 40% in that period.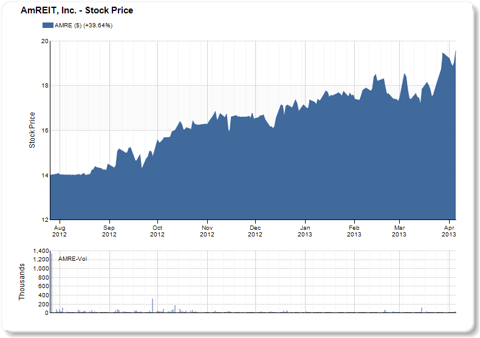 What About the Market Fundamentals?
During the company's recent earnings call (Q4-12), AmREIT's President and CEO, Kerr Taylor, explained his company's differentiated value proposition:
As many of you know AmREIT has one of the highest quality grocery and drug-anchored portfolios within the shopping center space. We remain focused on five of the top growth markets in the country, Houston, Dallas, San Antonio, Austin and Atlanta. Texas is one of the strongest economies in the nation and Houston and Dallas rank number one and number two respectively in job growth.

Our focus as a local sharpshooter, combined with our strict underwriting criteria has resulted, we believe, in one of the strongest high quality portfolios in the shopping center space from a demographic perspective. Our average household income within a one mile radius of our properties is over an $110,000 and we have approximately 50,000 households within a three mile radius. I believe the positive results of this past quarter reflect the high quality nature of our irreplaceable corner properties and the strategic advantages of being a local sharpshooter.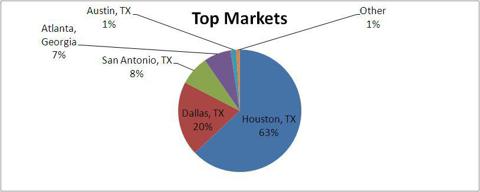 The 29-year old shopping center REIT has focused for almost three decades on maximizing the value of retail and mixed-use properties. In fact, because of its focus on quality, the company has trademarked its brand as the "Irreplaceable Corners™". As such, the management team believes that a unique competitive advantage for AmREIT is in owning the highest quality locations in a given submarket.
As Kerr alluded (in the above quote), AmREIT considers quality and location to be fundamental to the success of the company and accordingly, the company's strategic high-quality real estate drives the strength in small shop occupancy (that is around 94% leased as of Q4-12).

Compared with AmREIT's peer group, the company has some of the most favorable operating metrics.

In addition, driven by strong market demographics, AmREIT has one of the strongest rental (per square foot) metrics in the industry.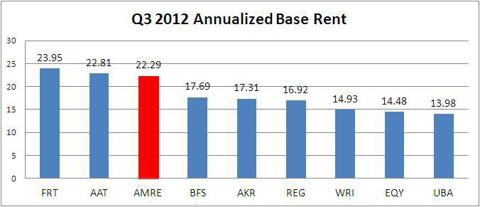 Also, AmREIT has an established platform with localized expertise. Premium rents can be illustrated in the company's top five submarkets: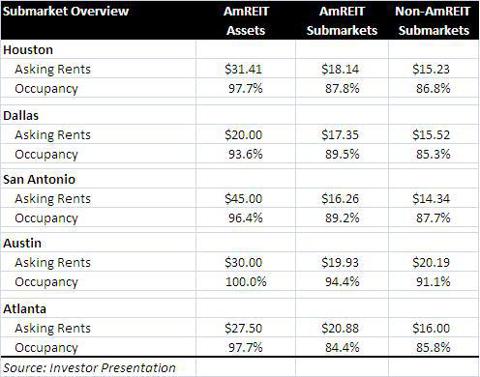 Kerr Taylor explains the strength of AmREIT's strategic demographic model when describing its recent acquisition of Preston Royal Village on the recent earnings call (Q4-12):
Average household income (for Preston Royal Village) is over $264,000 in one mile radius. This is well in excess of our target and represents household income rarely seen anywhere in the nation. The properties also benefit from daytime employment of over a 131,000.
How Do AmREIT's Tenants Stack Up?
Five of six of AmREIT's anchors are top grocers; grocers are #1 or #2 based on average sales per square foot in their respective markets, with average sales of $750 per square foot. In addition, only 11% of AmREIT's annualized base rent is attributable to junior anchor tenants (10,001 - 19,999 sf), with limited exposure to "Big Box" retailers.
Kroger (NYSE:KR) is AmREIT's top tenant that represents around 13% of revenue, while CVS (NYSE:CVS) and H-E-B are the next two largest grocery/drug tenants.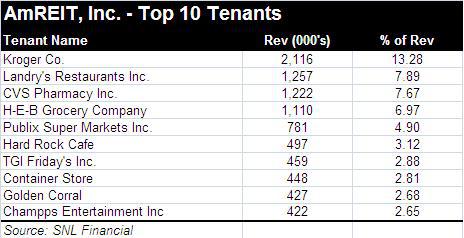 On December 12th, 2012, AmREIT announced that it had purchased Preston Royal Village, a 230,000 square foot grocery anchored center in Dallas. The 97% leased property is anchored by Safeway's Tom Thumb concept and other tenants include Bank of America (NYSE:BAC), Starbucks (NASDAQ:SBUX), Omaha Steaks, Einstein Bagels, and FedEx Kinko's (NYSE:FDX).
Preston Royal Village was acquired at a total cost of approximately $66 million, which represents a 6.25% (year one) blended cap rate. The property was financed with a permanent loan ($23.4 million) with a fixed 3.21% interest rate. The remainder was funded through a $31.2 million draw on AmREIT's credit facility and $12.3 million in cash.
What About The Latest Earnings Results?
As mentioned above, AmREIT continues to maintain a strong and healthy portfolio (97.7% occupancy) with same store NOI growth of approximately 3.2% for the quarter (Q4-12) and 3% for the year (2012). AmREIT announced core FFO of $3.9 million for the quarter and $14.6 million for the full year and on a per-share basis, this represents approximately $0.24 and $1.08 per share respectively.

AmREIT's balance sheet is well positioned with current debt 85% fixed rate with an average maturity of 4.4 years and an average interest rate of 5% with no maturities between now and 2015. The remaining 15% is floating rate debt, which is the $33.5 million outstanding on its unsecured credit facility.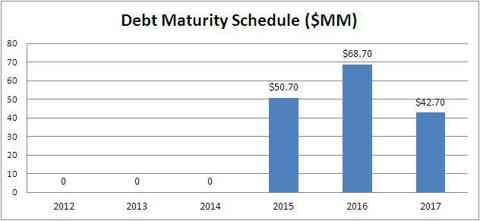 As mentioned at the outset, AmREIT's stock price has increased by around 40% since the IPO, with shares now trading at $19.65. The current dividend yield is 4.10% and the total return since the IPO has been over 44%.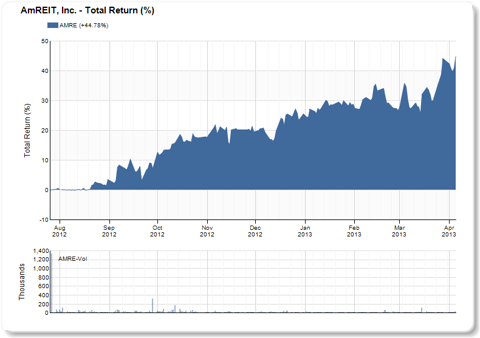 The Bottom Line
AmREIT is capitalizing on its strategic initiatives and I believe that when the Class A shares are unlocked, there will be more investor interest - especially from institutions. That means that active investment advisors will pay closer attention to the small-cap REIT and perhaps get included in future indexes.
We are seeing a similar occurrence today with Healthcare Trust of America (NYSE:HTA), formerly a non-traded REIT, that is now ramping up its institutional support with another tranche of non-listed shares to hit the market in June. Last fall, HTA's stock (closed Friday at $11.72) was added to several REIT indexes - notably the MSCI US REIT Index and the Wilshire Real Estate Index. Institutional shareholders have also taken note and increased their overall ownership stake in the company.
Healthcare Trust of America volume is averaging around one million shares a day and that should continue as the company is expected to be added to several more indexes over the next year which should further increase investor demand.
In a phone interview today, Chad Braun, COO and CFO of AmREIT, describes AmREIT's "Irreplaceable Corner™" platform:
"We believe that there is a direct correlation between the location quality of retail real estate and its performance. As we have focused on building one of the highest quality "Irreplaceable Corners" portfolios in the retail space, our properties have also delivered peer leading metrics. This strategy is consistent with our overall corporate strategy, which is to build long term shareholder value for our investors.
Maybe I should have jumped on AmREIT's IPO last July? That's okay because it's always good to test the water first. Now we can see that Mr. Market sees value in AmREIT's unique value proposition and the "irreplaceable" high-quality operating REIT model. I like what I see today and I recommend the small-cap stock REIT (closed at $19.65) that should be one of the best shopping center performers this year. I'm projecting shares to grow by 25% (by year-end) plus a nice dividend (4.1%): so my year-end total return target is approximately 30%.
Source: SNL Financial, AmREIT Investor Presentation
REITs mentioned: (NYSE:EQY), (NYSE:WRI), (NYSE:REG), (NYSE:AKR), (NYSE:BFS), (NYSE:UBA), (NYSE:AAT).
Disclosure: I have no positions in any stocks mentioned, and no plans to initiate any positions within the next 72 hours. I wrote this article myself, and it expresses my own opinions. I am not receiving compensation for it (other than from Seeking Alpha). I have no business relationship with any company whose stock is mentioned in this article.