It continues to be an enigma for me as to why Kinder Morgan Management, LLC (NYSE:KMR) trades at discount to Kinder Morgan Energy Partners (NYSE:KMP). KMR shares are for all intents and purposes similar to KMP units. Yet, they seem to always trade at a discount to KMP. This discount can sometimes be as large as 10%. It is my opinion that KMR shares should, at the very least, trade at par with KMP. The case can also be made that KMR may actually deserve a premium to KMP. At current prices, KMR is trading at about a 4% discount to KMP.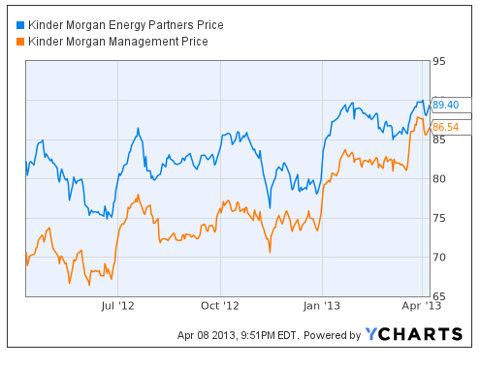 Before I start making the case for KMR, let me give you some information about its share dividend. KMR shares are 'pari passu' with KMP units, which means that they are proportionally equal to KMP units. KMR's dividend is equal to KMP's distribution, but paid in additional shares. This effectively acts like a dividend reinvestment program. The calculation of the share dividend is as follows: KMP's quarterly cash distribution per unit divided by KMR's 10-day average price prior to x-date = fractional share paid for every KMR share owned, e.g. $1.29 / $82.294 = 0.015676 share; the example reflects the actual KMR share dividend calculated for 4Q 2012 paid on 2/14/2013.
Like KMP units, KMR shares are also tax efficient, as the stock-based dividend is treated as a mini stock split. In addition, they do not have any of the tax headaches that come with MLP distributions (K-1s, UBIT).
Insiders much prefer purchasing KMR as opposed to KMP. As of 2001, insiders have purchased more than 3X as many KMR shares than KMP units.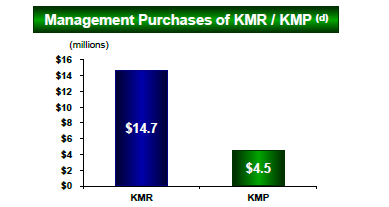 Even more interesting is the fact that KMR shares have actually outperformed KMP units. KMR has generated a 15.2% compounded annual total return since its 2001 IPO, compared with 15% in the same time frame for KMP.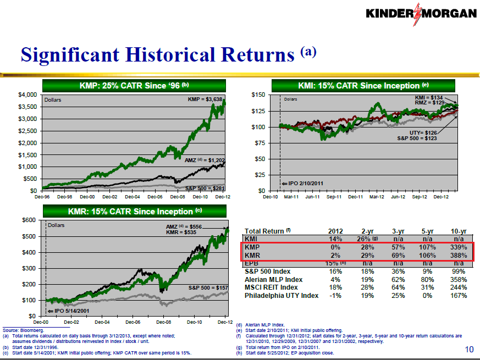 There is another MLP that has a similar setup to KMP/KMR, yet the MLP actually trades at a discount. Linn Energy (LINE) set up LinnCo LLC (LNCO) to give retail investors a way to own Linn without worrying about the K-1s or UBIT issues. While LNCO started out trading at a discount to LINE, now it trades at a healthy 5% premium to LINE. What is even more surprising is that LNCO's dividend is actually 3% smaller than LINE's distribution, with LINE paying $0.725 per unit, and LNO paying $0.71 per share.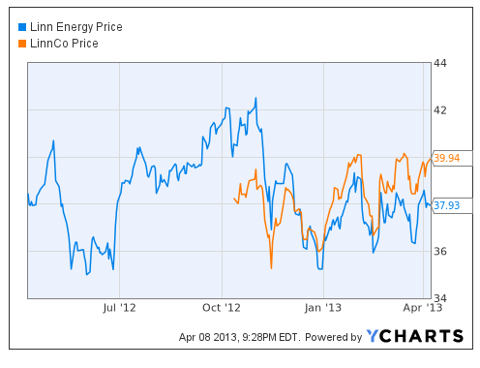 Conclusion
When an investor researches KMR, they will most likely notice that KMR does not have a dividend yield. Only if they dig a little deeper will they discover that KMR actually does pay a dividend, only that it is paid in stock rather than in cash. Since most MLP investors want yield, it seems like most go and buy KMP by default.
I strongly believe that the discount in KMR shares is either a case of market efficiencies or investor ignorance. KMR's share dividend is almost like an automatic DRIP. Even better, you are getting the dividend at a lower share price, and hence a higher yield. If you want income, you can just sell the extra shares you received. Add in the fact that KMR does not issue a K-1, and I think the case can be made that KMR may actually deserve to trade at a premium to KMP.
Disclaimer: The opinions in this article are for informational purposes only and should not be construed as a recommendation to buy or sell the stocks mentioned. Please do your own due diligence before making any investment decision.
Disclosure: I have no positions in any stocks mentioned, but may initiate a long position in KMI over the next 72 hours. I wrote this article myself, and it expresses my own opinions. I am not receiving compensation for it (other than from Seeking Alpha). I have no business relationship with any company whose stock is mentioned in this article.