Alcoa's (NYSE:AA) Q1 earnings again showed the dichotomy between the two sides of the business. Many investors focus on the upstream business as it suffers from weak aluminum prices. At the same time, the downstream business - which makes components for airplanes, cars, etc. - performed well. I follow Alcoa because it is a well-run company with exposure to great end-markets and is a levered play on the price of aluminum. My previous article - What Happened To Alcoa's Theory About Aluminum Prices? - discussed Alcoa management's statements about aluminum prices. Once again, I was disappointed with their comments on the Q1 2013 earnings call. Management used the earnings call to highlight the downstream business, which deserves attention, but did not address my main concerns and, presumably, the concerns of many other investors. I this article I will explore the two sides of Alcoa's business and discuss my outlook for the stock.
Aluminum Pricing
Aluminum pricing is one of the key drivers for Alcoa's upstream business. Although aluminum pricing has been weak, Alcoa's management has maintained a bullish outlook.
The following slides show Alcoa management's explanations for the weakness in Aluminum pricing this quarter and the previous quarter.
(Source: Alcoa's Q1 2013 earnings slides)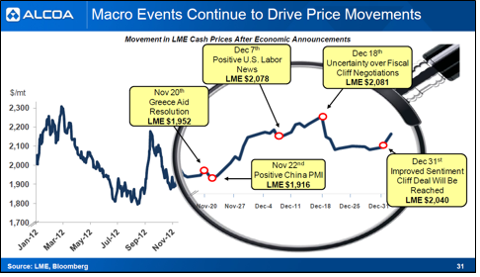 (Source: Alcoa's Q4 2012 earnings slides)
On the Q4 2012 earnings call management said that the price of aluminum was weak because of macro factors, seemingly the same factors that were driving the equity markets and some metals prices.
However, on the Q1 2013 earnings call the explanation was changed. Now, the reason for weakness in aluminum was money flows out of commodities into equities.
I am not a metals trader and not an expert in this area. However, these slides, and especially the explanations, increase my concerns about Alcoa's supply/demand forecasts.
The following is a graph of the LME (London Metals Exchange) aluminum price going back a few years. The LME price (3 month buyer) is currently $1,875 per metric ton (MT) and is at important support levels.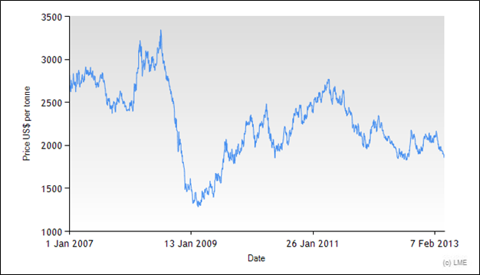 (Source: LME, aluminum price for 3 month buyer)
Alcoa's updated forecast for the alumina and aluminum markets shows supply/demand balance.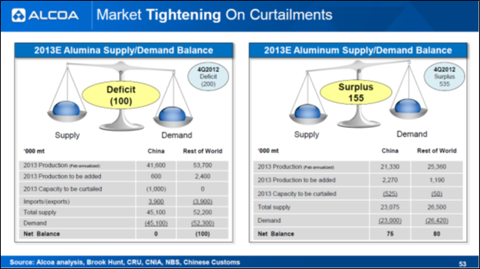 (Source: Alcoa's Q1 2013 earnings slides)
On the earnings call, Alcoa's management restated its forecast for a 7% increase in demand for aluminum in 2013. Considering the concerns about global growth, this seems positive. Additionally, Alcoa tightened its outlook for the supply/demand for the alumina and aluminum markets (see above slide).
Alcoa's management believes that supply and demand are basically in balance, which should give support for prices. Also supporting the price is the fact that global inventories are stable (see earnings presentation for more detail).
I have no price forecast for aluminum, but will closely watch the current level to see if it holds the support line.
The LME price is the benchmark price, but ther.e. are other factors influencing Alcoa's price, such as regional premiums in Europe, Japan and the US that are ~$250-$285/MT above the benchmark. The regional premiums have been rising over time and may be an indicator for LME prices.
Swings in the LME price have a big impact on Alcoa's bottom line. Alcoa estimates that a swing of +/- $100/MT on an annual basis will swing net income by +/- $240 million (source: Alcoa's Q1 2013 earnings slides).
Furthermore, the following graph shows Alcoa's cost of production. Although Alcoa has been moving down the cost curve, the cost of production is in the same range as the LME price for aluminum.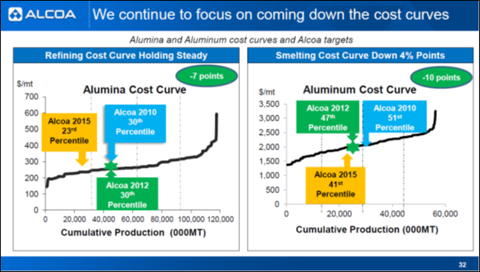 (Source: Alcoa's Q1 2013 earnings slides)
It seemed that management wanted to move the discussion on the conference call away from the upstream business and focus on the downstream business. This is understandable because of the success in the downstream business as well as the increasing contribution from that side of Alcoa. However, I am still concerned about Alcoa's explanation of the weakness in aluminum and about the supply/demand balance.
Ultimately, the price action of aluminum is the key and I will continue to watch if it can stay above previous support levels.
Downstream
The downstream business, which makes components for airplanes, cars, gas turbines, beverage cans and other products, performed well in Q1. The following slide shows how the downstream business (also referred to as value-add) has grown to contribute 71% of the after-tax operating income (ATOI).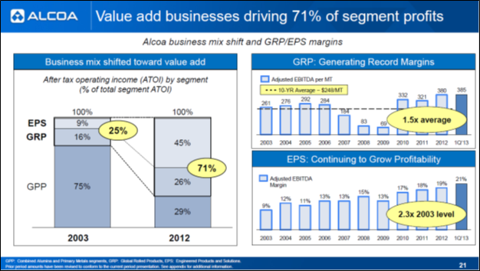 (Source: Alcoa's Q1 2013 earnings slides)
I also want to show the high-level overview of Alcoa's end markets for the downstream business. I am bullish on the key end markets - aerospace and autos - which is one of the reasons that I am interested in Alcoa's stock.
It is also interesting that Alcoa's outlook for China is very positive. By contrast, the outlook for Europe is a different story.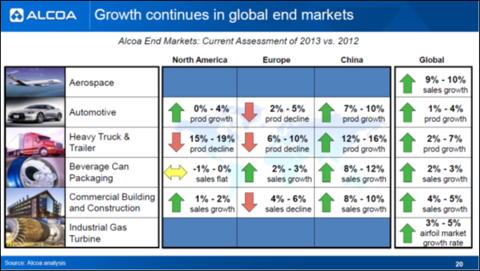 (Source: Alcoa's Q1 2013 earnings slides)
Financial Summary
In Q1 2013, Alcoa generated $690 million of Adj. EBITDA on $5.9 billion of sales.

(Source: Alcoa's Q1 2013 earnings slides)
Alcoa's free cash flow (FCF) has been around breakeven. In Q1 2013, free cash flow was negative -$305 million. Generally, Q1 is a seasonal low in terms of free cash flow. Alcoa's "Overarching 2013 Financial Target" is to generate "Positive Free Cash Flow" regardless of metal prices.

One of the issues facing Alcoa is its balance sheet. Free cash flow is hovering around the breakeven line and the company has $7.4 billion of net debt.

(Source: Alcoa's Q1 2013 earnings slides)
The graph on the bottom left shows Alcoa's debt-to-capital ratio, currently at 34.7%. Alcoa gave guidance for debt-to-capital to be in the 30-35% range for the year.
This is important because Alcoa is on negative credit watch for losing its investment grade rating from Moody's (here).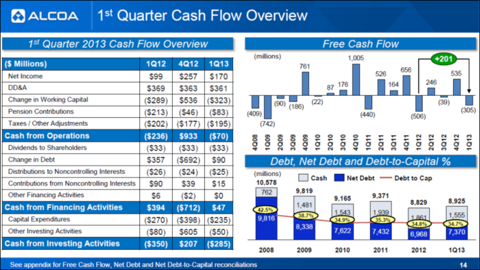 (Source: Alcoa's Q1 2013 earnings slides)
Management was asked about the debt situation on the earnings call. They seemed confident that Alcoa can maintain the investment grade rating even if aluminum prices are weak. They were asked if an equity raise was an option and responded that they have several tools to use, including potential asset sales, before getting to that.
Nonetheless, a lot depends on the price of aluminum. If it continues to be weak, Alcoa's performance will suffer and it will continue to face scrutiny from the rating agencies. A rebound in aluminum would solve a lot of problems.
Valuation
Prior to the Q1 earnings release, analysts were forecasting 2013 EPS of $0.53. With the stock as $8.25 in after hours trading, the forward P/E is 15.5x.
The valuation is not the real issue here. If aluminum prices fall, then Alcoa's earnings will disappoint and it could face a debt downgrade. if aluminum prices rise, then Alcoa is a levered play on the rebound and the stock could appreciate significantly.
Stock Price
Alcoa's share price has been very volatile and has hovered above the $8 support level for about a year.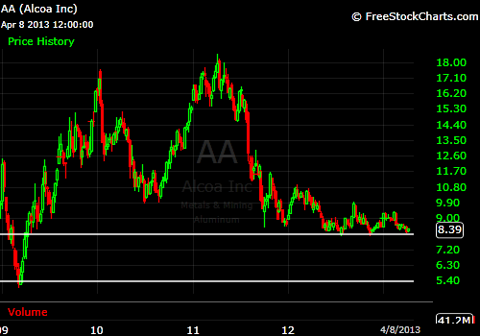 (Source: FreeStockCharts.com)
Risks
The following are my main concerns about Alcoa:
Aluminum prices, which have been weak

Debt and possible credit downgrade

Free cash flow is minimal

Slowdown in global growth could negatively impact the business

Potential weakness in end-markets

Metals have been weak in general

Concerns about China

Alcoa has achieved a lot of operating efficiencies in the last few years, but further progress may be difficult
The macro environment could negatively impact global demand for aluminum, forecasted to be 7% in 2013. I regularly write about my macro outlook. Currently, I am bullish, but if the macro changes, the outlook for Alcoa would change. My most recent articles about macro issues are here:
Finally, these are just my concerns. Alcoa's SEC documents have the official risk factors.
Outlook For Alcoa's Stock Price
There are two Alcoa's. The downstream business is doing very well and is a play on attractive end markets (aviation and autos). However, the upstream business is the real swing factor. It has been weak together with the price of aluminum. I did not get much encouragement from Alcoa's management about aluminum pricing on the earnings call and was disappointed that the topic was not covered more.
However, the price is what ultimately matters, not the explanations. I am watching the LME aluminum price to see if it can hold the current level, which has been support.
If aluminum can stabilize and rise, then Alcoa could be an attractive investment. It is a levered play on aluminum prices and has a very attractive downstream business. If aluminum continues to be weak, the stock may continue to be rangebound and the debt could become more of a problem.
I am looking for an entry point to buy Alcoa shares and may establish a position at any time. (I would use a stop to protect against the downside, which I do on most positions anyway). Alcoa and the price of aluminum are at key levels, which may be the starting point for a big move in either direction.
Disclosure: I have no positions in any stocks mentioned, but may initiate a long position in AA over the next 72 hours. I wrote this article myself, and it expresses my own opinions. I am not receiving compensation for it (other than from Seeking Alpha). I have no business relationship with any company whose stock is mentioned in this article.
Disclaimer: The opinions expressed above should not be construed as investment advice. This article is not tailored to specific investment objectives. Reliance on this information for the purpose of buying the securities to which this information relates may expose a person to significant risk. The information contained in this article is not intended to make any offer, inducement, invitation or commitment to purchase, subscribe to, provide or sell any securities, service or product or to provide any recommendations on which one should rely for financial, securities, investment or other advice or to take any decision. Readers are encouraged to seek individual advice from their personal, financial, legal and other advisers before making any investment or financial decisions or purchasing any financial, securities or investment related service or product.
Information provided, whether charts or any other statements regarding market, real estate or other financial information, is obtained from sources which we and our suppliers believe reliable, but we do not warrant or guarantee the timeliness or accuracy of this information. Nothing in this article should be interpreted to state or imply that past results are an indication of future performance.
THERE ARE NO WARRANTIES EXPRESSED OR IMPLIED AS TO ACCURACY, TIMELINESS, COMPLETENESS, OR RESULTS OBTAINED FROM ANY INFORMATION IN THIS ARTICLE OR ANY LINKED WEBSITE.