With the most intense injection of stimulus spending since the American Recovery & Reinvestment Act of 2009, the Bank of Japan, in an attempt to end 15 years of deflation, is set to pump $1.4 trillion into the economy over the next two years. This decision has many implications (such as a devalued yen), but its impact on REITs has so far been overlooked.
This statement was released on Sunday, confirming that the Bank of Japan will, in fact, be approving the allocation of 30 billion yen to be invested in REITs. This is good news for the REIT industry, as it opens the floodgates for a renewed and sustained increase in REIT investing from Japan, who last year bought a record number of ETFs and REITs. The BOJ stimulus proved to be a boon to stocks last week as the U.S. market continued to rise, and we can expect that the BOJ REIT spending spree will have a similar effect.
REITs are doing exceptionally well this year and are quickly gaining widespread popularity. This is due in no small part to the fact that all U.S. REITs are required to distribute 90% of their income to shareholders in the form of dividends. With dividend yields in the double digits, it is no wonder that more and more people are parking their money in REITs, and simultaneously making a bet that the housing recovery is not over yet. The industry has been making a serious comeback since the bubble burst in 2009, as evidenced by the performance of the Vanguard REIT Index ETF (NYSEARCA:VNQ).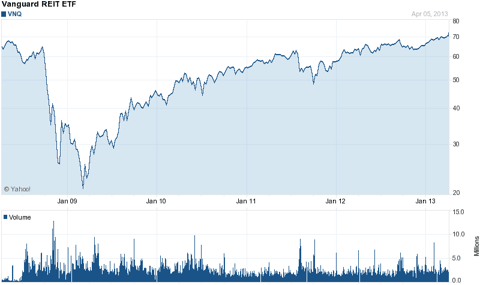 The share price of VNQ has more than tripled since early 2009.
As the American government pushes harder and harder to increase homeowner rates by providing tax credits and encouraging lending, the forward outlook on the value of real estate is very positive. The volume of home sales is increasing and low interest rates could be having a beneficial effect on real estate spending, according to Kimco Realty (NYSE:KIM) CEO David Henry who took to CNBC to say:
We're seeing as interest rates come down, property values going up and the net asset value of most REIT portfolios are going up substantially.
This equates to powerful earnings for an industry that some say is the bright light in the U.S. economy. With new sources of refinancing that are helping REITs lower costs-of-debt while also enjoying improved fundamentals, the housing recovery may soon be referred to as the housing boom. For more on the real estate forecast for 2013, check out Standard and Poor's assessment here (hint: It's very bullish).
Conclusion
The Bank of Japan is about to become a large buyer in the REIT market, which has shown admirable upside potential and strong momentum moving forward. With large dividend yields and currently attractive share prices, REITs may be the way to go for you to add some diversification and extra bang to your portfolio. While there are a number of attractive REITs to invest in, my personal favorite is ARMOUR Residential (NYSE:ARR), for reasons I outlined here.
Disclosure: I am long ARR. I wrote this article myself, and it expresses my own opinions. I am not receiving compensation for it (other than from Seeking Alpha). I have no business relationship with any company whose stock is mentioned in this article.