One of those directionless days yesterday, which saw the Dow wax and wane, changing course 6 times before closing up 0.89%. This was on the back of decent earnings from Microsoft (NASDAQ:MSFT), AMEX (NYSE:AXP) and Amazon (NASDAQ:AMZN) (but note the weak guidance) despite a jump in weekly jobless claims, weak existing home sales figures and downbeat guidance from UPS. In the latest installment of the Detroit soap opera, Chrysler is expected to file for bankruptcy protection next week.
Today's Market Moving Stories
Chinese equities have been the outperformer overnight, with the real estate sector pulling up the HSCEI. Leading the way has been China Resources Land (OTC:CRBJF) and Guangzhou R&F (OTC:GZUHF). More generally, I expect most investors to remain cautious, with a slew of corporate earnings scheduled for release in the US today and further news on the US Government's bank stress test on the horizon. Preliminary results are likely to be shared with the banks, with the findings to be made public next week (although there will probably be leaks before then). Note Japans's Nomura (NYSE:NMR) posted a record $7.3bn annual loss overnight, though this had been leaked .
Optimism for recovery continued with Asian data. The results of the Chinese April MNI business sentiment survey were positive as the headline overall business conditions index jumped 61.51 in April from 54.20 in March; above 50 for the third month in a row. South Korea reported its economy expanded 0.1% q-o-q in Q1 compared to a contraction of 5.1% in Q4 2008; a moderation in the sharp decline in exports from the previous month indicating encouraging signs for the global economy.
Gold is up this AM on a report that figures from China show official reserve holdings of the precious metal are double analysts' estimates. Looks like they have been quietly building up a huge holding.
Borrowing puts UK's AAA rating in danger after Budget 2009, according to the Telegraph.
The 2 rating agency heavyweights, Standard & Poor's and Moody's have cornered the GBP in a dark alley with nowhere for sterling to run. The UK budget deficit projections are just too big to ignore and the rating agencies have put the UK on review for a possible downgrade. It is going to be tough for the UK to wriggle out of this one without losing one of its three A's.
Barclays (NYSE:BCS) delivered a double-edged sword as John Varley, its chief executive, said he believes the recession "feels deep and prolonged" and will last another year, although the bank pledged to lift its lending to businesses and homeowners in Britain by £11bn this year, UK press reports. Barclays shares are up this morning 2% + on news they plan to pay a dividend.
The Italian press is reporting that Fiat (FIATY.PK) may end up buying both Opel and Chrysler (via a gradual build-up of a 51% stake). Fiat's chief Sergio Marchionne said Fiat could bring new technologies to Chrysler, but he was more circumspect on Opel. German media reported yesterday that GM and the German government were leaning in favour of a deal with Fiat – which is furiously opposed by German trade unions and workers' representatives, as such an alliance could give rise to large-scale job losses. Those reports suggest that an Opel deal will end Fiat's talks with Chrysler, which would face bankruptcy without a deal.
Writing in the Irish Economy blog, Karl Whelan is critical of a statement by Alan Ahearne, now a special adviser to the Irish finance ministry, in which Ahearne argued against nationalisation. Ahearne's argument is that nationalisation is not a good idea for Irish banks in particular, as they are dependent on international funds. Whelan makes the point that the debt of Irish banks was already guaranteed by the government, and so it should not make any difference from a funding viewpoint whether the bank is private or state-owned.
According to Irish Green Party Minister Eamonn Ryan, a National Management Agency (NAMA) is set to be set up within the next two weeks with the appointment of an interim board and CEO. No further insight was offered into the internal operations of NAMA or how it is set to control or value the €80bn-€90bn of bank assets it is set to oversee. However the Minister did say that all this information will be detailed with the publication of a bill which will formally set up NAMA. Speculation on the workings of NAMA, suggests that property loans are set to be acquired and managed by the new agency, but are likely to continue to be administered by the banks themselves.
China's Spread Its Wings (…and risk)
This morning the USD will come under major pressure after China said that it will use FX reserves to offset capital outflows. It also suggested using currency reserves for domestic and overseas investments indicating that China might even use existing reserves to dis-invest from current financial holdings (bad news for US Treasury market), transferring assets into the real side of the economy.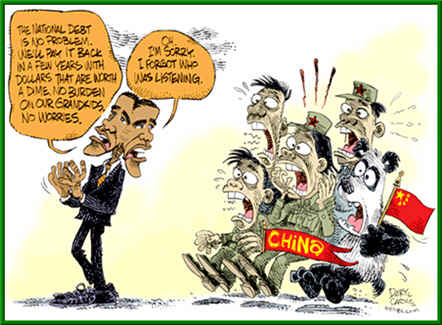 My view is that China will look into commodity production rights for future overseas investment. The current global economic crisis will make countries more receptive to Chinese capital inflows, which is very different to the situation seen a couple of years ago when China had to concentrate its efforts on Africa, as in other regions, real sector investment from China was often unwelcome.
Note, this morning Australian Treasurer Wayne Swan has given a Chinese firm the green light to pay $1.2 billion to buy the bulk of struggling miner OZ Minerals, but made preserving jobs a condition of approval. Meanwhile, China suggesting using its currency reserves to support domestic demand tells me to invest into currencies of countries benefiting from a developed trade relationship with China, such as those of OZ, Brazil, and Korea.
Novel Zimbabwean Fiscal Policy
One of the key issues which we have spoken about at length here is the pesky problem of the velocity of money i.e. that people are hoarding cash and not spending it. The Reserve Bank of Zimbabwe shows us the way to fix this! Put an expiry date on your currency!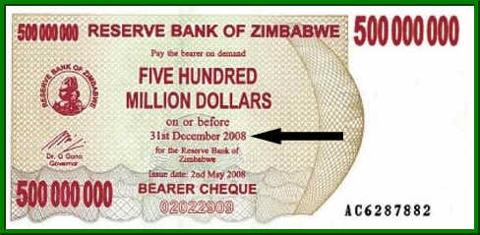 Snippets
A Steeper Incline Ahead
Most financial markets have been ranging over the past fortnight after a strong recovery in risky assets over the preceding weeks. There was a lot to support the risk rally, namely, the much-vaunted "green shoots" of recovery, solid Q1 bank earnings, the G20 boosting IMF funding, significant new quantitative monetary easing, and Geithner managing to appear part of the solution rather than the problem. However, risky assets have stalled around key resistances, and a lot of good news is now in the price.
For instance, the US S&P 500 and most other major equity markets are stalled near their late-February highs. Emerging equities, CDS and risky currencies versus safe-haven currencies are at their best levels since the demise of Lehman Brothers, but have either stalled or ebbed recently. This lack of momentum suggests that it is going to be harder to find positive surprises to drive the risk rally forward from levels that are no longer extraordinarily cheap.
In fact, the fundamentals suggest that there is still room for disappointment. Perhaps the worst is past, but many respected analysts (who have called this debacle right since the start), think we will see new lows before we are done. At the very least, though, we should expect some sizeable set-backs in global investor confidence over the year ahead.
This week's IMF GFSR and WEO remind us that we are a long way from flushing toxic assets from the global financial system and credit growth will remain constrained as banks rebuild their capital. Economic recovery from this financial crisis will be restrained by the adjustment in the financial sector and will inevitably come with fears of a double dip. This means that "green shoots" can quickly fade before employment can bloom some time next year.
This structural adjustment in the financial sector requires policy rates staying lower for longer than is priced into most yield curves even in those countries where banking sectors have been less affected by the crisis (this is because global capital is less accessible and demand from the major economies is weak).
Against this medium-term backdrop of balance-sheet adjustment and repair, there is possibly a short-term trading opportunity in the EUR. It has dug in and looks ready to recover for a while. Eurozone business surveys released this week are very weak, but have shown a slight improvement and today's key German IFO survey number of business sentiment should show the same. The EUR has underperformed, reflecting trends in rate markets and the currency looks good for a move to 1.35 versus the USD and 0.915 versus the GBP.
The Federal Reserve also releases the bank stress methodology today, and banks will be informed of their preliminary results. This will spark intense speculation over how banks have fared until the 4 May results are made public.
This is a recipe for nervous rumour-driven trading. Geithner told us the vast majority of banks have enough capital, but this is a stress test and it surely can't be all good news, especially when the IMF's work suggests banks have much more to do before they are back in good financial shape. The G7 finance ministers meet and will say all the right things, but it is hard to see much new will come of it after last month's spectacular G20 meeting.
The Day Ahead
(all times UK)
German IFO, Apr (08:00): A small improvement, with the business climate index edging up to 83.1 (mkt: 82.3) as current conditions remain broadly unchanged at 82.7 (mkt: 82.1) and expectations rise for the fourth consecutive month to 83.6 (mkt: 82.6).
UK GDP, Q1 (08:30): GDP should fall at a similar rate to Q4, dropping 1.5%, with downside risks given much weaker IP data.
UK retail sales, Mar (08:30): There's bigger scope for a surprise as the consensus is too gloomy at -0.3% (RBS: +0.3%) given an unexpectedly resilient BRC survey. Lower food prices should provide some support for volumes.
US durable goods orders, Mar (12:30): Orders should fall by 2%, exacerbated by weakness in aircraft. Core durable goods should fall by 1%.
US new home sales, Mar (14:00): Some optimism is brewing among homebuilders and sales should see a modest bounce to 340K, although rising foreclosures might dampen any nascent recovery.
Earnings from 3M (NYSE:MMM) ($.86), Honeywell (NYSE:HON) ($0.54) , Schlumberger (NYSE:SLB) ($0.73) and Xerox (NYSE:XRX) ($0.04).
And Finally… Irish Recession 2009

Disclosures: None