The U.S. stock market is struggling to hold on to gains accrued since early March. Upward momentum seems to have stalled at resistance around the February highs. The drop on Monday looked like it might be the beginning of something worse, but there has been no follow-through yet. The stubborn short-term uptrend is characteristic of bear market rallies which tend to last longer and go farther than anyone expects - which is why such rallies are so dangerous. Investors are often drawn in just in time for the trend to reverse sharply downward.
Rising volatility is also of concern. The -4.3% loss in the S&P 500 on Monday was the 11th one-day move of 4% or more so far in 2009, but it had been nearly four weeks since the last such daily move. The S&P 500 went more than five years (10/15/2002 through 3/18/2008) without any 4% daily swings and only five days that moved more than 3% in either direction. So far this year, we have had twenty 3% days - an average of more than one per week, causing many investors to become numb to the extreme moves. The last hour of trading has been particularly treacherous lately. The high volatility has many causes, but the result is that short-term trading is extremely difficult and risky. Buy or sell one day early or one day late, and your results can be dramatically different.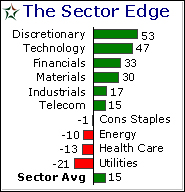 Consumer Discretionary has moved into the top spot in our sector rankings, led by retailing. Recent leadership by the retailing sub-sector defies conventional wisdom; we are unaware of any fundamentals that support this kind of relative strength, and the long-term downtrend that began almost two years ago is still far from being broken. Unless there is some kind of stealth consumer resurgence underway, we can only surmise this to be a technical reaction to the extreme oversold condition that developed last fall. The financial sector is in third place, but anyone who saw Monday's -11.2% plunge in the SPDR Financial ETF (NYSEARCA:XLF) knows this sector is still unbelievably volatile. Additional information on the data in this chart can be found in the Edge Chart Users Guide.
The preceding is an excerpt from my free weekly newsletter.