I admit, it is dangerous to look at stocks that may tug at our heartstrings. However, isn't that how Disney (NYSE:DIS) became popular to begin with? As I looked for companies that have staying power, are diversified, and consistently provide value to their shareholders, I began to become more impressed with the company beyond Mickey, Donald and friends.
They truly have a diversified portfolio. They have 5 segmented revenue streams:
Media Networks such as the ABC, ESPN and Disney Channel families of networks, but also Hulu and Hyperion Books
Parks and Resorts which of course includes their flagship Disneyland and Disney World, but also hotels, Disney Cruise Line which has increased from 2 to 4 ships in the last 2 years, an Hawaiian resort, and theme parks is Tokyo, Shanghai, Paris and Hong Kong
Studio Entertainment includes the iconic Walt Disney Studios and Animation, but in recent years has acquired Marvel and Pixar. They also acquired Lucasarts in October 2012 (Q1 FY2013 for Disney). Just last week, they announced they were shuttering many of the facets of Lucas Arts. Here is an article from Forbes.
Consumer Products is comprised of the Disney Store and Disney Licensing.
Interactive produces minimal revenue and negative income but allows Disney to have yet another multichannel presence online, interactive games and apps.
So who is their competition in the marketplace? Comcast (NASDAQ:CMCSA), Fox, Netflix (NASDAQ:NFLX), Six Flags (NYSE:SIX), Marriott (NYSE:MAR) and Carnival (NYSE:CCL), all can be counted as having products similar to a part of Disney's portfolio, but if one were to gain dominance, Disney, as diversified business entity, will still have other streams of revenue. I guess that I would say that Disney is its own mutual fund specializing in dreams... okay, that's too cheesy.... specializing in entertainment.
Since you're on Seeking Alpha, numbers are important to you… or at least they should be. As fond as one is as a consumer of a company, that doesn't necessarily mean you should be a shareholder of it (however, my love of Chipotle Burritos did lead to ownership of Chipotle Mexican Grill (NYSE:CMG), but that's a different article altogether!)
Before really researching Disney, when I thought of the company, I thought of the movies. Little did I know that my addiction to ESPN was providing more business than going to see one of their movies. In fact, Studio Entertainment is the 4th most profitable of their business segments (as I mentioned earlier, their Interactive segment is a loss nearly every year).
images

The Studio Entertainment segment was certainly a success in 2012 compared to 2011, even though its revenue decreased by over $500 Million (-8.3%), it still produced almost $100 Million (+16.8%) more in net income. For 2012 this was attributed to fewer movies, but they were more successful.
In any company or business, success or failure can be found in whether or not attention and growth is going to the correct segments. From the 2012 Annual Report, CEO Robert Iger reinforces Disney's focus on 3 strategic priorities:
… that have been critical to our success: creating exceptionally high-quality content for families, making that content more engaging and accessible through the innovative use of technology, and growing our brands and businesses in markets around the world.
On their own, Studio Entertainment may, and Interactive Disney certainly would, be struggling to provide value for shareholders. However, Disney uses these two business segments to drive their largest revenue and income streams of their Media Networks and Parks and Resorts (and nearly a billion dollars of net income from toys and movie paraphernalia isn't a bad middle segment!). Below is a chart that shows that they are indeed growing the correct segments. The closer to the top right indicates the greater impact on revenue and more importantly net income. Media Entertainment, of course is in that category. The size of the "bubble" (and darkness of shade if this copies correctly!) shows the 2 year growth of that segment. It is always encouraging to see large growth in areas of impact!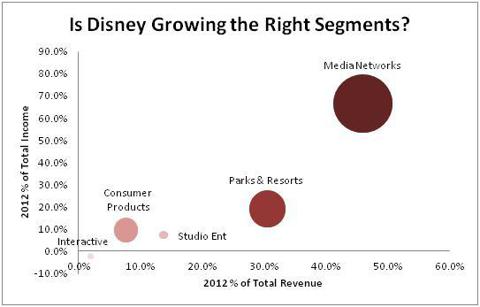 As the economy has bounced back the last few years, so has Disney's EPS. 2012 saw company record highs for EPS with 2013 Analyst expectations of another 7.7% increase to $3.37. The trend of providing more shareholder value is certainly there for long term holdings.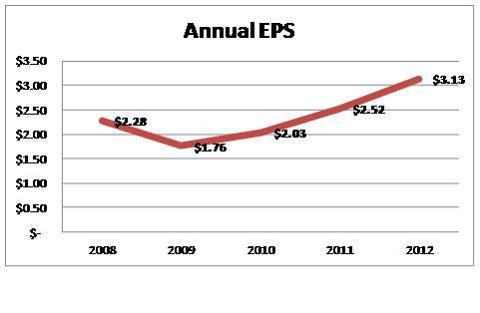 Does Disney have a long standing brand that can stand the test of time, yet is not afraid to evolve as a company? I think so.
Are they diversified enough to provide several channels of growth and income? Yes, and I do not believe that it is so diversified that any of it takes away from its brand, although John Carter and Mars Needs Moms are admitted blemishes to the brand. However, overall being the world's most popular vacation destination, having and online presence, typically producing blockbuster movies and having a growing conglomerate of TV stations is quite the variety.
Are they working to provide value for their shareholders, their consumers and their communities? Again, I believe they are.
For a company born with the idea that wishing upon a star makes dreams come true, it seems to me that shareholder value is not a figment of the imagination for this well diversified, globally growing company.
Disclosure: I am long DIS. I wrote this article myself, and it expresses my own opinions. I am not receiving compensation for it (other than from Seeking Alpha). I have no business relationship with any company whose stock is mentioned in this article.