Target Corporation (NYSE:TGT) is undergoing a new stage of expansion as it seeks opportunities internationally. The company has aligned an effort to open some 124 stores in Canada this year; the first three stores opened in early March. Based on early channel check reports, sales are going better than expected in the region. Some sources cite that the biggest obstacle the company is facing in early stages of retail operations is getting general merchandise back in-stock quickly enough.
In this article, I plan to outline some of the headwinds the company is and will likely continue to face in 2013, assuming the trends in the economy stay true to form. Within this article, from time to time I will denote some factual economic statistics which relate to the economy and how that juxtaposition could possibly underpin earnings growth for Target Corporation.
With that said, let's kick-off this article with the most recent economic data from Canada, since that is the direction in which Target is heading. Canada's March Jobs Report showed that the country shed 54,000 jobs against expectations of 8,000 jobs being created. Here is what Derek Holt of Scotiabank had to say about the recent economic data in the Canadian jobs report:
"This is the ugliest Canadian jobs report since February 2009 and the details generally back up the headline weakness. While we can't read that much into one month's report in a very volatile series, job market momentum has waned into 2013 off of 2012 strengths. On a year-to-date basis, Canada has shed 26,000 jobs concentrated upon this morning's print but also a 21,900 drop in January that combined to offset the 50,700 rise in February."
When looking at a company the size of Target, sometimes the most important aspects get lost in the shuffle. Gross margins and same-store-sales are among the most important metrics with a company this size and this mature. If we look at the most recent monthly SSS data from Target, the data isn't very positive. Moreover, monthly comps on a YOY basis seem to be decelerating. If we take the seven months beginning in July of 2012, only one month out of the following seven months showed greater SSS results versus the prior year. This month was August of 2012, which appeared to be a better than anticipated Back-to-School shopping season for the retailer. Each and every other month outside of September showed a declining growth pattern.
| | | |
| --- | --- | --- |
| | SSS Change | Y-O-Y SSS Change |
| July 2012 | Up 3.1% | -1% |
| August 2012 | Up 4.2% | +.1% |
| September 2012 | Up 2.1% | -3.2% |
| October 2012 | Up 2.4% | -.9% |
| November 2012 | Down 1% | -2.8% |
| December 2012 | No Change | -1.8% |
| January 2013 | Up 3.1% | -1.2% |
As you can clearly see from the chart above, SSS, when viewed on a YOY basis, show an alarming deceleration in growth which was exacerbated in Q4 of 2012. Total SSS growth deceleration from July 2012 to January 2013 was 9.9%. When viewed under this metric, investors get a clearer picture as to why the company needs to expand its reach and fight for the consumer dollar on a broader scale.
Investors should consider the reasons Target is showing signs of increasing deceleration of revenue growth. The biggest driver will have to be consumer spending. I know mainstream media portrayed the latest retail sales numbers as extremely positive, but again, when viewed with the proper perspective, they tell a completely different story than what you may have heard on the news.
February Retail Sales showed a 1.1% increase against expectations of a .5% rise. This was the biggest beat of expectations since October 2011, and the biggest monthly rise in five months. The number was driven by a 5.0% jump in gasoline station sales, a 1.8% increase in miscellaneous store retailers, a 1.6% rise in non-store retailers and a 1.1% increase in the broad retail and food services category. Declines were noted in Furniture stores (-1.6%), Electronics and Appliance stores (-0.2%), and Sporting goods and music stores (-0.9%). Note that these numbers are issued on a seasonally adjusted basis. So what's the problem with the numbers as issued you might be asking? I'm just about to get to that.
First, remember that these numbers are issued on a seasonally adjusted basis, meaning a calendar shift occurred YOY. If we account for the calendar shift which benefited sales for the month of February 2013, retail sales actually witnessed a decline in the month of February. The unadjusted headline number in February, which accounts for the calendar shift, actually posted the first sequential decline since 2010, as retail sales declined from $382.4 billion to $381.0 billion.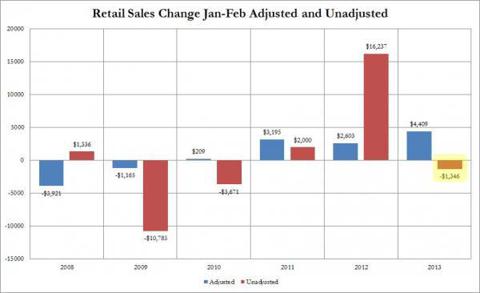 The chart above shows the historical pattern in January to February retail sales changes on an adjusted and unadjusted basis. So maybe you can't believe everything you see and hear in the media. When it comes down to real dollars on an unadjusted basis, retailers witnessed less consumer spending in the month of February this year than last year. I would argue that this will continue through much of the year.
However, within keeping of the calendar theme as it pertains to sales, retailers will benefit again in Q1 from the calendar shift which brought forward Easter sales during the month of March by roughly a full week. Ultimately, for the balance of 2013, retailers will see the biggest calendar shift challenge by way of a 52 week fiscal year; last year the calendar shift added a full week to retailers' fiscal year. This fiscal calendar year shift could hurt many retailers come Q4 reporting time.
Below is a table showing Q4 SSS data and YOY SSS data culminating on February 2, 2013.
Comparable-Store Sales
Three Months Ended
Twelve Months Ended
February 2,
January 28,
February 2,
January 28,
(unaudited)
2013
2012
2013
2012
Comparable-store sales change
0.4%
2.2%
2.7%
3.0%
Drivers of change in comparable-store sales:
Number of transactions
(1.0)
0.4
0.5
0.4
Average transaction amount
1.4
1.8
2.3
2.6
Selling price per unit
0.6
0.9
1.3
0.3
Units per transaction
0.7
0.9
1.0
2.3
If we focus in on "Driver of change in comparable-store sales", we see some very telling signs of what is affecting the company's sales and overall profitability as we should not overlook the fact that for the balance of 2012 gross margins contracted to 29.7% from 30.1% in 2011. The number of transaction in 2012 only increased by a mere .1% versus 2011 and the average transaction amount actually decreased by .3%.
But the worst part of what was driving the change in SSS during 2012 was that selling prices actually rose on a per unit basis and resulted in declines for receipts. Last but not least, units per transaction sank by 1.3% in 2012. I wish I could paint a rosier picture for investors, but what is in black and white is in black and white. For FY13, the company is expecting SSS to grow 2.7% which is flat YOY. In Q1 of 2013 the company expects SSS to grow between 0% and 2%.
But there is much more than consumer dollars that can be attributed to Target's decelerating SSS performance. When it comes to big box retailers, there's really not much of an economic moat present in the business model. In this article "Target Headed Much Higher in 2013, Better Catalysts Than Wal-Mart", A fellow Seeking Alpha contributor points this out by saying the following:
"There are many minor aspects of TGT that can contribute to the company's overall uniqueness, but we do not see any one strong characteristic that creates a solid economic moat". The Oxen Group author goes on to say that "One aspect that does provide a small economic moat is the exclusive big-name lines that appear in the apparel and home goods departments".
I think this is where the author loses the argument that these "big names" are any form of economic moat for Target Corporation. Why do I say this? It's very simple; an economic moat creates value in the business model and tends to differentiate the product mix in a way that shows itself in a positive economic performance. However, when we look at these two departments mentioned in the above linked article, there has been relatively little if any positive economic performance from these two departments when accounting for SSS on a monthly basis.
For nearly 6 months out of the year during FY12, apparel showed declines in SSS despite big name lines; home goods fared even worse with declines in SSS in 8 months during FY12. So much for those big names like Prabal Gurung and Nate Berkus. Here is a current snapshot of Target's Home Department and the Nate Berkus Collection of home goods.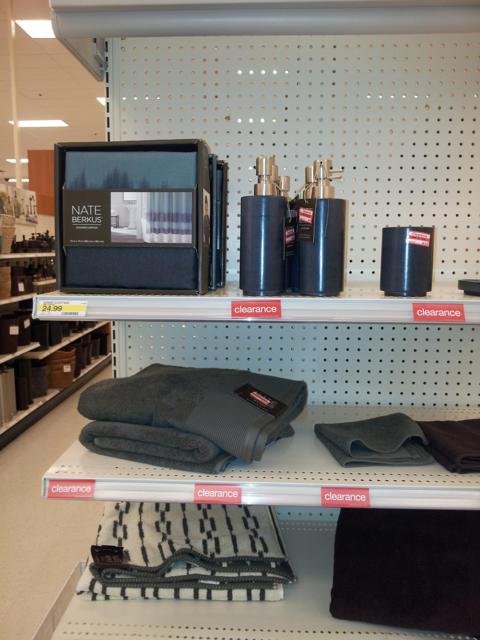 Of course, a retailer is not going to be able to sell every piece of every individual sku in the collection, but the quantities still in inventory for each Nate Berkus Collection sku are still quite high given the markdown period. In spite of the evidence of poor performance before us regarding the sell through of Nate Berkus products, Target seems to analyze the sell through data differently as noted in the company's recent release of Q4 2012 earnings results:
"In home, we continue to build on the success of the Nate Berkus collection, which launched last fall. This collection includes more than 150 home products, with prices ranging from $6 to $150, featuring stylish and relatable pieces that feel like they were collected over time and designed to be easily layered into existing décor. We'll be adding new items to this ongoing collection in 2013."
Could the company's failures to appropriately scrutinize sales/sq. ft. in its home goods departments be the root cause for the overall department's decline in profitability?
Speaking of merchandise partnerships, let's not even get into the Target/Neiman Marcus merchandise and merchandising debacle last holiday shopping season which resulted in the product partnership offering going 70% with large quantities unsold during the holiday shopping period. I would agree that the idea was sound, but the execution was poor regarding this partnership.
One obstacle which Target seemingly doesn't know how to overcome is driven by its own merchandising strategy of good, better and best. While it is true that the merchandise representation in stores has followed this merchandising strategy, the good, better and best strategy is a matter of perspective which I feel Target has fallen short of addressing for years. What the company continues to offer by way of good, better and best products is actually what is more appropriately defined as good, better and best for Target and not necessarily good, better and best for the consumer. Essentially, the consumer does, if offered in stores, have the ability to pay-up for higher quality merchandise. With this in mind, Target may finally be turning the corner to seriously address this issue. Recently Target has launched the Frigidaire Professional product collection of small appliances which is the lead within a specific small appliance aisle, something we have not seen from Target before, complete with product profile header.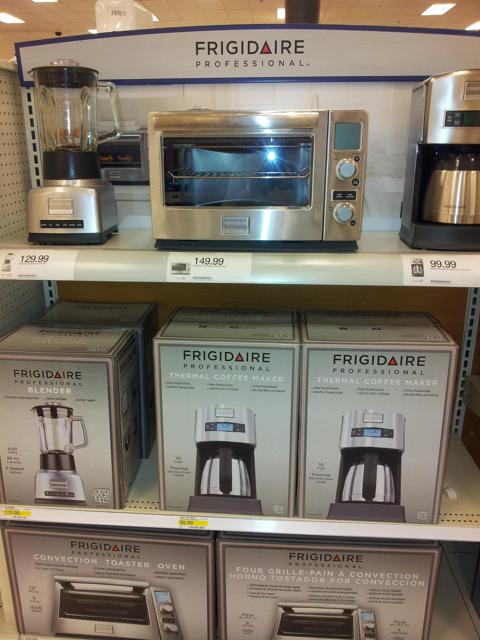 Moreover, if this becomes an enhancement to the good, better and best merchandising strategy by Target, the company could seriously expand its consumer demographic beyond the current consumer base.
Target's biggest opportunity lies ahead with its expansion into Canada. I think everyone would agree that this expansionary effort will offer the company sorely needed revenues to offset the weakening growth in the U.S. marketplace. The combination of new expansion efforts, technology advancements which make it easier for shoppers to give gifts through Facebook (NASDAQ:FB) e-cards, P-fresh store updates and newly acquired e-commerce revenue sources should help mitigate near term weakness in the U.S. for Target. However, none of these efforts can hope to address weakening consumer spending which may or may not continue in FY13.
One thing is for sure, based on the evidence at hand, for all of Target's marketing, commercial advertising, merchandise partnerships, ease of shopping experience, dividend performance and share repurchase programs, the consumer will determine the direction for which Target goes in the future. From an investor standpoint, the analyst community and hedge funds may start to focus more on those same-store-sales results as the retail investor becomes distracted by Canadian growth prospects.
Target remains one of the great retailers in North America, but the landscape is ever-challenging as competition rears its ugly head in an uncertain economic climate which, in North America, is pegged to the consumer. In a consumer driven economy, retailers rely on a healthy labor market. So, in closing we offer investors a look at the latest Non-Farm Payroll Report from the U.S. Government, which showed that during the month of March, only 88,000 jobs were created against an expectation of 190,000 jobs. The 88,000 jobs created was the smallest increase since last June -- and nearly half-a-million people stopped looking for work last month, according to data issued by the Labor Department.
Shares of TGT have almost recouped all of their losses which began in 2007 and persisted through 2008. At current levels, we are forced to look more closely at the company's most recent performance metrics to decide whether or not holding shares of TGT are prudent at this time. This week kicks-off earnings season and on Friday investors will get to see how retail sales performed as a whole during the month of March. Capital Ladder Advisory Group believes that a reduction in TGT shares is warranted at the $69.75 high water mark, which we feel represents full value and gives Target Corp. the opportunity to prove, through results to be presented in its upcoming Q1 2013 Earnings Report, that shareholders should continue to hold and/or devote more capital to shares of TGT.
Disclosure: I have no positions in any stocks mentioned, and no plans to initiate any positions within the next 72 hours. I wrote this article myself, and it expresses my own opinions. I am not receiving compensation for it (other than from Seeking Alpha). I have no business relationship with any company whose stock is mentioned in this article.