Deepwater drilling powerhouse Diamond Offshore Drilling, Inc. (NYSE:DO) reported better-than-expected first-quarter earnings and announced another special dividend. We see few signs of the downturn in oilfield activity levels in Diamond's quarterly report -- a trend that we see continuing for many quarters to come.

Management did indicate on the call that fresh contracting activity has slowed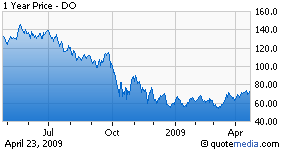 down significantly, which will weigh on dayrates in contract rollovers. But Diamond has limited exposure to these softening fundamentals, particularly in its core deepwater drilling fleet. Approximately 95% of its deepwater fleet is booked for this year and the number for next year is 73%.

Given this level of contract coverage and a revenue backlog exceeding $10 billion, Diamond offers a level of earnings and cash flow visibility that few others can match. Of course, Transocean (NYSE:RIG), the largest deepwater driller in the world, is in the same enviable category.

But where Diamond trumps even Transocean is its commitment to pay out excess cash to shareholders through special dividends. Since the beginning of 2006, Diamond Offshore has been regularly paying a special dividend, in addition to its regular dividend. Since that time, it has paid a cumulative dividend of almost $16 a share. For the first quarter of 2009, Diamond declared a regular dividend of $0.125 and a special dividend of $1.875, for a total of $2.00 per share -- the 7th consecutive quarter of a special dividend.

In this age of dividend insecurity when companies are scrambling to find ways to conserve capital by cutting dividends, Diamond's 'special' dividend is morphing into a 'regular' one. This is particularly so when we look at the free cash flow outlook for the company. We estimate that Diamond's free cash flows (operating cash flows less capital expenditures) will exceed the $1 billion mark in each of 2009 and 2010.

With almost no net debt and a commitment to its dividend policy, we remain confident that the company will continue to pay a juicy special dividend for many quarters to come.