\Are oat futures foretelling a move up in corn and wheat prices? I think so, here's why:
Oat, corn and wheat futures show a high positive correlation. And it's for good reason, too. Just as corn is used for livestock feed, so are oats, which typically make up a portion of the daily diet of cattle. Oats also make their way into domestic horse feed, chicken feed and some brands of dog food. And of course we eat them as oatmeal and rolled oats. I grew up with Quaker - does a body good!
I use oat futures as a leading indicator of the grain complex. Over the years, I've watched a number of significant trend reversals in corn, wheat and beans ... many of which were led by oats, which tend to turn first.
You may know I rarely trade copper or the U.S. dollar directly, but use these markets as indicators of correlated markets. I use oats just the same - as a guide for positioning my clients in the other, more liquid, ag markets. So let's see what oats are doing: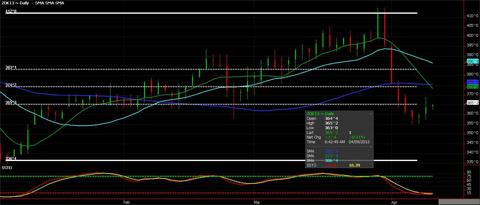 Oats gave back 12% in the last two weeks after being hit hard by a bearish USDA report. Oats, corn, wheat and soybeans were all dragged lower into oversold territory on the RSI. While corn and soybeans remain near their lows, wheat has regained over 60% of its losses and is on the verge of breaching a down-sloping trend line. Oats too have started to bounce, currently trading at their 38.2% Fibonacci level.
I'm calling an interim low in oats as I see prices gaining traction in the coming weeks. A 61.8% Fibonacci retracement puts May futures just under the 20 day MA (light blue line), currently at $3.86.
Again, traders with any meaningful size should look to more liquid markets to trade. Open interest in May oats is less than 6,000 contracts. That's thin in comparison to corn which has nearly 375,000 and wheat with over 140,000. My preferred vehicles, as most of you are aware by now, are new crop corn and wheat. Only use oats to help with entry and exit points - consider it as a leading indicator in the ag complex. Of course, each grain market has its own fundamentals ... but if oat prices go 20 cents/bushel higher I would expect corn to rise roughly 30-40 cents and wheat should go 40-50 cents higher.
Risk Disclaimer: The opinions contained herein are for general information only and not tailored to any specific investor's needs or investment goals. Any opinions expressed in this article are as of the date indicated. Trading futures, options, and Forex involves substantial risk of loss and is not suitable for all investors. Past performance is not necessarily indicative of future results.
Disclosure: I have no positions in any stocks mentioned, and no plans to initiate any positions within the next 72 hours. I wrote this article myself, and it expresses my own opinions. I am not receiving compensation for it. I have no business relationship with any company whose stock is mentioned in this article.