On April 8th 2013, General Electric (NYSE:GE) announced the acquisition of Lufkin Industries (NASDAQ:LUFK) for $88.50/share, roughly a 38% premium. Surely, LUFK shareholders are happy with this deal, but will GE be as well? Why did GE pay such a price for a company already trading with a 26x P/E ratio? At a glance, it appears EPS estimates for 2013 are forecasted to grow at over 20%, as EPS grows from 2012's $4.45 to $5.34. But how does LUFK complement GE's business exactly?
LUFK has a power transmission segment which supplies energy and industrials with engineered gearing and bearings, and most importantly supplies oil well parts, namely artificial lifts and automation equipment, which creates higher rates of production with lower costs and extended service life. CEO of GE Oil & Gas, Daniel Heintzelman, said:
"The artificial lift segment is at the heart of critical changes that are helping producers maximize well potential-which translates into increased output at lower operational cost. Lufkin's world-class people, equipment and services fit perfectly in our portfolio and will enable us to offer a wide range of artificial lift solutions to our customers in this fast-growing artificial lift sector. In turbomachinery, Lufkin is already one of our suppliers for turbo gearing and specialty bearings products, and this acquisition allows us to further utilize their technologies and expertise for our customers."
Lufkin's artificial lift business increased 47% in 2012, driving new bookings 38% to $1.3B in 2012. I believe this was the primary attraction for the acquisition since it generated 84% of revenues and 97% of operating income in 2012. In addition, the artificial lift market on the whole reached a new record in 2012 to $11 Billion, which increased 23% from 2011. This means if a said company simply maintains its market share, it will grow at the same rate proportionately. Lufkin projects the lift segment will continue to grow 18% in 2013 to nearly $13 Billion. As of 2012, the artificial lift market share by company looked like this: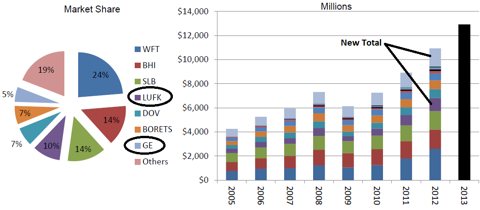 Judging from this chart on page 4 of Lufkin's March Presentation, the combined market share of GE and LUFK totaled 15% in 2012. It appears as though GE's paltry 5% will benefit from LUFK's 10%, especially once synergies are digested post acquisition.
GE's Oil & Gas Segment is one I still feel is a hidden gem, as it's one of GE's fastest growing segments and is under-recognized by investors. From 2010 to 2012, GE Oil & Gas grew revenues by 61%, second only to Transportation, which grew 66%:

Even more impressive was this segment's backlog growth, which increased 24% to $14.8 B, composed of an equipment backlog of $10.2 B and ~$4.6 B for services. Lufkin's backlog as of 2012 was $1.3 B, bringing the new total backlog to $15.1 B post LFKN absorption.
Summary:
Lufkin Industries seems like a fabulous addition to GE. I see synergistic potential boosting profit margins on both ends, as LFK's businesses are similar or highly complementary to GE's. The $3.3 B GE paid for LFKN, or roughly 13.5x 2013's EBITDA, was not exactly cheap. However, synergies should improve this statistic, and will improve the foothold of GE Oil & Gas in the growing market of artificial lifts and oil well servicing going forward. As a GE shareholder, I approve.
Disclosure: I am long GE. I wrote this article myself, and it expresses my own opinions. I am not receiving compensation for it (other than from Seeking Alpha). I have no business relationship with any company whose stock is mentioned in this article.
Additional disclosure: I am long GEB, GEH