With last week's announcement of Facebook's (NASDAQ:FB) launch of Home, the media was wild with speculation over who this hurts more, Google (NASDAQ:GOOG) or Apple (NASDAQ:AAPL). If you look at price changes since the announcement Google seems to be the clear looser. But hold on. What exactly did Facebook do that threatens Google's dominance in search? Was their announcement an indicator of coming changes to the mobile experience? An interesting comment from the Bloomberg West show frames the challenges and offers one version of an outcome.
Following the announcement Facebook shares haven't moved up, they have moved marginally down. Apple shares have advanced and Google has declined.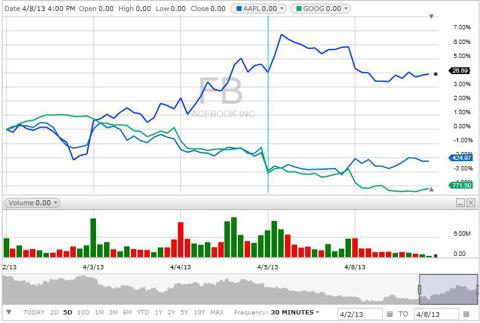 If you believe short-term pricing action reflects the beliefs of the market then it is clear that the addition of the Home feature for Facebook has been met with a yawn. But the market is wrong. The introduction of Facebook Home is the latest example of the personalization of the mobile experience. This is an important event due to the scope of Facebook's user reach, and their strategy to put people, rather than tasks, at the forefront of the mobile experience.
The user experience for mobile is in transition from what was a carrier based experience in the pre smart-phone era to a hardware and operating system provider branding experience. The Google experience was somewhat uniform and the Apple experience is uniquely Apple. The foundation for personalization started with the IOS notification center and the ability for user-selected applications to take center stage for up-to-date personal information. Facebook Home expands this with some nice Facebook centric features like Chat Heads and places Facebook at the first level of engagement for users selecting to use Home.
So what does all this add up to? Mobile is changing and Facebook's addition of Home will force all manufacturers to now consider how they maintain their branding and support of the dominant social media platform. None of the manufacturers can afford to not consider Facebook's new interface for mobile and offer even more personalization for the smartphone.
The puzzle part that was missing from the Home announcement was advertising. The launch was focused on the user experience rather than the revenue generated from the new system. When Facebook shares how they will "friend" us with advertising through Home, then the mobile competitive landscape will change. In this scenario Google is threatened by the loss of advertising revenues. To benefit from the launch of Home we are long Facebook and Apple, but short Google. We have been in this posture since late February.
Disclosure: I am long FB, AAPL. I wrote this article myself, and it expresses my own opinions. I am not receiving compensation for it (other than from Seeking Alpha). I have no business relationship with any company whose stock is mentioned in this article.