On March 18th, I published an article stating that I thought that the bonds of J.C. Penney (NYSE:JCP) may be a value so I thought it was important to provide an update on the how the bonds are trading in light of the recent dismissal of Ron Johnson and the re-hiring of Myron Ullman and talk about my current view.
First, the bonds
In the article, I mentioned that I was long CUSIP: 708130AD1 so I wanted to first review the trading before and after the recent news as shown in the table below:
So, with all of the news, the price of the bonds have moved up two points in the last 8 days with increasing volume. That's great, but ...
Why would Ackman and the Board cut Johnson now?
To me, what this suggests is that the upcoming quarter is going to nothing short of a disaster and they wanted to have already made a change going into earnings. Secondly, bringing back Ullman could not have been easy for Ackman since he led the charge in pushing him out which to me further suggests that things inside are quite bad and that time is of the essence.
What might happen next?
There has been speculation that JCP may get sold. I think it is possible but I am not willing to base an investment decision on a possible sale. I was willing to bet on a gutsy, albeit poorly managed, major strategic shift in the way the company went to market. I have no interest in a "more of the same" strategy.
Ullman could have been brought in to support some plan to raise additional capital, but again, this is pure speculation and I do not want to speculate on whether that will or will not happen.
Equity versus debt
The common equity of JCP is down from a close price of $14.80 on April 1st and a recent high of $16.26 when Johnson's departure was first announced, today has been a very negative day for the equity prices of JCP.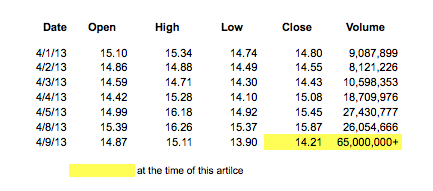 Conclusion
While it is interesting to me that the debt and the equity of JCP seem to be telling a different tale, I am no longer willing to "wait and see" and as a result, I am selling my position in CUSIP 708130AD1. With a clear rejection of the Johnson strategy and without a clear view of what comes next, there seems to be no near term reason to continue to hold the bonds. In fact, I think there will be a chance to own them cheaper after the upcoming earnings release.
Disclosure: I have no positions in any stocks mentioned, and no plans to initiate any positions within the next 72 hours. I wrote this article myself, and it expresses my own opinions. I am not receiving compensation for it (other than from Seeking Alpha). I have no business relationship with any company whose stock is mentioned in this article. I am selling my position in CUSIP 708130AD1