AdDuplex (a cross promotion network specializing in applications that are geared towards Windows Phone (NASDAQ:MSFT) ecosystem in order to optimize advertising) published some interesting statistics. The company is capable of tracking application usage by phone to accurately determine the market share of each phone in the Windows Phone ecosystem. While the results will be a surprise to some, they were pretty much expected by the investors who have been following Nokia (NYSE:NOK) closely.
For the purposes of this study, AdDuplex examined at 389 widely used applications that are available for Windows Phone users to track usage of each phone. The results revealed that Nokia continues to dominate the Windows Phone 8 ecosystem.
Lumia 920 had a market share of 11%, Lumia 820 had a market share of 6%, Lumia 900 had a market share of 5%, Lumia 822 had a market share of 3%, Lumia 620 had a market share of 2%, Lumia 800 had a market share of 17%, Lumia 710 had a market share of 15% and Lumia 610 had a market share of 14%. Combined, the top 8 Lumias enjoyed a market share of 73% in the Windows Phone ecosystem. The closest competitor to Nokia was HTC who claimed 8% of the market share. Other phones had a combined market share of 19% even though this category also includes some Nokia Lumia phones such as Lumia 510, Lumia 810 and Lumia 720. Basically, without Nokia, Windows Phone ecosystem would have a global market share far below 1%.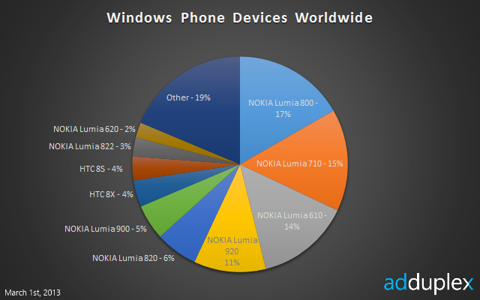 When combining all available Windows Phones, Nokia claims a market share nearing 80%, which means that 4 out of every 5 Windows Phones sold globally are made by Nokia. This is very important to note, because when HTC came up with a phone (HTC 8X) that was almost identical to Nokia's Lumia 920 in many ways, a lot of investors were worried that this phone would steal a considerably market share from Lumia, but this never happened. Even though the two phones have almost identical looks and technical specifications, Lumias sell much better than the alternatives offered by HTC. This could be because people all around the world are well aware of Nokia's brand name and the company has always been known to produce the best quality phones in the market.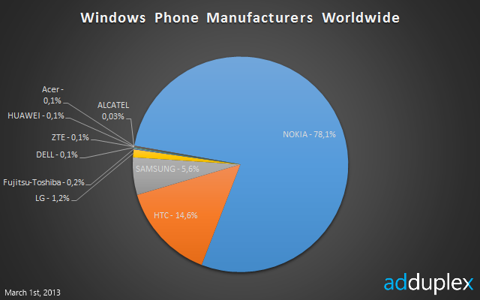 If we look at language settings, we see an interesting trend. Only 33% of these phones are activated in English, which means 2 out of every 3 Windows Phones are sold in countries where English isn't the first language. Spanish, Italian, Chinese and Russian are some of the major languages that people use their phones with. This is encouraging because this means that Nokia phones are being well-received all over the world, not just a few countries. The more languages we see in this list, the better it is, as this will indicate the phones being sold in more diverse markets.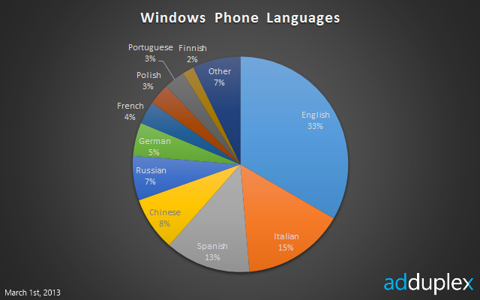 When we look at the data by country, we see very similar trends. In the US, Nokia claims a market share of 64% in Windows Phone operating system, even though AT&T only accounts for 43% of the Windows Phone sales in the US. When Verizon starts selling high-end Lumias, Nokia's market share in the US will climb even further.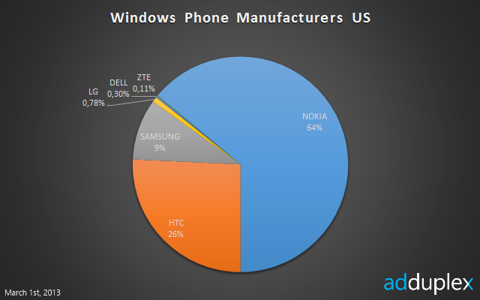 In other countries, we see a similar trend. The following charts demonstrate the market share of each phone by country. The countries listed are the UK, Netherlands, Italy, Poland, Russia, India respectively.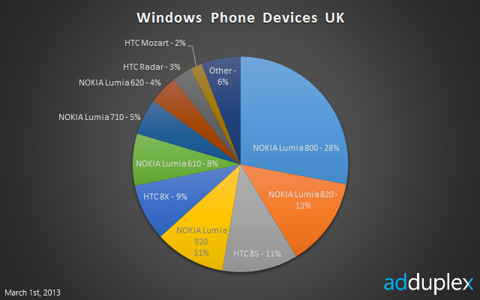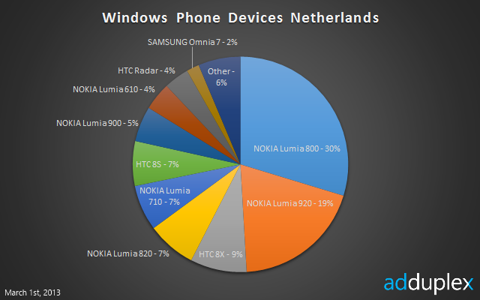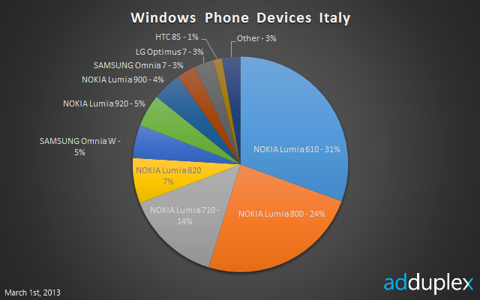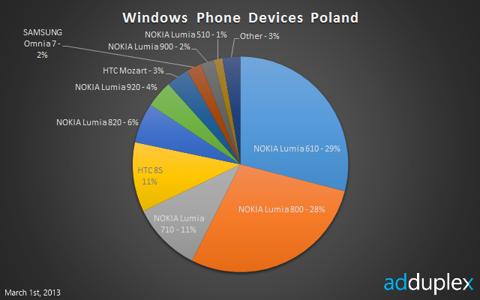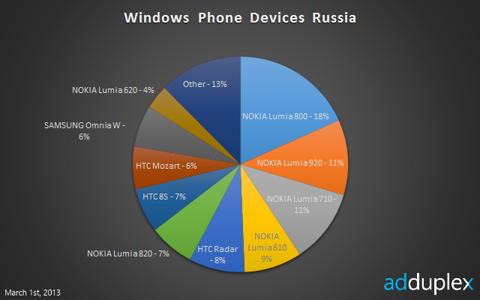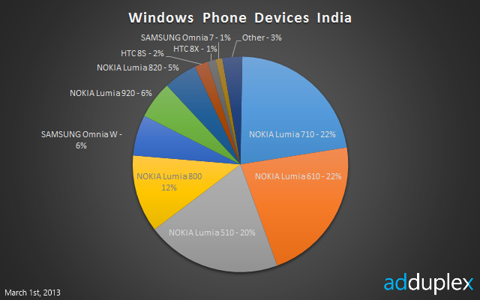 The success of Nokia is no coincidence. The company's Lumia 920 continues to receive overwhelmingly positive response from the consumers as well as the reviewers. Here is a list of awards Lumia 920 has received so far (my source is Wikipedia):
· Gizmodo Australia - Best Mobile Phone of 2012, Readers Choice Award
· CNET - The Best High End Smartphones
· V3.co.uk - Top Smartphone
· International Forum Design, Germany - iF Award for Outstanding Design
· Mobile Magazine, Denmark - Mobil Award for Best Smartphone Design
· The Next Web - Best Smartphones of 2012
· Mobil, Sweden - Top Score Award
· Arstechnic - Best Productivity Phone, Best Camera Phone, Best Mapping Phone
· Mashable - Top 25 Tech of 2012
· Mybroadband, South Africa - Top Smartphone of the Year
· BGR - Best AT&T Smartphone
· The Engadget Reader's Choice Smartphone of the Year Award 2012.
· An award for the most innovative handset.
In my previous article, I mentioned how Windows Phone is gaining market share across the world. Currently, Windows Phone's market share is around 4%, and if we exclude Nokia, the market share of Windows Phone operating system comes down to 0.8%. If Microsoft wants to compete with Apple and Google, it needs Nokia by its side. This is another reason to be confident that Nokia will continue to exist and it will continue to be a major player in the smart phone market for years to come. Microsoft can't afford to let Nokia fail, and the company has every resource in the world to save Nokia if it were to get in deep trouble. If it came down to that, Microsoft could even acquire Nokia.
Now, I can hear you read this article and think "well Nokia's phone might be the best in the world but it means nothing when Nokia's share price keeps going down every day." I understand the frustrations many people feel when the bet they make doesn't seem like it is working; however, keep in mind that investment is a long term oriented play. Sometimes fundamentals and technicals don't add up, but sooner or later they will add up. Whenever there is discrepancy between a company's technicals and fundamentals, the fundamentals always win at the end. It's only a matter of time before investors realize the true value of Nokia and the patient investors will be rewarded greatly for their patience.
Disclosure: I am long MSFT, NOK. I wrote this article myself, and it expresses my own opinions. I am not receiving compensation for it (other than from Seeking Alpha). I have no business relationship with any company whose stock is mentioned in this article.