Stocks Rather than Bonds
With current bond yields low, many investors feel they are not properly being compensated for the risks they are taking to own bonds. In response, these investors are looking toward dividend stocks as an alternative to bonds to generate current income. This strategy often entails a focus on the highest-yielding dividend stocks.
Total Return Strategy
An alternative strategy for dividend investors to consider is a "Total Return" strategy that factors in both dividend income and price appreciation. Using this strategy, the focus is less on dividend yield and more on dividend growth, the idea being that stronger dividend growth will engender stronger price appreciation, and perhaps better overall total return.
It Worked with MLPs
Several months ago I wrote an article on the Great Eight of MLPs. During the research for that post I discovered that lower yielding faster dividend growing MLPs had dramatically outperformed higher yielding slower growing ones. So I naturally wondered if that finding would carry over to the regular dividend paying stock world. I thought it would be a good idea to repeat the research with the goal of seeing if the results hold, and if so, finding a set of solid dividend-growing stocks as potential investment opportunities.
The Criteria for Total Return
So let's start with the criteria for an ideal dividend grower. Here are my criteria:
Pay a reasonable yield, not too low and not too high.
Ability to pay the dividend using a minority of the company earnings so there is enough capital available to grow the business and the dividend over time.
Consistent revenue growth. If revenue isn't growing then the fuel isn't there to grow earnings and dividends.
Consistent earnings growth that exceeds revenue growth, thereby ensuring revenue growth is productive and efficient.
Consistent dividend growth with

a focus on steady to accelerating dividend growth.

Company size - mid cap or larger to ensure a proven and wide corporate revenue stream.
The Total Return Screen
A good stock screener is needed to perform this research. I used the screener built into Stock Rover, but there are a number of other free screeners available on the Web that will do the job. Note the screening process considered stocks traded on NYSE, NASDAQ and Toronto exchanges only.
The exact criteria I used for the screen was as follows:
Market Cap ($M) > 2000
Payout Ratio < 35%
Dividend Yield > 1.0% and < 4.0%
Dividend Growth 5‑Year Avg > 5%
Dividend Growth 3‑Year Avg > 6%
Dividend Growth 1‑Year Chg > 7%
Sales Growth 5-Year Avg > 6%
EPS Growth 5-Year Avg > 10%
Note there are many variations that could be used on the above criteria that would likely produce equally useful results. These were the ones that made the most sense to me. Once I coded up the screen and ran it, 25 companies qualified.
The Total Return Company List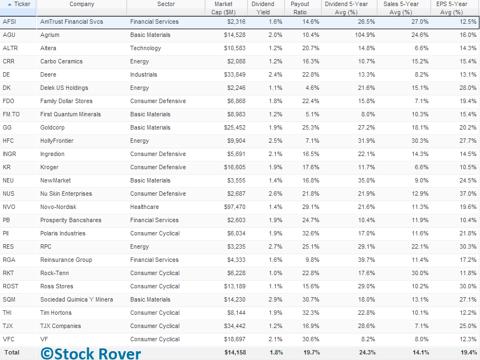 Total Return Performance
So the next question is "How have these companies performed?" The following chart answers this where an equal amount of capital is assigned to each of the 25 qualifying companies.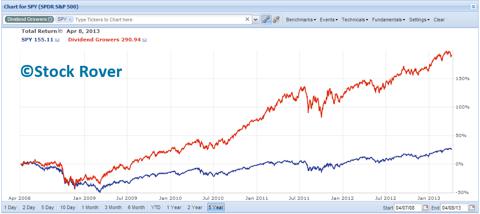 In this chart we can see that, including dividends, SPY has increased around 35% over the last five years. However the Total Return stocks increased almost 200% in that period. We can see the difference more clearly if we set SPY as a baseline and look at the relative performance of the Total Return screen vs. the index benchmark: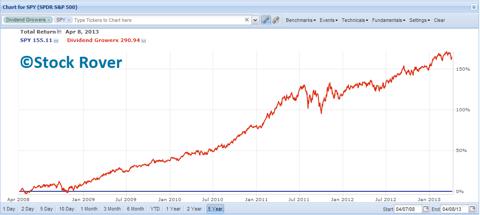 Here you can see the five-year outperformance of well over 150%.
The following table lists the price performance (not dividend adjusted) of each stock relative to the S&P 500 over various time periods. Green means outperformance vs. the S&P 500, red means underperformance.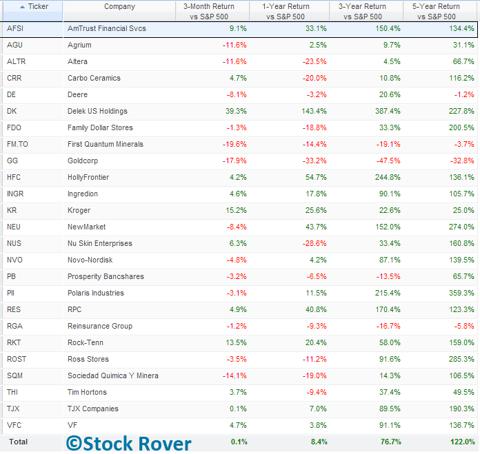 What About High Yield
For comparison purposes I decided to compare the Total Return screen against a higher-yielding screen, without the growth and payout constraints. The criteria I used for the High Yield screen was as follows:
Market Cap ($M) > 2000
Dividend Yield > 4.0% and < 8.0%
Member of the S&P 500
The last criterion was used to filter out the specialty dividend growers such as MLPs and REITs, which are really a different class of investment. The High Yield screen netted 32 stocks that passed.
High Yield Screen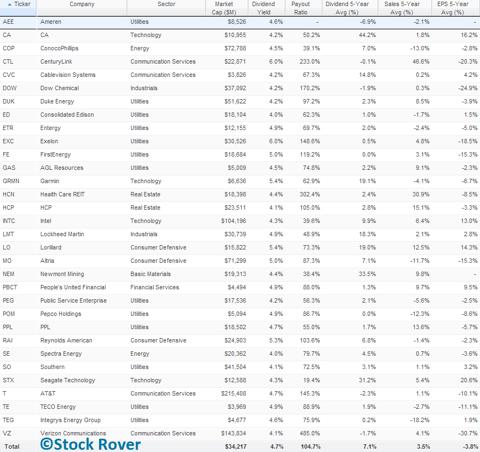 So how have the high yielders (green line) performed relative to the total return dividend growers (red line) and to the S&P 500 (blue line)? The following chart shows this, where the S&P 500 is used as a baseline and dividend payments are included in the return.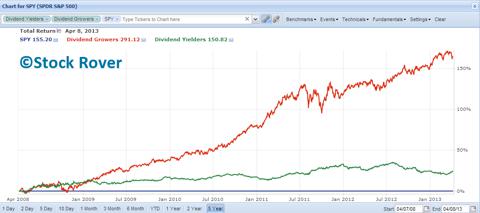 Answer, somewhat better than the S&P 500 but not nearly as well as the Total Return stocks.
The High Yield Company List
For completeness, the performance of the individual stocks passing the High Yield relative to the S&P 500 is shown below (again not dividend adjusted).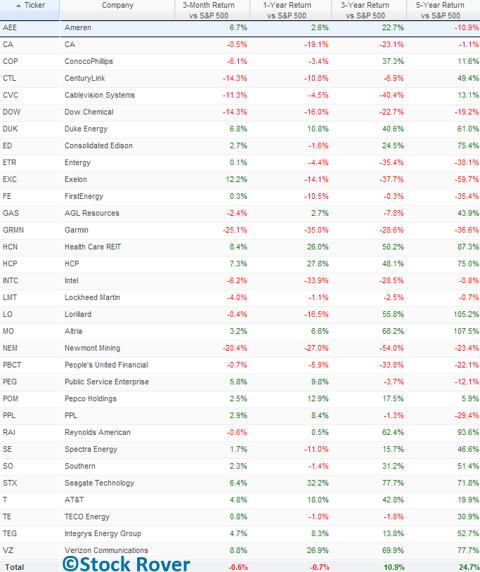 Summary
So the conclusion is when hunting for yield, it is really best to consider total return, forgoing some current income for long-term price appreciation. Stocks with lower yields, but with growing business and growing dividends, have historically outperformed stocks where the primary criterion is yield only.
The Total Return screen provides a reasonable list of stocks to begin the hunt for powerful businesses and dividend growers that you can feel confident buying and holding for the long term. However, it is important to realize the limitations of the screen, in that it is a starting point, not an ending point. As always, you should do your own additional research on these names to determine whether they pass your own investment standards and are thus are ultimately worthy of your hard-earned capital.
Disclosure: I have no positions in any stocks mentioned, and no plans to initiate any positions within the next 72 hours. I wrote this article myself, and it expresses my own opinions. I am not receiving compensation for it (other than from Seeking Alpha). I have no business relationship with any company whose stock is mentioned in this article.