Like most metals, silver is under pressure this year. Silver prices are down 9% since the start of the year. Right now, the metal is trading on the levels that were seen in July of 2011. Of course, this fact is a burden on silver stocks and ETF prices. Silver Wheaton (SLW) is down almost 20% year-to-date. Coeur d'Alene (NYSE:CDE) lost 30%. Silver ETF iShares Silver Trust (NYSEARCA:SLV) is performing in line with the metal's price, down 10%.
To some people (including myself) silver and silver stocks seem over punished. While silver stocks are underperfoming in comparison to the metal, is it the time to get in?
Silver Wheaton is the world's largest silver streaming company. It has silver and gold interests in countries around the world, including the U.S., Canada, Mexico, Argentina, Peru, and Brazil. Last deal with Vale (NYSE:VALE) gave the company more gold exposure. This year, the company's share priced dropped twice as silver prices fell.
One of the catalysts for the drop was the Vale deal. The company entered two credit facilities to help the deal, one of which is a $1.5 billion bridge loan having a one-year term. Such a short-term loan increased the risks for the company and surely affected the stock price. Does this deal account for the 10% difference in performance between SLW and SLV?
When considering the answer to this question, one must remember about the business model of Silver Wheaton. The company does not operate mines. It makes agreements with mining companies to purchase some or all their production at a fixed predetermined price. The company has to make deals to ensure growth. After the deals are made, the fixed costs are low. Silver Wheaton has only 24 full-time employees, while CDE has 1898 (sourced from Finviz). The cost of revenue is just 25.7% of total revenue for SLW, while it is 75.4% for CDE (based on income statements of the companies). I think that from a business perspective, the Vale deal is good for the future.
Silver Wheaton has increased its dividend, and now it brings a 1.9% yield.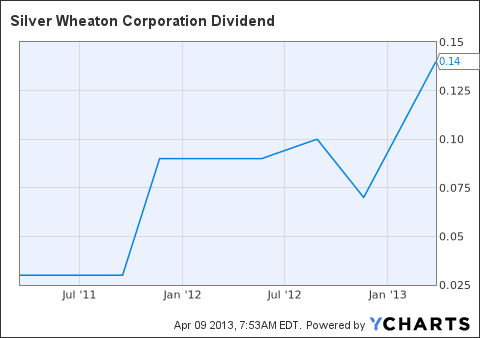 SLW Dividend data by YCharts
I think that SLW is in a good position for the future, especially if the silver prices bounce back. Yet I see some short-term downside risks for the stock. While silver and SLV are trading on the levels of July 2012, SLW has 7% more to drop to reach them. Why do I make this point? Silver prices are under pressure because of the state of the world's economy. I think they are likely to stay on last year's summer levels for a while. While buyers would accumulate on these levels, silver stocks would have a little more room to drop to become even more attractive for bargain hunters. I think a good entry point would be in a range of $25.50 - $27.00.
Disclosure: I have no positions in any stocks mentioned, and no plans to initiate any positions within the next 72 hours. I wrote this article myself, and it expresses my own opinions. I am not receiving compensation for it (other than from Seeking Alpha). I have no business relationship with any company whose stock is mentioned in this article.