The earnings season is here again. Company-specific information, sales and earnings results and future forecasts will once again be at center stage, potentially ready to influence the broader stock market and perhaps push the world affairs aside a little bit for a few weeks.
Watching the market rise rapidly in the past three months, one cannot help but wonder if the strong rally will continue after \last week's pause. Despite, or because of, these superb returns so far this year, I would like to offer my word of caution and present 7 risks that investors should watch out for in their individual equity portfolio during this earnings season.
1. Overextended rally
Stocks seem to have stretched a bit too far too fast. The weakness of the markets in the week just before this earnings season surely was caused by many factors. However, the uncertainty over the upcoming earnings season was one of them.
The rally has been extremely impressive indeed. The year-to-date returns for the S&P 500 (NYSEARCA:SPY), Dow Jones Industrial (NYSEARCA:DIA) and Russel 2000 (NYSEARCA:IWM) are shown below: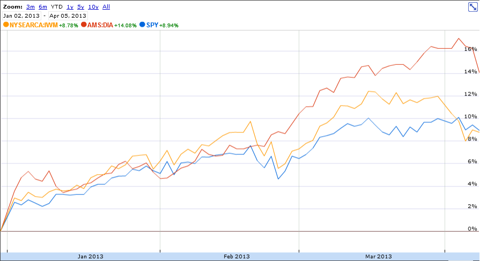 As you can see in the chart above, Russel 2000 index companies have been retreating especially strongly last week, signaling a more defensive positioning by investors.
The current market is overvalued by many metrics, or at best fairly valued by others. Although the market is overvalued by many metrics, it is not overvalued by all indicators. And even if it was, this mere fact may not prevent the market from rising further. Nevertheless, here are some valuations, by which the current S&P 500 levels are above their long-term averages:
Trailing 12 months price-to-earnings ratio (TTM P/E) currently stands at 18 versus the long-term average of 15.5 (16% overvaluation)
The Shiller CAPE (Cyclically Adjusted Price-to-Earnings) is currently at just below 24 with the long-term average at 17 (41% overvaluation)
Trailing Price-to sales ratio (TTM P/S ratio) of 1.42 is just 2% above its median of 1.39.
2. US dollar strengthening
The US dollar (NYSEARCA:UUP) was strengthening during the first quarter of 2013 against the currencies of its major trading partners. It gained strongly in February and stayed high until the end of March. The year-to-date gain was a hefty 4-5%, which for a currency is a relatively strong move accomplished in a short time, over just two months. This will have an impact on company margins from the sales generated overseas. For the S&P 500, the share of international sales is close to 47%. The tech sector leads the foreign sales share, with 56% of the sales coming from abroad. The Dow Jones and Russel 2000 companies, on average, have substantially lower exposure to the foreign sales. Therefore, stocks in these indexes might present a safe-haven from this impact. However, if your portfolio contains stocks that are foreign-oriented, regardless of the index to which they belong, it might be negatively influenced.
3. The macroeconomic outlook is mediocre
The macro numbers have been surprising to the downside lately. Most recently, Friday's payroll numbers have caught many investors by surprise. Cautiousness is advised. Cyprus is old news. I had an uneasy feeling when I was thinking over the weekend about the future of Europe that Cyprus is likely to have a follow-up. Let me share just a small piece of the puzzle which I read in Seeking Alpha over the weekend:
The EU is preparing to take the apparent non-template that is the Cyprus bailout and incorporate some elements of it into a new law that would force haircuts on large deposits in banks that fail, economic affairs chief Olli Rehn has said. Bundesbank Jens Weidmann says that the Cyprus crisis shows that banks can be wound up. Along with Rehn's comments, it also shows that depositors' money is no longer safe in Europe.
Clearly, the cash in the form of savings accounts and certificates of deposits now belongs to the equities asset class bucket if assessed by the risk of losing part of your principal.
In short, the situation in Europe is not improving. The popular predictions that I've heard are that the situation will improve in the next half-year. I just don't know which year exactly is meant. I think we've all been waiting for that other half for a bit too long now.
Therefore, my prediction is that the outlook given by companies for the rest of 2013, which is often more relevant for the stock price movement than the actual latest earnings results, will be disappointing. The chance for the outlook to surprise to the upside is questionable at this moment.
The international weakness will negatively influence the companies with international sales. The possible US weakness, however, would have a negative impact on a broad range of US businesses.
4. Negative earnings per share guidance for Q1 and 2013
Latest FactSet's data from March 28 reveal record negative earnings guidance for the Q1 period:
For Q1 2013, 86 companies have issued negative EPS guidance while 24 companies have issued positive EPS guidance. As a result, the overall percentage of companies issuing negative EPS guidance to date for Q1 2013 stands at 78% (86 out of 110). If this is the final percentage for the quarter, it will mark the highest percentage of companies issuing negative EPS guidance since FactSet began tracking guidance data in Q1 2006.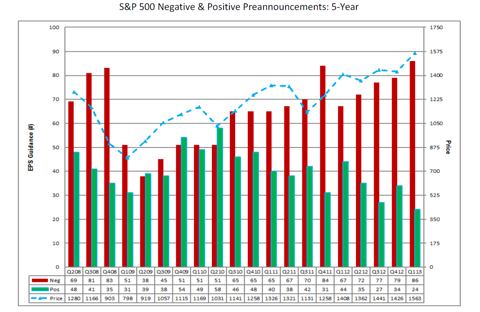 Source: FactSet
The picture for the full-year 2013 guidance looks similar. A record-high negative outlook:
For the current fiscal year, 168 companies have issued negative EPS guidance and 77 companies have issued positive EPS guidance. As a result, the overall percentage of companies issuing negative EPS guidance to date for the current fiscal year stands at 69%.
Sector EPS guidance:
At the sector level, the Consumer Discretionary (NYSEARCA:XLY) and Industrials (NYSEARCA:XLI) sectors have the highest percentages of companies issuing negative EPS preannouncements (81% and 76% respectively). On the brighter end, the Information Technology (NYSEARCA:XLK) sector has the highest percentage of companies issuing positive EPS guidance (46%).
A high proportion of negative EPS warnings, followed by 60-70% of companies beating their own estimates, has become a norm, so it is extremely hard to predict whether the higher negative guidance numbers will actually translate into lower percentage of companies beating their estimates.
5. Net margins are historically high
According to this source from Goldman Sachs Investment Strategy Group, The net S&P margins have been on historical highs which don't offer meaningful space for further short-term expansion, when coupled with weak sales growth and exhausted cost-cutting measures: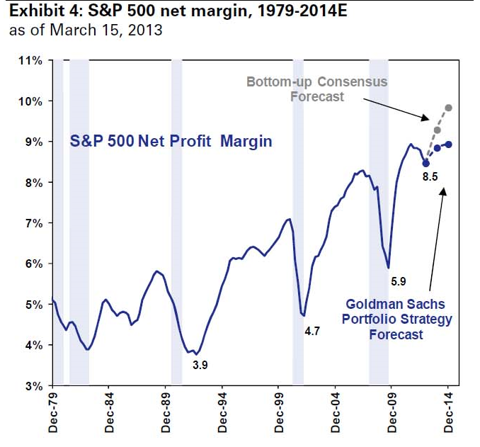 source: Goldman Sachs Investment Strategy Group
Corporate profits as a percentage of GDP are elevated as well. However, if we put the profit margins into an even longer time-perspective, we can see that they have been higher in the 1950-1965 period: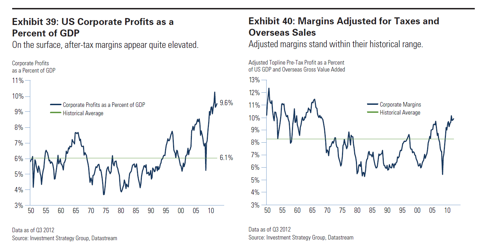 source: Goldman Sachs Investment Strategy Group
6. Markets just might be looking for a good excuse to dive
The markets and individual stock prices can behave remarkably irrationally. Especially just before, and immediately after, the earnings results announcements. So it can very well happen this year that all the markets need at this moment, after such a strong Q1 rally, is a good excuse for a correction. Disappointing, or just not overdelivering, earnings calls and weak guidance for the rest of 2013 can be the catalyst for a correction, which by some measures, is already overdue. Or it has already begun if you consider the last week's market development.
7. Sell in May
Another notable factor of possible weakness in the markets in the coming weeks is the "Sell in May" seasonal statistical pattern, for which I calculated a profitable strategy beating the market by 45% with lower beta over the last ten years, involving just two trades per year. In another article, I presented the real numbers proving the Sell in May phenomenon in detail and offered some easy tips how long-term investors can profit from it.
Conclusion and recommendation
The markets are facing strong headwinds entering the earnings season. The above 7 factors present the main risks that could derail your stocks during this earnings season. Holders of individual stocks should watch the earnings announcements of their individual holdings for any signs of weakness, especially in the 2013 full-year forecasts. Investors should carefully evaluate the earnings reports of their stock holdings for any signs of change in the fundamentals of their companies.
Otherwise, for long-term investors, a possible correction should not mean selling any of their positions. A meaningful pullback might actually present an attractive opportunity for investors to buy sound companies which have been on their purchasing radar at a more reasonable price.
Apple (NASDAQ:AAPL) has certainly been on my radar for some time. My estimate for its fair price is in the $375-$400 range, so we are very close. If the correction takes the S&P 500 down to at least $146, I will exit my position involving protective SPY puts. Some great companies such as Coca-Cola (NYSE:KO), which I would love to buy for $31, and American Waterworks (NYSE:AWK), where my purchasing limit is $32, are still a bit overstretched to reach my targets in the possible earnings-induced correction. But with the unpredictable markets, you never know. Tips how to naturally hedge your retirement portfolio are presented here. I wish your holdings a good fortune in this earnings season! And what is your opinion?
Disclosure: I am short SPY. I wrote this article myself, and it expresses my own opinions. I am not receiving compensation for it (other than from Seeking Alpha). I have no business relationship with any company whose stock is mentioned in this article.