Sirius XM (NASDAQ:SIRI) is often discussed as one of the most shorted stocks on the Nasdaq. With recent data points hovering near 400 million, around $1.2 billion worth of stock, or about 5% of the company shorted, depending on how you look at it the number is remarkable or unremarkable.
While the number of shorts is high, the price of the stock is low near $3 per share and the outstanding number of shares are over 6 billion. In my opinion, it's more important to look at shorts as a percentage of the company's value rather than look at shorts as a strict share count position. At around 5% of the company, the outstanding short position in Sirius XM is not at all out of the ordinary.
Every two weeks Nasdaq releases the short interest for various securities using the following publication schedule. It's the total for all short positions as of the settlement date, and for the number today, that settlement date is March 28th. The latest data points show that short positions have decreased by roughly 10 million shares compared to the data from March 15th.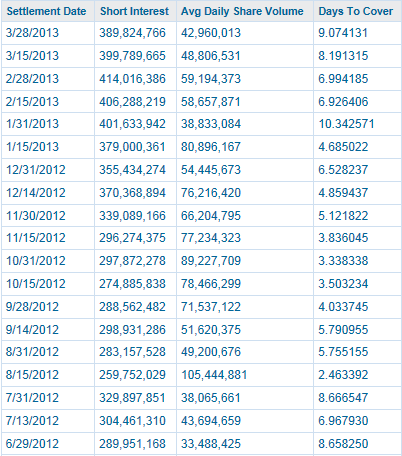 Is it wise to be short Sirius XM? Perhaps, in the short term it is, as the share price exhibits swings that can be "traded" but has it been a good move to initiate long-term short bets vs. Sirius XM? Not really.
Consider this chart from the past several years. While there have been wonderful opportunities to trade the stock on the way up, the fact of the matter is that the stock has been "on the way up." That doesn't bode well for those who have entered into an unhedged short position in the company.

Often I am criticized when I suggest shorts should cover, because I do not rain praise upon those who have hedged their position. For instance, one who is short vs. the Sirius XM $1.875 convertible notes, could have purchased the notes, shorted the stock, and collected interest on their investment while putting the capital to work elsewhere.
Good move? Yes, in some ways. But hedged positions give up some gains for safety, and any hedged positions in Sirius XM have given up on the ride from $0.05 in 2009 to recent highs of $3.25, or 6500% in a short four years. There's smart and there's smarter, and while hindsight is 20/20, the smarter move has been long, unhedged positions in Sirius XM. When you consider those note holders who did not short the stock on the way up from $0.05, they have reaped rewards of both interest and a share price, which has increased significantly.
And the future continues to look bright, with auto sales on the rise and a well-known $2 billion initial buyback program in place, I would expect the share price of Sirius XM to continue to trend up, and for downside to be limited. This is why I believe shorts should cover, join the long side, and reap the benefits of continued returns. Why throw those gains over the hedge, or worse, be on the wrong side and add them to a pile of losses? With 25 million shorts having covered in March, perhaps some are listening?
Disclosure: I am long SIRI. I wrote this article myself, and it expresses my own opinions. I am not receiving compensation for it (other than from Seeking Alpha). I have no business relationship with any company whose stock is mentioned in this article.
Additional disclosure: I am long SIRI Jan 2014 $2 calls.