The Wall Street Journal has made available a report by Deutsche Bank on the outlook for commercial real estate. The presentation is an eye-opener, as it presents a lot of data on the weakening commercial real estate market. The report's key conclusions are as follows:
Prices may drop 35-45% in 2009, exceeding price declines of early 1990s
"Demand shock" has caused downturn, not excess supply (this was different in early 1990s)
Delinquencies could rise to 6% in 2010, matching peak delinquency rate of early 1990s
Maturity default rather than term default is top risk, as refinancings will require more equity
George Soros has been quoted as saying that commercial real estate prices have not yet dropped but are likely to do so in the foreseeable future:
It is inevitable, it is written, everybody knows it, there are already some transactions which reflect and anticipate it, so we know, they will drop at least 30 percent.
As the recession in commercial real estate deepens, it will be interesting to see whether the valuations of companies such as Vornado Realty Trust (NYSE: VNO), Boston Properties (NYSE: BXP) and Brookfield Properties (NYSE: BPO) deteriorate further. At some point, investors with a penchant for long-term value may find these companies worth a closer look.
The following are selected supporting slides from the Deutsche Bank presentation :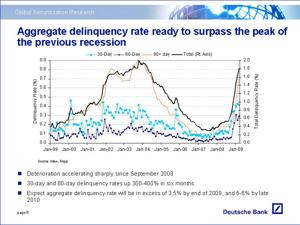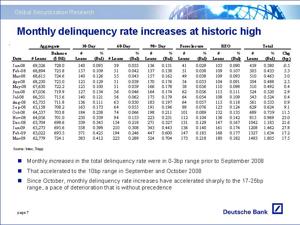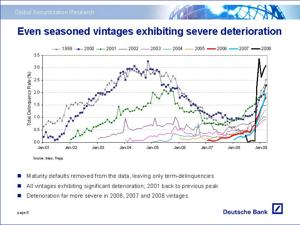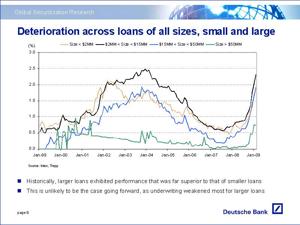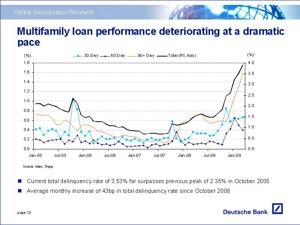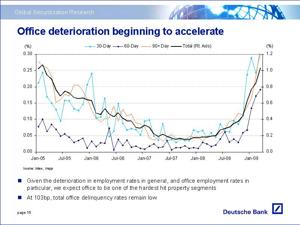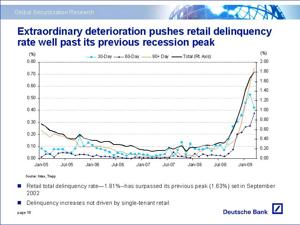 Disclosure: No positions.