Introduction
It is no secret that Intel (NASDAQ:INTC) is spending a huge amount of money to capture the fast growing smartphone and tablet semiconductor space. After having ensured its dominance in the PC and server processor market, Intel is going to introduce cutting edge products for the mobile devices market in late 2013 and 2014.
Intel has a formidable lead in the semiconductor industry with three fabs tooled with 22 nm process nodes. The company will introduce "Bay Trail" processors for the tablet market, and "Merrifield" processors for smartphones during the holiday season in 2013. These mobile processors will be the first to be manufactured using the 22 nm process. This will give Intel a big edge over other mobile processor producers, such as Qualcomm (NASDAQ:QCOM), Nvidia (NASDAQ:NVDA) and Mediatek, which can only make processors at the 28 nm node.
While Intel remains behind Qualcomm in integrating the 4G LTE chip with its mobile SoC, even this deficiency will be rectified by 2014. However, while performance per watt and functionality is important, one thing missed by many analysts is the importance of branding and marketing. Intel can use its branding strength to overwhelm the opposition in the mobile semiconductor industry. The "Intel Inside" logo is known to almost every PC user, and this allows Intel to capture a bigger deal of consumer mindset than other processor companies. I think that Intel's branding advantage is underestimated by the market, and it might play a key role in Intel's entry in the mobile market. I remain highly positive about Intel's stock for many other reasons and think that it offers one of the best ways to invest in the technology space.
"Intel Inside" is one of the most successful branding campaigns in history
Intel started its "Intel Inside" advertising campaign in 1991 to differentiate itself in the microprocessor market. Intel which was primarily known to engineers is now a familiar name to billions of people worldwide. The Intel Inside Logo that appears on computer systems serves as a reminder to the computer buyers that they are purchasing a genuine Intel product that offers quality and reliability. The Intel Inside marketing campaign is considered one of the most successful marketing programs in history. This campaign allowed Intel to build a brand around commodity - PC processors. No other semiconductor company has managed to build a mass brand around its chip products. DRAM, NAND, FPGAs etc. remain a commodity, with normal consumers having little clue about companies that supply chips for their electronic products.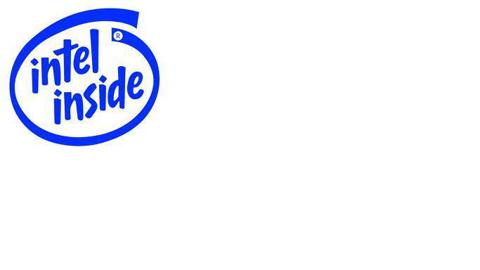 How is Intel positioned in the mobile processor market today?
While Apple (NASDAQ:AAPL) and Samsung have captured a massive chunk of the smartphone market in developed markets, the emerging markets are witnessing stiff competition amongst a large number of mobile phone vendors. India and China have witnessed an explosion of domestic mobile phone companies selling good smartphones at a fraction of the price charged by flagship phones like the iPhone 5 and Galaxy. They make use of cheap but good mobile components made by the Taiwanese and Chinese companies. While the software and hardware is not as good as that sold by top brands like Sony, HTC, Samsung or Apple, the price is much lower. This has allowed companies like Micromax, Karbonn, Huawei, ZTE etc. to capture a large portion of the smartphone market in their domestic markets. In fact Huawei and ZTE have seen exponential growth which has catapulted them into the top 10 smartphone rankings. Almost all of these companies use processors made by Mediatek and Spreadtrum. The higher end smartphones also use the Snapdragon processors by Qualcomm.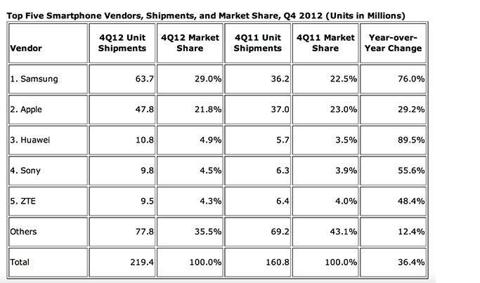 Source - IDC
Now Intel is entering the fray and has already tied up with the Asian giants. I have already described how Intel's mobile strategy is picking up pace as the company has signed a number of important companies. Intel's new Atom series of processors built on the 32 nm process node will see important launches in the coming days. PC giant Lenovo's flagship K900 phone is already receiving good reviews.
The sleek yet powerful beast by Lenovo which possesses a 5.5-inch 1080P screen, 6.5mm thick stainless-steel body, 13MP camera and a powerful Intel Clover Trail+ 2Ghz Dual-Core has already been benchmarked by Antutu. The score submitted is above 27000, which in other words, is greater than the best mainstream Qualcomm S4 Pro Quad-Core by at least one third, and 1 fold more powerful than the Nexus 10 (Exynos 5250) which uses the ARM Cortex A15 architecture.
While Intel's initial "Medfield" and "Clover Trail" processors are not the best in the industry, they are good enough. They have also helped Intel establish itself in the mobile devices market. However, Intel will really start hurting the competition, when they introduce Bay Trail later this year. Intel could beat the mobile SoC companies both in price and performance.
How Intel will differentiate itself using its brand
One of the biggest advantages that Intel has, which the market is currently not factoring is the brand awareness. While a consumer may not buy a smartphone from a small mobile device company due to lack of brand recognition, he may buy that device if it has Intel branding. The "Intel Inside" brand adds legitimacy to the product which Qualcomm or Mediatek can never manage to add to a smartphone. I have personally seen Xolo smartphones being sold just due to the "Intel Inside" logo. When Intel processors' performance start matching or exceeding the performance of other companies, then Intel's brand will become a key differentiator. Mobile vendors without the brand power of bigger companies will pay a big premium to use Intel processors over Qualcomm or Nvidia processors. The same thing will happen in the tablet market as well.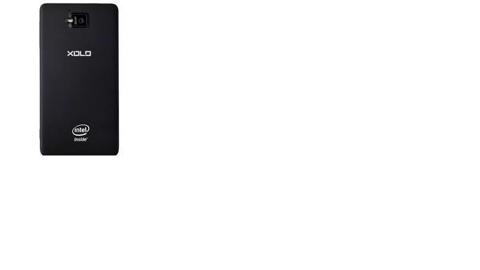 Stock Performance and Valuation
Despite all the pessimism surrounding the Intel stock due the decline of the PC market, the stock has managed to hold up well in a tight range between $20 and $22. While other PC sensitive companies like HP (NYSE:HPQ), Dell (NASDAQ:DELL), Nvidia and AMD have been hit hard, Intel stock has remained more or less flat. I think that Intel's stock is set to move much higher in the coming year, as Intel takes the mobile market by storm. This will lift the sentiment around the company which is being valued almost at a ~35% discount to the current market valuations. Intel recently introduced a new Haswell line of chips for the PC and laptop/tablet hybrid market. The new line of chips is supposed to halve the power requirements while improving the performance of the older line of 22 nm chips by 10%. This will give a big boost to the PC market which has been battered by the iPad revolution. Intel's stock trades at a low forward P/E of 9.6x, with a P/B and P/S both at 2x.
Summary
I consider Intel to be one of the best bets in the technology space due to a number of factors. The company spends money on R&D and capex more than any other company in the technology industry. It has a lead of almost 1-2 years over others in semiconductor manufacturing and technology. This lead is only going to become greater as Intel invests money in building 450 mm wafer fabs and moving to 14 nm process nodes. The company is going to close the gap in mobile processors this year and will probably become the technology leader next year. The market is not factoring Intel's branding strength over its mobile competitors. The tiny "Intel Inside" logo can become Intel's biggest weapon against the likes of Nvidia, Qualcomm, Mediatek and others.
Disclosure: I have no positions in any stocks mentioned, and no plans to initiate any positions within the next 72 hours. I wrote this article myself, and it expresses my own opinions. I am not receiving compensation for it (other than from Seeking Alpha). I have no business relationship with any company whose stock is mentioned in this article.