The ousting of Ron Johnson at JC Penney (NYSE:JCP) was an accident waiting to happen. All factors were pointing towards his ousting except for a fervent backer in Mr. Bill Ackman, a majority shareholder who strongly supported his hiring. At the time of his hiring, Bill Ackman said it was "a credit to the company that it could obtain such an executive to turn around its operations". To pivot from this statement and replace him with the person that was supposedly overseeing the decay of JC Penney prior to his appointment is a head scratcher, to say the least. If that is not the description of going backwards what is? Ron Johnson came to JC Penney as a transformative leader via Apple (NASDAQ:AAPL) where he was praised for the complex simplicity of the Apple store experience. Prior to Apple he put in a good shift at Target (NYSE:TGT) where he was credited for the cheap-chic feel of the Target Brand. He was supposed to take JC Penney off a skillet on a hot stove and transform it into "America's Favorite Store". He ended up touching the stove and ultimately his leadership, vision and tactics got burnt in the process.
Leadership - The Vision
His vision was to change the "brand, corporate identity, and create a whole new personality" for JC Penney. He had to change something because Macy's (NYSE:M) and Kohl's (NYSE:KSS) were squeezing JC Penney's market share. To get to his vision he planned to:
Change the pricing strategy from high-low promotions to EDLP (Everyday Low Price)

Change merchandising strategy to create shops-within-the-store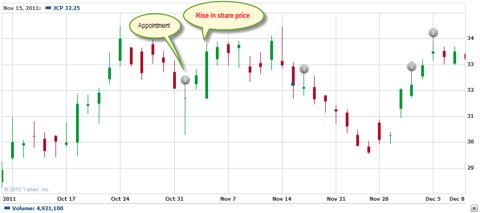 On his appointment, per the Wall Street Journal and the chart above, the stock went up 17.5% to $35.37, up $5.26 and added over $1.2B to the retailer's market value. This is a far cry from the $13.93 today and an indication of how things changed during his tenure. It is hard not to hold him responsible for the results even though in my opinion the cards stacked up against him early and often.
Execution:
It was always going to be hard to turn around a legacy company like JC Penney without expecting setbacks and cycle-outs. Too much was written about how the new strategy alienated old customers and confused new ones, misread what customers wanted, was not tested in advance, misread the JC Penney brands and even how Ron Johnson did not like the company. I am sure there is some truth to all these claims just as much as there is truth to the fact that the company was not particularly healthy when he took over. If the plan all along was to maintain the status quo he should not have been hired. Maybe the genius of bringing the old CEO back lies in the status quo, even if it is on an interim basis. If the board truly believed and supported Mr. Ron Johnson then he is culpable for some of the strategy reversals and changes to management tactics that were deployed.
The company sent mixed messages when it starting reversing the EDLP price and offered promotions.

The marketing efforts were not always very clear on the new value proposition and at times looked like Target marketing material more than JC Penney's.

The shops-within-a-store concept sounded groovy but did not seem to have a roll out cadence that coincided with customer expectation.

Certain vendors (Joe Fresh & Martha Stewart) ended up being a distraction and seemed like the strategy rather than a facet of the strategy. If Joe Fresh was really that great it should have been the first thing in and not the last hurrah.

Lastly and most importantly, board members seemed to support the strategy and tactics more than other executives within the company if you go by quotes and print only.
Results:
From the share price to same store sales, total revenue to net earnings, CAPEX to changing customer behavior, nothing seemed to stick for Mr. Ron Johnson. I understand that he could only be measured in numbers but I question if the board expected him to fundamentally change the company without going through a shakeout period and if that was fully factored into their expectations.
In addition to declining customer and same store sales, JC Penney really struggled with the rapid decline in its share price, increasing capital expenditure to remodel stores for the new concept and continuously declining net income (see chart below).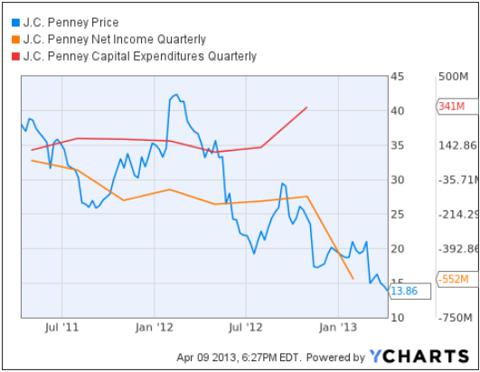 The nail in the coffin probably came via the losses incurred by key stakeholders (Pershing Square Capital estimated to have lost $606.5M), analyst downgrades and investors (Vornado Realty Trust, Eminence Capital, Maverick Capital etc.) bailing out of their positions. It did not help that the stock had a staggering amount of short positions at 43.80% of float as of 03/15/2013 (Yahoo Finance).
Buy/Sell:
If you have a position in JC Penney today, fasten your seatbelt, because the ride will be rough. That JCP sign you see under the word "Limbo" in the dictionary is a picture of the company. The new CEO is "interim" meaning that Mr. Ackman is about to use him for the glory of his company. The new CEO is also stuck with a company that is half new JC Penney and half old JC Penney, along with a confused customer/ public that does not know what to think of the company. He is taking over a weaker business with a displaced team lost from the reorganization done by his predecessor. The market thinks the same, with the chart below showing a -12.26% drop in the share price in his first day on the job. I would not short this stock for fear of a possible acquisition that can run up the price. I would also not buy it because traditional retail formats are struggling as it is and there is too much power in a few hands over the company.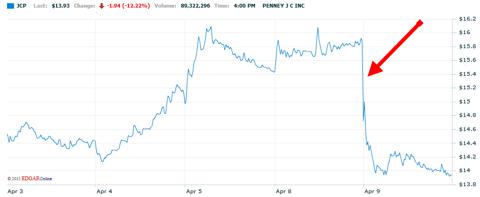 Source: nasdaq.com
Conclusion:
Ron Johnson should go back to Apple, after all his former job is sort of open. It is a shame that he got the stick with inadequate support for a vision that was supposed to get more support from the board. Bill Ackman is going to probably cool off for a while since his stamp was all over the Ron Johnson hiring. Make no mistake, he will get what he needs out of JC Penney before anyone else does. I thought the new strategy was too different but was very interested in testing out my hypothesis about leadership, which I believe can be overrated even though sometimes critical.
So what exactly is the recipe that is required to help JC Penney? Whatever it is, I am sure that it will be a bunch of things that need to come together: timing, resources, talent and perhaps some luck. Maybe customer satisfaction with the three retail variables of price, cost and volume with a splash of employee satisfaction is all that is needed to change the sales trajectory at JC Penney. I think that sometimes we get too awed by the strategy that we forget the only task is to make money willingly change hands.
Disclosure: I have no positions in any stocks mentioned, and no plans to initiate any positions within the next 72 hours. I wrote this article myself, and it expresses my own opinions. I am not receiving compensation for it (other than from Seeking Alpha). I have no business relationship with any company whose stock is mentioned in this article.