Whiting Petroleum (NYSE:WLL) is a sustainable company operating in the energy sector and through its availability of lucrative growth options provides a feasible investment for both short- and long-term oriented investors. This analysis provides an overview to WLL's current performance in the market and concludes with five reasons as to why WLL is a buy at its current valuation. Specifically, the five reasons will concentrate on WLL's opportunity for growth going forward, its strong asset set, its financial position relative to its peers, its valuation, as well as where analysts think WLL's stock price is headed. For a good primer, here is a brief overview of WLL's recent market performance. For further information on its business model, please visit WLL's company website.
Market Performance
Currently, WLL is trading at right around $50 per share. Using its historical monthly holding period returns, I regressed the returns relative to the returns of the S&P 500 for the same period and computed a firm-specific beta and alpha value of 2.07 and -4.56. Considering the market entails a beta of 1, WLL's returns are clearly of slightly high risk than the returns of the S&P 500 Index. However, its negative alpha value is favorable because it is an indication the stock is undervalued.
Figure 1: WLL's One Year Price Graph from FinViz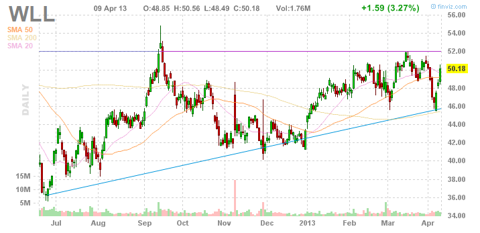 Six Reasons To Buy WLL At $50 Per Share
#1 WLL's operations in the Permian Basin serve as a lucrative growth opportunity. Although roughly 70% of WLL's oil produced in 2012 derived from the Rocky Mountains, nearly 12% came from the Permian Basin. WLL's new enhanced oil recovery (EOR) project will surely add value over the life span of the project.
#2 WLL's strong asset base has strategically positioned WLL ahead of its peers. Currently, WLL has interests in 10,218 gross productive wells spread across its five key geographical locations including the Rocky Mountains, the Permian Basin, the Mid-Continent region, Michigan, as well as the Gulf Coast. These regions amount to approximately 1,277,400 gross (680,300 net) acres. Based on year-ended 2012 data, WLL's provided reserve life is approximately 12.6 years, which is relatively high in contrast to the average of its peers. While it is not entirely relevant to compare the total asset value of firms with varying market capitalizations, I have selected several of WLL's peers that are similar in size to further support WLL's strong set of assets. The peer included below are Denbury Resources (NYSE:DNR), Concho Resources (NYSE:CXO), Cabot Oil & Gas (NYSE:COG), and Cimarex Energy (NYSE:XEC). As of last reporting period, WLL (represented by the blue line) lies right in the middle of the peers with a total asset value of $7.272 billion. Note that of all the firms shown in figure 2, WLL is the smallest with a market capitalization of $5.73 billion. Respectively, COG and XEC have market capitalizations of $14.8 billion and $6.3 billion, however the total asset value according to COG and XEC's balance sheets is substantially lower than the value of WLL's total assets.
Figure 2: WLL's Peers Total Asset Value Comparison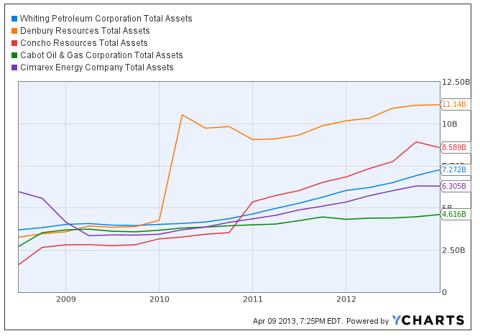 To elaborate on WLL's financial position, its total assets of $7.272 billion are more than capable of covering any long-term debt outstanding, and more importantly its total liabilities of $3.827 billion. Looking at the past three years, you will notice WLL has increased its asset utilization on average by 11.45%.
Figure 3: WLL's Asset Utilization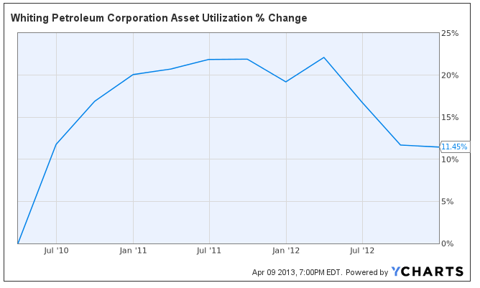 #3 WLL's maintains a relatively strong industry position with plenty of room to increase market share. As you will see, WLL's market capitalization is significantly smaller than the vast majority of its peers. The arithmetic average of the market capitalization for the sixteen firms below is $13.22 billion. Looking at enterprise value (EV), WLL's EV of $7.49 billion is slightly higher than its market capitalization of only $5.73 billion. In addition, notice WLL's EV/EBITDA multiples are significantly lower than the vast majority of its peers as well as the average for its peers.
Figure 4: WLL's Relative Value

#4 WLL's valuation metrics are appealing and suggest a favorable upside. Based on intrinsic value, I have estimated WLL is undervalued by 31%. Taking into account WLL's last closing price of $50.18 per share, this implies a fair value per share of about $65.74. In addition, WLL's simple valuation metrics are favorable. Right now, WLL trades at P/E of about 14.42x. Its current P/S and P/B ratios are 2.745 and 1.709, respectively.
Figure 5: WLL's P/E TTM, P/S TTM, & P/B Ratios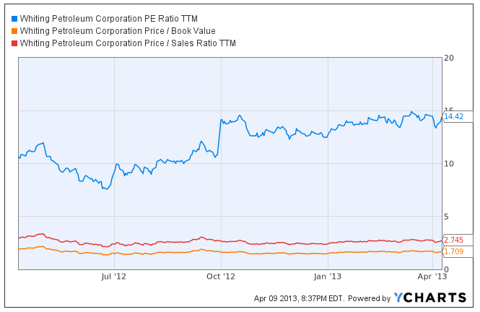 #5 Analyst estimates are highly favorable for investors with or considering a long position in WLL. Below is sample of 31 analysts who cover this stock. Of the 31 analysts below, there is not a single analyst that recommended an underweight or sell rating. In addition, only four analysts gave WLL a neutral rating. For this sample, the arithmetic mean and median price targets are $60.90 and $60, respectively. Note all of the price targets estimates correspond to an investment horizon of either 6 or 8 months.
Figure 5: WLL's Analyst Price Targets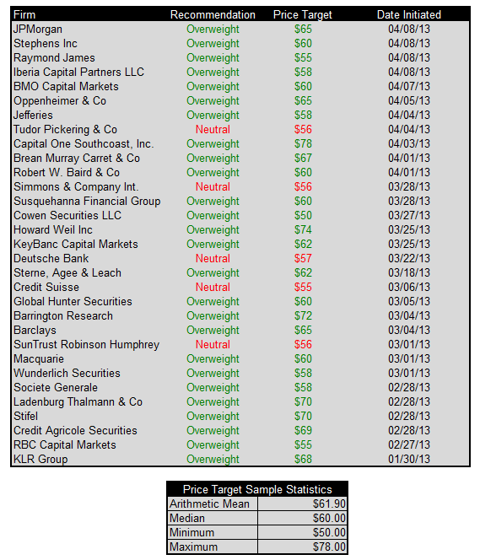 Conclusion
Overall, WLL's lucrative set of assets throughout the United States and strong financial condition has perfectly positioned the company to continue growing as a firm. In addition, WLL's intrinsic valuation clearly supports a value play. Also, given the attention from the analysts provided above a strong upside in the short-term horizon seems highly probable. Looking forward, investors should pay close attention to WLL's Q1 2013 Earnings Release on April 22 and the Q1 2013 Earnings Conference Call, which will take place three days later at 11 am on April 25th.
Disclosure: I am long WLL. I wrote this article myself, and it expresses my own opinions. I am not receiving compensation for it (other than from Seeking Alpha). I have no business relationship with any company whose stock is mentioned in this article.
Sources: TD Ameritrade, The Street, Market Watch, wallstcheatsheet.com, i3investor.com, Forbes, streetinsider.com, FinViz, YCharts, The Wall Street Journal, Google Finance, and Yahoo Finance.