On Tuesday, April 9th, Qualcomm Incorporated (NASDAQ:QCOM) declared a $0.35/share quarterly dividend, which represents a 40% increase from the company's prior dividend of $0.25/share. Qualcomm's forward yield now stands at 2.12%, based on Tuesday's closing price of $65.96/share. In the wake of the company's dividend hike, I wanted to take a closer look at two of the company's key relationships when it comes to user connectivity within socially-interactive environments.
Overview: Based in San Diego, California, Qualcomm Incorporated, "designs, develops, manufactures, and markets digital telecommunications products and services, and operates in four segments: QCT, QTL, QWI, and QSI." (Yahoo Finance)
Shares of QCOM, which currently possess a market cap of $113.33 billion, a P/E ratio of 19.81 and a PEG ratio of 1.34, settled at $65.96/share on Tuesday. One of the things to point out for growth investors is the fact that shares of QCOM are actually 1.95% higher since January 1st of this year. For those of you who may be considering a position in Qualcomm, from an income perspective, shares of QCOM currently possess a forward yield of 2.12% ($1.40) and possess a moderate payout ratio of 31.00%.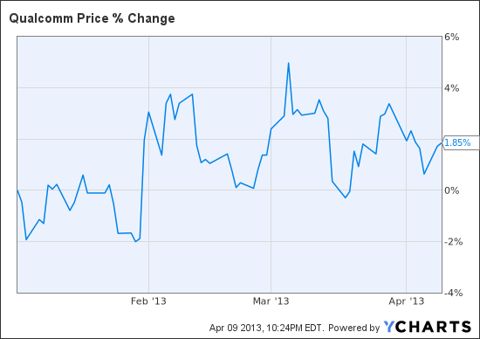 QCOM data by YCharts
In my opinion, there are two long-term catalysts to consider when it comes to Qualcomm, and they are the company's recent efforts to initiate a user-driven collaboration with Major League Baseball and renew its collaboration efforts with Facebook (FB), especially when it comes those utilizing Google's (NASDAQ:GOOG) Android-based operating system.
Teaming Up With Major League Baseball (April 4th): According to the company's press release,
Qualcomm Technologies, Inc. (QTI), a wholly owned subsidiary of Qualcomm Incorporated and MLB Advanced Media (MLBAM), the interactive media and Internet company of Major League Baseball, today announced a multi-year engineering and technology agreement, establishing a collaborative effort to survey, plan and optimize mobile network connectivity for fans at supported MLB ballparks. As part of the agreement, an engineering team will provide in-ballpark assessment and planning for wireless access including Wi-Fi, 3G and 4G connectivity.
As we move further and further into the digital age, user connectivity plays a vital a pole in our experience as fans. Even though peanuts and crackerjacks are quintessential to experience at the ballpark, up-to-the-second play-by-play tweets, status updates and fan polling also enhance our game day experience. By coupling Qualcomm's expertise in the field of user connectivity with Major League Baseball's need for an enhanced fan experience, I personally think that this collaboration, if proved to enhance one's experience at the ballpark, could equate into some very nice revenue generation for Qualcomm, especially when it comes to exchange of data over various types of networks.
Anand Chandrasekher, Qualcomm's Senior Vice President and Chief Marketing Officer noted that,
Qualcomm has been preparing for an astounding 1000x increase in data demand, and we are leading the charge with MLBAM to provide passionate baseball fans with access to digital content, resulting in unparalleled in-ballpark experiences.
Strengthening Its Relationship with Facebook (April 4th): According to the company's press release,
Qualcomm Incorporated today announced that its wholly-owned subsidiary, Qualcomm Technologies, Inc., has been working with Facebook to optimize Facebook Home and Facebook for Android across all Qualcomm Snapdragon processors. Qualcomm Technologies' technical collaboration with Facebook involved systems-level performance enhancements which were able to optimize a solution that delivers a great Facebook experience while minimizing a mobile device's power and improving its data efficiency.
By successfully minimizing a device's power and subsequently enhancing the efficiency at which data is transmitted, I strongly believe Qualcomm could be on brink of assisting in the conversion of more and more mobile users to Android devices from Apple (NASDAQ:AAPL) devices for two reasons.
First is the fact that Mark Zuckerburg, Founder, Chairman and CEO of Facebook, highlighted (not once but twice during a recent interview) that he prefers the openness one can have with Google versus the "partnering" one must engage in with Apple. Second is the fact that Apple users will eventually want the bells and whistles that go along with such things as the customization options Android-based users will have when Facebook Home launches on April 12th.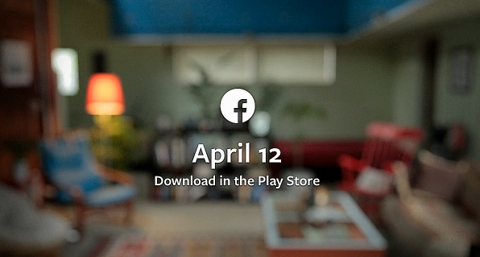 Conclusion: When it comes to those who may be looking to establish a long-term position in Qualcomm, I'd continue to keep a watchful eye on the company's efforts to not only enhance its current relationships with such collaborative partners as Major League Baseball and Facebook, but to continue to seek out newer collaborative relationships over the next few years.
Disclosure: I am long GOOG, QCOM. I wrote this article myself, and it expresses my own opinions. I am not receiving compensation for it (other than from Seeking Alpha). I have no business relationship with any company whose stock is mentioned in this article.