If the last hundred years of market cycles teaches anything, it's that one can't be a great equity investor without also being a solid credit analyst. Credit crunches and financing booms have killed and fueled bull markets. Analysis of the corporate credit markets today provides one fundamental reason for the stock market rally to continue. It's not enough by itself; however, it is a necessary element. Our aggregate credit default swap calculation of the riskiest "high-yield" companies in the USA tells us that the financing fuel is coming and in a big way. That's the "660 to 390" move that we're seeing in aggregate CDS.
The importance of the availability of financing to bull markets is unquestionable when looking at the late 1920s or more recently the Big 80s, the tech rally into 2000, or the bull run into 2007. Without available financing for growth, we simply would not see the earnings acceleration that fuels the justifiably higher multiples of great bull markets.
Without the availability of credit to corporations, the sustainability of a bull market is surely doomed. And, if our attention is on corporate credit, we cannot afford to ignore credit default swaps.
The credit default swap can be an invaluable tool for corporate debt investors and equity investors alike. It allows the credit investor to trade away much of the risk associated with owning corporate debt, for a specific price. With a liquid market for credit default swaps, equity investors have a readily available metric for judging the cost of financing, and thereby the availability of financing to corporations that could fuel a stock market rally.
For context, as the US stock market entered January 2007, on its way to stock market highs, credit default swaps on "high-yield" corporate debt in the United States were priced at about 2.00% (200 basis points or "bps.") For a mere $20 per year for every $1000 of debt investment, an investor could trade away much of the risk that the debt would not be paid back by the corporation. The high-yield companies are the most risky of the top 400 debt-laden companies in the USA.
A low rate, like 200 bps on "risky" companies, signals incredible faith in companies to pay back their debts. At the time, it meant that even the high-yield firms enjoyed little expectation of defaulting on their debts. Aggregate credit default swap pricing signaled abundant financing. It also signaled the credit market's perception of really healthy companies in general. Those were both really good signs for equity investors from 2004 to 2007.
However, by July 2007, those same credit default swaps more than doubled in price. They ran up to 395 bps. By early 2008, the cost reached 520+ bps and was rising almost daily. Stock market investors who watched the credit markets closely could only come to one conclusion. The high and rising cost of financing meant a credit crunch, which meant the hope of a continued bull market had to be over.
If the cost of financing reaches high enough levels, it signals an unwillingness by banks and credit investors to neither finance nor re-finance company debt. That means not only that there is a belief that companies will have trouble paying back their debts, but also the cost will make paying that debt back much more difficult. A seriously vicious cycle. What happens is recession and the threat of real financial malaise. Our aggregate high-yield credit default swap calculation reached well over 2000 bps by the time the market collapsed into March 2009.
What we are seeing today is the exact opposite of late 2007. Our aggregate credit default swap analysis shows a price of 660+ bps just six months ago dropping to below 395 bps this past March 2013 for the risky debt-laden "high-yield" companies. This means that financing to corporations is becoming more and more available and much cheaper. It's not as inexpensive as in early 2007, however, it's an amazing downward trend that signals one of the core necessities of a bull market rally... credit availability and a signal of greatly increasing company credit-worthiness. Please check out the table and chart showing our aggregate CDS data from 2004 to today.
As we look to the current equity market levels of the S&P500 stock index in the 1500 to 1600 range, many question if this market makes sense. Eli Goldratt, the operations expert who gave us the Theory of Constraints, provided a wonderfully eloquent quote for his theory and his novel, "Necessary But Not Sufficient." There are many more things that a continued bull market rally will need to fuel it. However, one main constraint that spells risk to a bull market is quickly going away. In its place is the foundation for stock market rallies: the fast-rising availability of corporate financing.
images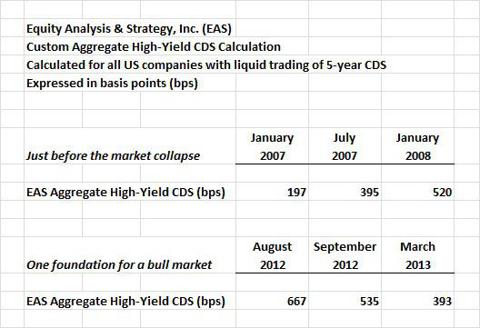 Disclosure: I have no positions in any stocks mentioned, and no plans to initiate any positions within the next 72 hours. I wrote this article myself, and it expresses my own opinions. I am not receiving compensation for it (other than from Seeking Alpha). I have no business relationship with any company whose stock is mentioned in this article.